School:VNR Vignana Jyothi Institute of Engineering and Technology
Jump to navigation
Jump to search
OVERVIEW
"Vallurupalli Nageswara Rao Vignana Jyothi Institute of Engineering and Technology" was established by the 'Vignana Jyothi' Society as a not -for- profit organization in the year 1995-96, with a motto to provide value based education on par with international standards. The Philosophy of Vignana Jyothi unravels education as a process of "Presencing" that provides, both individually and collectively, to one's deepest capacity to sense and experience the knowledge and activities to shape the future.
The Institute is established with the permission of AICTE and Govt. of AP. Institute offers 9 B.Tech. 13 M.Tech. and Ph.D. Programs. All the courses offered by the institute are affiliated to Jawaharlal Nehru Technological University Hyderabad, Hyderabad. The institute is recognized under section 2(f) and 12(B) of the UGC Act, 1956. The Institute is accorded Autonomous status by UGC for 6 years in 2012 and Extension of Autonomous Status is accorded for 10 years in 2018. Institute is Accredited by NAAC with 'A++' Grade with CGPA 3.73/4.00 in Cycle-II in 2018. '7' B.Tech. courses are accredited by NBA. The institution is granted with "College with Potential for Excellence (CPE)" status by UGC for a period of five years w.e.f. 2016. AICTE has identified the institute as a Research Institute under the National Doctoral Fellowship scheme and 5 Departments are recognized as Research Centres by JNTUH, Hyderabad. Institute is certified by International Standards Organisation with ISO 9001:2015, QS iGAUGE awarded "Diamond" college rating and E-LEAD (E-Learning Excellence for Academic Digitisation) Certification. MHRD, India has ranked the institute at 127th rank in the Engineering category and 151-200 rank band in the Overall category in NIRF 2020. It is situated in Vignana Jyothi nagar, Pragathi Nagar, Nizampet, Hyderabad, Telangana ,India. Undergraduate programs- CE, EEE, ME, ECE, CSE, EIE and IT in the institute are accredited by the National Board of Accreditation (NBA) New Delhi, since 2008. The institute has Autonomous Status till 2028-2029 A.Y. granted by UGC."College with potential for excellence" - UGC.
Aerial view : Campus Tour
VISION
To be a World Class University providing value-based education, conducting interdisciplinary research in cutting edge technologies leading to sustainable socio-economic development of the nation.
MISSION
To produce technically competent and socially responsible engineers, managers and entrepreneurs, who will be future ready.
To involve students and faculty in innovative research projects linked with industry, academic and research institutions in India and abroad.
To use modern pedagogy for improving the teaching-learning process.
PROMOTING STUDENT INNOVATION AND ENTREPRENEURSHIP
ED CELL
E-Week
E-Week is being celebrated regularly to bring out the spirit of Entrepreneurship among students in the campus during the month of February with the support from National Entrepreneurship Network (NEN). As a part of E-Week several events are conducted for the benefit of the students such as quizzes, Stock Pulse, Expert Talks, Street Plays and Group Discussions etc. The winners of the event are given with prize money along with participation certificates.
Ecficio
Ecficio is the Entrepreneurship Fest of VNRVJIET Organised together with the Institute's Entrepreneurship Development Cell (ED Cell) and VJ Foundation for Entrepreneurial Excellence ("VJ Hub"), this fest plays its little part in developing technopreneurs of tomorrow and igniting the zeal of entrepreneurship among the students by tapping their latent talent and pushing them to apply their strengths innovatively.
Open House
Open House is one of the prolific ideas that VNR VJIET has come up with. It is an open arena for all the students to come up with their creative latent skills. Creativity involves two stages, i.e. conceptualization and actualization. The perfect blend of vision and blueprint of desired outcome leads to successful projects. It is being organized consecutively for the last 3 years, in which on an average 150 Innovative proto types were showcased. These prototypes are further scrutinized for nominating for incubation support.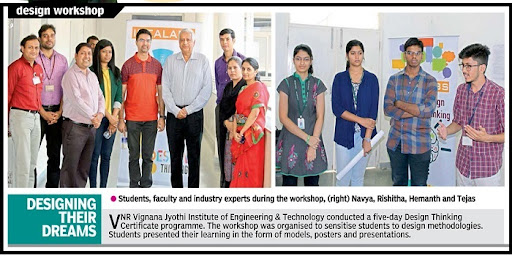 Design Thinking Workshop
This workshop is being conducted with support from ISB, Hyderabad through TEP. An expert team from ISB has trained so far 150 students. The students are formed into small groups and are encouraged to generate creative and innovative ideas by using this concept through brain storming.
Design Challenge Workshop
This workshop is organized by forming students in to small groups by already chosen innovative idea during design thinking phase and training them through boot camps leading to preparation of Business plans and bringing out a minimum viable product. This idea of product will be pitched for seeking financial assistance from angle investors, venture capitalists and various funding institutions.
World IP Day
ED Cell of the institute is organizing World IP Day on April 26th for the last 2 years, with a motto of imparting knowledge on patenting to the students and faculty by conducting Quizzes, essay writing competition on Patent Searching and expert talks. Winners of the competition are given with prizes and participation certificates. Patent holders from the faculty and students are identified and honored with Mementos and Certificates.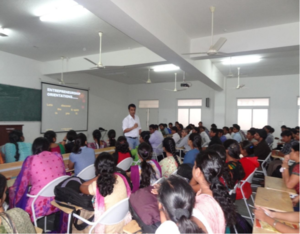 Entrepreneurship Awareness Camps (EAC) and Awareness Drives
Entrepreneurship Awareness Camps (EAC's) were conducted consecutively for 5 years with funding from NSTEDB worth Rs13,500/- per camp. Thus by sensitizing more than 500 students on Entrepreneurship. Entrepreneurship Awareness Drives were conducted periodically for the benefit of the students every year in association with IIT, Kharagpur and IIT, Mumbai. As a part of EAD several events are conducted like Expert Talks, Panel Discussions etc. With the help of EAD's we have sensitized more than 1500 students on spirit of Entrepreneurship.
Campus Entrepreneur Initiative
To know the art of selling of the products, an initiative called Campus Entrepreneur is proposed, wherein the students are encouraged to sell the products which are needed by the student's community on Cash & Carry basis excluding food items.
Vignana Jyothi Entrepreneurship Training Model
Vignana Jyothi Entrepreneurship training model has been developed beginning with ideation as first exercise. Students having ideas will be given training in a specific order till prototype building and commercialization of Idea. VJET will primarily focus on experiential learning in 4 stages:
Ideation
Exploration
Experimentation
Incubation
My Big Idea Competition (MBIC)
VNRVJIET ED Cell in association with student's innovation center organizing My Big Idea Competition (MBIC) on a regular basis with a theme from 2013 on words.
VJIM (Vignana Jyothi Institute of Management) students are also participating in the competition which will be extended to other nearby colleges also in future.
A certificate indicating participation and details of prizes won for the idea will be given to all the participants.
Its objective is to promote innovative thinking among the students & leading to scouting of Business Ideas through MSME Business Incubation support.
VJ Hub
Facilitate incubation of new enterprises with innovative technologies & cutting edge industry research by admitting them in the incubator. Provide them physical, technical and networking supports / services. Business incubation programs are designed to accelerate the successful development of entrepreneurial companies through an array of business support resources and services offered both by the incubator and through its network
Catalyst
We have state of the art building area spread at both the engineering college campus and management college campus within the same premise. This gives us an unique advantage in connecting technology and business within the same premise.
Entrepreneurial Excellence
Vignana Jyothi Foundation for Entrepreneurial Excellence is a non profit organization registered as Section 8 company with ROC Hyderabad on 26 July 2017. And we are operating with a brand name of VJ-HUB.
"Salcit Technologies" and "Solbots" are added to the list of startup's at VJ-HUB in Sep 2017.
Salcit Technologies is developing digital health advisory system for Chronic Respiratory Diseases. Solbots is developing Semi automated prosthetic hand.
ENCOURAGING FACULTY INNOVATION AND ENTREPRENEURSHIP
"Faculty are the lifeblood of our institution". The institution believes that development of the faculty along with the students is the key towards the bright future. Many innovation and entrepreneurship activities along with faculty development programs (FDPs) and held for the benefit of the faculty. The FDPs vary from department to department although every FDP focuses on the faculty progress.
Granted Patents
An Intelligent and Intuitive Signaling System for Motor Vehicles to Minimize Road Accidents
A System for Analyzing Risk Associated with Cough Sounds.
Stabilization Device for Two-Wheeler.
Automated Real – Time Driving Behavioral Modeling Analysis and Reporting in Denser Traffic Using Data Mining.
ELSM- Quantum Computing: Extremely Large Databases Store into A Small Memory Using Quantum Computing.
A smart and automated Bedridden Patient Monitoring system over the cloud.
An automated thermal Scanner with speech recorder and an alert system to avoid the touch thereof.
AN IOT BASED LPG CYLINDER WAREHOUSE MONITORING SYSTEM ALONG WITH BOOKKEEPING OF REFILLING OF CYLINDERS.
The following are the Patents at various Stages for the Institute:
A Dc-To-Dc Converter Configuration by Soft Switching Devices
A Passive Filter Configuration to Reduce Thd Produced by Non-Linear Loads
A Wire-Less System to Reliably Control a Large Network of Street Lighting Systems from A Central Location Through Fm Broadcast
An Integrated Computing System and A Process to Generate the Driver Safety Index for Preventing Automobile Accidents
Instrumented Methods for Smart Operations
Method and system for soil classification
An Arrangement to Increase the Level of Liquids
Fabrication Of Eco-Friendly Organic Ferro Electric Diisopropylammonium Bromide Films
ISPSD-System: Internal Smart Pollution Control Dislay System.
Horizontal Axis,CamGuided,TelescopicBlade,Yaw Controlled Wind Mill
P-Button: Panic Button Provides Information Through Light,Radio Signal And Other Required Signal
System And Method to Generate Time-Profiled Temporal Pattern Tree
A Novel Pixel Based Method for Satellite Image Classification
Automatic Airlock Prevention System and Method Thereof
IOT-Traffic System: IOT Based Intelligent Traffic, Transport Management System
Cloud Parking Management System and Vehicle Anti-Theft Method and many more.
Research and Consultancy Center (RCC)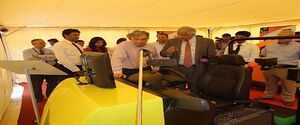 VNR Vignana Jyothi Institute of Engineering & Technology has established the Exclusive Research and Consultancy Centre (RCC) in the year 2006 for Research and development in multidisciplinary Engineering and Sciences with the following objectives:
To provide strategic support for research across the institute for acquisition of new knowledge.
To create specialized product development and testing laboratories with leading edge technologies.
To work skillfully on the leading edge technologies to conceive and develop innovative products and services those are beneficial for Society.
To facilitate consultation & testing services utilizing the intellectual capabilities of the faculty and existing physical infrastructure.
To provide exposure and participation to faculty & students to the research activities in the institute enabling them to teach & learn from a higher platform.
The institute has initiated the novel concept of In-house research funding in the year 2007-08. This is to encourage the faculty to actively involve research and consultancy work besides their regular academic activities. In the last nine years the Institute funded directly an amount Rs. 2 Crores under the In-house research projects scheme. The institute has completed 48 projects worth Rs. 443.05 lakhs . The institute also has 30 ongoing projects worth Rs. 253.02 lakhs funded by industries, AICTE, UGC, DST and DRDO
The RCC is supported by eminent director Dr. A. S. Rao, Retired Scientist 'G', MHRD, India and Dr.B.Chennakeshava Rao ,Director Advancement. The RCC is headed by Dr. G. Ramesh Chandra, Professor, Department of CSE.
Key Research Areas : RFID and Wireless Sensor Networks, Mobile Computing, VLSI, Biomedical Signal Processing, Microcontrollers, Embedded Systems, Joining Technologies, Software Applications, Android Applications, Renewable Energy, Disaster Mitigation, Data Science, Nano Technology, Micro Cars, Structural Design .
ACTIVELY SUPPORTING THE UNIVERSITY TECHNOLOGY TRANSFER FUNCTION
Funding and Connections
Tie Hyderabad -
T-Hub- T-Hub (Technology Hub) is an innovation hub and ecosystem enabler. Based out of Hyderabad, India, T-Hub leads India's pioneering innovation ecosystem.
J-Hub- JHUB is the Innovation Ecosystem of JNTUH, that empowers new gen graduates with Innovation mind set and support for startup incubation.
Seed Funding
VNR VJIET is inviting proposals for seed funding from students and faculty of the Institute. Estimated expense in INR is requested with respect to various aspects such as software, equipment, field work, travel, research assistant, paper publications , etc. before the funding is granted.
Vignana Jyothi Technology Business Incubator (VJTBI)
The Vignana Jyothi Technology Business Incubator is planned as an important resource in the state of A.P and Telangana a value added service provider to local innovators & entrepreneurs working for the common good of empowering entrepreneurs to create jobs. The work of TBI will be complementary to the other activities of Vignana Jyothi group namely; entrepreneurship promotion, idea competition and research at VNRVJIET, center of excellence for MSME at VJIM, rural development at Dr D. Rama Naidu Vignana Jyothi Institute of Rural Development.
VJ IP Policy
Research Policy
The research policy of VNR VJIET provides a broad framework to guide research, consultancy and innovation. It also guides the faculty and students towards eithical practices while conducting research and consultancy in the Institution.
FACILITATING UNIVERSITY-INDUSTRY COLLABORATION
The main objective of the institution is to provide a forum in which the participants obtain information about the advanced emerging technologies. The institution is involved and aims at the collaboration process from both industry and academics. To enhance the quality of learning we move forward for more collaborations and interactions with the industry that helps our students to brace themselves for working in the industry.
Our college has been providing the nourishments of fashioned future of the students from 25 years and it has nurtured students as professionals. The institution leaves an indelible mark on the lives of its students, concerning them to a great career and challenging them to discover and define their functional roles in the industry. We would like to ensure that the students are undertaking the challenging tasks intellectually, socially and technically.
MOUs
Some of the MOUs signed during 2018-19 include:
AVANTEL Limited
EDGate Technologies Ltd.
ICOMM Tele Ltd.
Ananth Technologies Ltd.
AMD Research & Development Center India Pvt. Ltd.
Missouri University of Science & Technology, USA
Department wise MOUs:
Internships
VNR VJIET believes in 'Learning by doing' and always tries to provide industry exposure to the students for their progress. The institute aims at providing industry exposure to the students from the II year of their study itself. Some of the companies that provide internship opportunities to the students include:
AMAZON
TATA CONSULTANCY SERVICES (TCS)
JP MORGAN
ACCENTURE
Weekend-Labs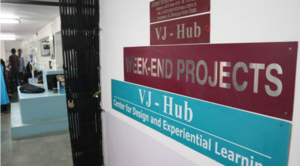 Students have many ideas (Of which some ideas requires only a week to realize) on which they want to work, but lack of infrastructure, including the space, limits realization of their ideas. In this connection, the Institute established 'WEEK-END PROJECTS Lab - Student Design & Experimental Learning Center', where the students can work/research on their idea to realize that. It will equip them with the ability to think, concretize the idea, design research study, work on it and report the findings. This Lab also provides the opportunity to the students to ask questions in different areas of knowledge. AICTE has provided financial assistance of 13.14 Lakhs to the institution for establishing this laboratory under the scheme of "Project Center for Technical Education". This center is established to provide assistance to students to buy the raw material for their real-time projects.
ENGAGING WITH REGIONAL AND LOCAL ECONOMIC DEVELOPMENT EFFORTS
NSS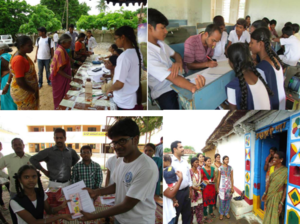 National Service Scheme (NSS) adds to the beauty of our institute. Many programs and activities are held towards the development of the society where there is huge student participation. The NSS team conducts various activities along the year which include:
Cheyutha-NSS Team VNR VJIET has conducted ͞CHEYUTHA͟ in the institute with a vision to provide practical knowledge exposure for Government school students by sharing with them the application oriented knowledge. 65 students from Suraram Government school attended the event which was held on 14th September 2016 at K.S Auditorium and B-Block seminar hall.
DIGI-DHAN PARIGYAN-With the objective of bringing awareness among students and faculties about cashless transaction and digitalization , the NSS unit of VNRJIET with the help of VNR SF(student force)organized program called ͞DIGI-DHAN PARIGYAN͟ on 10th and 11th January, 2016 with the support of Principal Dr.C.D.Naidu and NSS coordinators DR.P.Padmavathi and DR.Ashok. During the programme, a complete information regarding BHIM APP i.e. what are the benefits of using the app, how to use the app was taught to students. Along with the digitalization program, an awareness stall was put near K.S.Auditorium to clarify the doubts among the students and faculties.
Eye checkup camp-A free ͞EYE SCREENING CAMP͟ has been organised on April 22nd 2017 by the NSS Team in association with Lions Club of Hyderabad . A team of doctors from Sadhuram Eye Hospital, Secunderabad, along with their assistants conducted the camp in the KS Auditorium and tested about 200 faculty and 200 students together. The main motto in organizing this camp is to bring awareness about the importance of the most precious organ eye and to provide an opportunity of free eye testing for those people who cannot afford.
Door to Door Health Survey
Career Guidance for government high school in Reddipalli village
Plantation drive in association with VRIDHI foundation
Street Cause
Street Cause is a platform which enhances young, fervid minds to bring about a definite impact in the society through their actions. We would like to proudly present: "Street Cause Anthem". 11 years , thousands of events and the SC Anthem uniting, empowering and inspiring us here on!. We are very happy and proud to say that our institute-VNR VJIET is a part of this amazing service to mankind.
NARMY@VNRVJIET
Nature's Army is a Non-Government Organization formed by youngsters for the welfare of the society. Its main objective is to eradicate selfishness among humans and to server the society as much as possible.Being an active member in NARMY will teach youngsters many life skills like leadership, team work, human attitude, group behavior, hard work and also making new friends from different fields.
Team GREEN:
For planting more and more trees and creating pollution awareness in society.we also camping against plastics and try to spread every message which will helpin reducing and creating awareness among people about global warming.
Team BLUE:
For visiting old age homes and orphanages to find their requirements and help them out with the resources we have and spend some time with children. because what they need the most are love and effection.
Team YELLOW:
For finding out child labour in the society and convenceing their parents about y educate their child and it benefits and help the children to join in to a school by providing them basic needs for getting into school like bag and books. and also to help financially backward merit students who aspire high but have no opportunity to grow.
Team RED:
For motivating youngsters to donate blood and educating them about the facts and uses of blood and eye donations and importance of their requirement.helping people who need blood in emergency.members will donate blood and also make others donate blood .to conduct blood camps in various colleges also.
Team PURPLE:
For acting against all anti social elements of society which are responsible for development of the country like corruption,eve teasing,ragging,child marriages,child labour, for injustice in govt offices,team purple is only for people who are daring and not scared for raising their voice against any thing hard working members from the above four groups will be taken into team purple.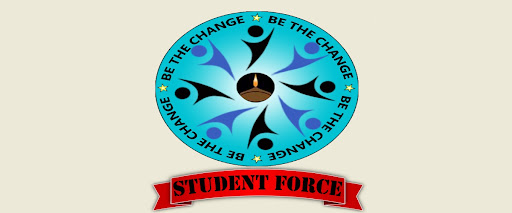 VNRSF
VNR Student Force, one of the social clubs of VNR VJIET is a vibrant club with Aspiring and Responsible socio-engineers as its members. Since its inception in the year 2012, it has evolved in various aspects. VNR Student Force works with the main axiom -'Transformation of Individuals leads to the Transformation of India' with the inspiration of Gandhiji's words 'Be the change', which is taken as the motto and caption of our organization. The mission of VNR Student Force is to bring sustenance in the society through itsthoughts, words and actions. To achieve its mission VNRSF works in various domains like Education, Environment, Charity and Cognizance. It has received the recognition of an NGO in the year of 2014 by the Government of Telangana.VNR Student Force,organizesmany thought provoking and response evoking activities under various domains. Since its inception the team has been playing a very active role in organizing numerous social welfare activities in-situ and ex-situ of the Institute. VNRSF has classified its activities into the domains 'Environment,Cognizance, Educationand Charity'.
Activities : List of activities
---
---