School:University of Puerto Rico - Mayaguez
Jump to navigation
Jump to search
Overview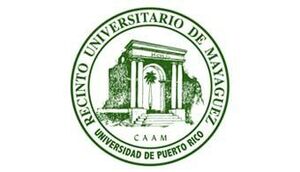 The University of Puerto Rico, Mayaguez Campus (UPRM) is located in the city of Mayaguez, Puerto Rico. It was established on September 23, 1911. UPRM is the second-largest university campus of the University of Puerto Rico system.
Consists of four major colleges: Agricultural Sciences, Arts and Sciences, Business Administration and Engineering.  Offers over 50 bachelor's programs, more than 25 master's programs and 5 doctoral's programs. There are around 12,000 students enrolled. The Mayaguez Campus is ranked number 1 in the Caribbean. 
Promoting student innovation and entrepreneurship:
UPRM E-Ship is the umbrella for all the efforts related to innovation and entrepreneurship. This project has the objective to link all the champions and initiatives in order to create a bigger impact. In addition, and also composing the E-ship Network, Mayaguez counts with a variety of Innovation and Entrepreneurship opportunities with internal champions and external collaborators:
Courses
New Venture Design Experience

Design Thinking

Consumer Behavior

Product Design

Technology-Based Entrepreneurship

Engineering Capstone

Introduction to Business Development

Creativity and Innovation

New Business Development

Business Plan
Growth and change strategy
"Asesoramiento a Nuevas Empresas"
Financial Analysis and Funding for Small Businesses

Creative Design

Tools and Toys

Game Theory

Engineering Design Projects

Capstone

Research

Special Projects
Activities
TEDxUPRM

Elicit Innovation

VR Hackathon

Arduino Day

HackPR

Hacker Socials

Expo Ideas

Capstone Exhibition

H3

Justas Empresariales

Icorps PR

Weekend Design Challenge

Job Fair

Startup Fair

W2Socials
Spaces
Business Center

E.P.I.C. Makerspace

Office of Intellectual Property and Technology Transfer

Model Factory

Prototyping Lab
Publication Lab
CITAi

Research and Development Center

Vitech

Startup Lab

Parallel 18

GUANAJIBO RESEARCH & INNOVATION PARK</
BDTC
Associations
Enactus UPRM

Idea Platform (Achieve-Elicit-AppCreatrs-Empower3D-Visionary-WearTech)
Encouraging faculty innovation and entrepreneurship:
There is very little encouragement for the faculty to engage in innovation and entrepreneurship. Even though research commercialization exists, the process is tedious and bureaucratic. Much of the faculty does not know about the research commercialization, and the rest does not attempt it due to its difficult and time-consuming nature. Faculty that works in innovation and entrepreneurship is mostly self-driven, or it is an important part of the courses they are giving, which tends to be the case within the Business Administration Departement. 
One of the ways in which faculty mostly participate in innovation-focused activities is through participation in centers of investigations. This center, although very innovative in nature, do not have either the internal preparation or institutional support to effectively participate in the commercialization of product, services or assets. Having the opportunity to participate more in the process of commercialization would be a tremendous way of promoting sustainability. This internal lack of preparation in topics relating to I&E is ultimately hindering the possibility of these centers becoming more sustainable and the university to limit its spending.
The Chancellor of our University has stated multiple times that "I&E is one of his most important priorities on campus". However, changing decades of institutional culture is not something that happens in a year. Institutional policies sometimes impede faculty innovation and entrepreneurship through research. An example of these policies are that if a professor chooses to give a selected number of hours of class, say 12hrs a week, institutional policies don't encourage him to do research. Likewise, those professors that do develop research possess the entrepreneurship mindset in the sense that they search for funding outside the university, but whether they spin-out and commercialize their projects is still in construction. In the other hand, some professors are not aware of the commercialization potential of their projects because they have not been exposed enough to know the indicated processes. In order to change the impact that the disorientation can cause, preparation and training for professors that have research projects in every faculty should be a high priority.
Despite the challenges, the University of Puerto Rico- Mayaguez has a group of champions in the faculty that keeps growing. This group has been submitting proposals for courses, programs, researches, among other successful initiatives that promote I&E. This group is the spark that will illuminate other professors and administrators to keep the momentum.
Actively supporting the university technology transfer function:
The Unviersity of Puerto Rico does count with an Intellectual Property and Tech Transfer Office.The Intellectual Property and Technology Transfer Office (IPTTO) of the University of Puerto Rico at Mayagüez, ascribed to the College of Engineering, facilitates the development, protection and commercialization of intellectual property such as research and inventions of the faculty, students and personnel of the UPRM.
The University of Puerto Rico receives the gross income that is generated from the patents and its respective commercialization through the Vice President's Office, which has overall responsibility for interpreting the IP Policy, and resolving questions and disputes concerning it.
Under UPR's policy (Cert. 132, 2002-03) the University owns IP that is generated through research conducted with the use of its facilities and resources. This University-wide policy applies to all investigators who use UPR facilities or resources or who participate in university research and develop intellectual property. This includes all full- and part-time faculty and staff; students who participate in research and us UPR facilities; research fellows; and visitors to UPR's faculties and schools from other universities or collaborators from industry.
All royalties and most fees resulting from the IP are shared between UPR and the individuals involved in its discovery. Ownership of the intellectual property is divided in the following manner: 33 1/3% of the IP is owned by the inventor(s), 56 2/3% of the IP is owned by the inventor's UPR unit(s), 10% of the IP is owned by the UPR special fund and any remaining amount will be used to support additional research and academic programs.
Additionally, the office staff in Mayaguez is very much in tune with the innovation and entrepreneurship ecosystem and are avid supporters and champions within the E-Ship Network. The University also counts with a Center for Patents & Trademarks.
[1]
Facilitating university-industry collaboration:
Currently, the largest University-Industry collaboration event is the Job Fair. During the Job Fair, industries across the world come to UPRM in order to recruit students for internships, coops, or full-time positions. However, the Job Fair is also the best way for student run organizations to create partnerships with these industries. Most student organizations count with one or more sponsorships that are provided by recurring companies that come to Mayaguez to recruit. These sponsorhips can also fund labs and research projects. Another university-industry collaboration are the Capstone projects. In these projects, graduating engineering students are sent to an industry to solve a design problem which is assigned to them. The engineering student has to solve the industrial problem using all the knowledge aquired from their undergraduate studies and write a mini thesis in order to succesfully complete the course. 
Engaging with regional and local economic development efforts:



Entities such as INprende, Guayacan, EntrePrize, and Parallel 18 are constantly visiting Mayaguez in college tours in order to see what the students of UPRM are up to in terms of entreprenuership and innovation, and to find local talents and startups to fund. Parallel 18 is a startup incubator and accelarator belonging to the Puerto Rico Science and Research Fund which finds about 35 startups from Puerto Rico and the world to fund and mentor for a year. Parallel 18 has great connections with UPRM and the E-ship Network, and is very invested in the students and their ideas. There have been 3 startups that have entered Parallel 18 that have come directly from Mayaguez, and there are many students that work on their offices as interns. Another important entity is Vitech, a local startup accelerator which has its offices near campus. The Vitech offices include a space that is awarded to startups that come from the UPRM, even if the students are still studying. This space is called: Startup Lab. UPRM Start Up Lab, component of the UPRM E-Ship Network, was founded to promote the development of emerging startups created by students of the University of Puerto Rico at Mayagüez. In partnership with the Puerto Rico Techno Economic Corridor (PRTEC) we have a site in VITEC2 Technology Business Accelerator. The 400 square feet co-working space is equipped giving the tools our students needed for the commercialization process of their ventures. Also, we bring them an entrepreneurship environment with access to a network of experienced mentors.
University Innovation Fellows Candidates 2018
University Innovation Fellows Candidates 2017
University Innovation Fellows Candidates 2015
Related Links
Landscape Canvas 2017 
---
---