School:University of Notre Dame
Jump to navigation
Jump to search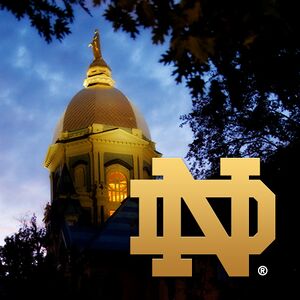 Overview
The University of Notre Dame UIF team consists of four Biological Sciences majors striving to assess and improve the innovation and entrepreneurship landscape on campus. Our UIF training has led us to analyze courses, clubs, workshops, competitions, programs and more that are aligned in the quest to galvanize the innovative and entrepreneurial thinking on campus. By conducting such a thorough investigation, we now may realize deficiencies and work to fill in these gaps, create infrastructure to connect disjointed efforts, and reach more students with the hope of generating a higher level of creativity.
Campus Overview
Promoting student innovation and entrepreneurship
The University offers a wide variety of resources for students interested in I&E. At the classroom level, most resources are focused in the Colleges of business and Engineering, which both offer their students some classes specifically on I&E. At the University level, the Center for Undergraduate Scholarly Engagement offers workshops and support for I&E engagement. Outside the academic setting, events such as TEDX-ND and the hack-a-thlon, offer students inspiration and motivation to pursue I&E. A number of clubs, such as Design for America and the Four Horsemen also offer a number of resources to students who want to actively participate in Innovation.
Encouraging faculty innovation and entrepreneurship
The Kaneb Center for learning is dedicated to teaching and promoting advancement in professors and TA's teaching skills. They offer workshops on teaching Innovation in the classroom. Colleges also have their own programs, for example the Biology department offers a certificate in Biology Leadership and I&E.
Actively supporting the university technology transfer function
The main resource is the Office for Technology Transfer that deals with TT for students and faculty. Also, Irish Angels provides funding for student entrepreneur. Innovation Park and University Space provide students with spaces and technology for TT and to start up their products.
Facilitating University-Industry Collaboration
The Union Station Technology Center provides students entrepreneur the resources to explore the local and regional environment for innovation. Innovation Park and ESTEEM work together with students, graduate students, and faculty to promote entrepreneurship. they actively work with a number of company and bridge the gap between University and Industry. the Gigot Center for Entrepreneurship, part of the college of Business, works with students and companies to facilitate start-ups and had an entrepreneurship-in-residence center.
Engaging with regional and local economic development efforts
The Union Station Technology Center, located downtown, provides student entrepreneurs the resources to explore the local innovation environment. Additionally, the university mantains partnerships with local institutions such as hospitals and tranportation services.
Academics
Undergraduate Course Offerings
A survey of the course offerings at Notre Dame reveals the presence of entrepreneurial classes as well as courses that incorporate an innovative approach to learning. These courses span several departments and fields of study, including Entrepreneurship, Biological Sciences, Engineering, Energy Studies, and Sustainability. Many of these courses are cross-listed, but not all undergraduates have access to a course in entrepreneurship as of Fall 2014. The Gigot Center for Entrepreneurship offers a Management-Entrepreneurship Major, but it is in the process of being phased out due to low demand. In its place will be an Entrepreneurship Minor accessible first by Business students and, hopefully, eventually to all students. The following list details the I&E and experiential courses offered to Notre Dame undergraduates:
BAEN 30500 Intro to Entrepreneurship
BAEN 30505 Social Entrepreneurship
BAEN 30506 Microventuring Consulting
BAEN 30510 Entrepreneurship: Go to Market
BAEN 30520 Funding New Ventures
BAEN 40420 Innovation and Design
BAEN 40530 Legal Issues: Entrepreneurship
BAEN 40570 Sales Management for Entrepreneurs
Biological Sciences Cell Biology Special Studies Lab
Energy and Society
Energy Studies Minor Capstone
Engineering Senior Design Project
Engineering SteamND
Leadership Laboratory
Mathematical/Computational Modeling
Sustainability: Principles and Practice
People, Environment, Justice
Self, Society, and Environment
Topics in Global Health
Graduate Course Offerings
Notre Dame offers several graduate programs related to entrepreneurship, most notably the ESTEEM Masters of Entrepreneurship program that educates where Science and Engineering meet Business, Innovation, and Entrepreneurship. The goal of the ESTEEM Program is to help students with backgrounds in science or engineering take the next step into the business world with their products and services. Additionally, the university offers a Masters in Patent Law through the Law School. The following courses are offered at the graduate level:
ESTM 60102 Tech. Bus. Fund. Tech. Mkt.
ESTM 60105 Business Law
ESTM 60108 Technology and Ethics II
ESTM 60109 Lean Startup
ESTM 60207 Tech and Bus Presentations
ESTM 60209 Statistics 2.0
ESTM 60210 Data Analytics 101
ESTM 61201 Design Entrepreneurship
ESTM 60213 Launch Strategy
ESTM 63601 Entrepreneurship Bootcamp
Certificates
In addition to the option of a Major/Minor in Entrepreneurship as an undergraduate and a Masters in Entrepreneurship or Patent Law at the graduate level, students have access to several Certificates at Notre Dame. These include: Scientific Medical Leadership Certificate (one day workshop), Intro to Patent Law Certificate (seminar), and numerous experiential-learning seminars.
Programs
On the campus of Notre Dame, there are a number of programs that have been developed to galvanize the entrepreneurial ecosystem. Ranging from efforts to boost creative and innovative thinking to efforts that explicitly focus on entrepreneurship, there are many avenues down which an interested student may travel. While the variety and scope of these programs are advantageous as they provide many options, the downside is that both organization and strong lines of communication seem to be lacking. Tying each of these programs together may allow for a more collaborative and consequently stronger effort overall.
Creativity and Innovation
Several programs exist that, without explicitly focusing on entrepreneurship, allow students to develop critical skills in innovation and creativity. Generally, these three programs provide resources, directions, and support for motivated students with a certain skill set. The Center for Creative Computing provides leadership and resources to students with advanced skills in technology. With these resources, students work in an inter-disciplinary effort to address tasks relating to the arts, humanities or social science. The Notre Dame Institute for Advanced Study sponsors a group of Residential Fellowships that provide funding for students of all disciplines. With funding, students are encouraged to explore innovative and creative ideas that may align with the goals of the NDIAS. The Creativity and Innovation Club is uniquely a student-driven effort. As a club, members strive to facilitate and encourage creativity and innovation through various activities. 
Explicitly Entrepreneurship
Beyond generally stimulating creativity and innovation, there are several groups on campus that explicitly focus on promoting entrepreneurship. As mentioned previously, the presence of four distinct programs allows for a variety of activities for a student to choose from. On the other hand though, there is overlap between programs and no strong line of communication. Hopefully our team may address these issues moving forward.
The first program is the Entrepreneurial Insight Lecture Series series. Run through the Mendoza School of Business, these lectures are held every couple of weeks and feature entrepreneurs, investors and business leaders. For students and prospective innovators, the series offers experience and advice concerning areas critical to the creation of new ventures. 
Second is the Business Action in Social Entrepreneurship (baseND) club. Organized and run by students, this club's mission is to build a firm business foundation for members and partners by solving real-world business problems. Often these problems come from local and global for and non profit companies. This problem-solving feature allows the club to educate on business principles, provide real-world experience, and create positive social change in the community. 
Third, undergraduate students created an Entrepreneurship Society to foster the entrepreneurial spirit and ability of Notre Dame students. The group's leaders promote entrepreneurship through arranging guest speakers, devising new and creative ways to raise money to allow for students to experience the process of beginning a new venture, and providing resources for students with the desire to pursue a venture. 
Finally, the Four Horsemen Society is a group that came together over four entrepreneurial attributes, creativity, initiative, risk-taking and business strategy; their name alludes to the famous Notre Dame football players that made up the backfield of Knute Rockne's historic team. Intent on connecting and supporting every student and alumni with an interest in entrepreneurship in order to really take advantage of the resources at hand, the program believes in the idea of, "who can't resist the desire to change the world through the intertwining of creativity and business - in short, through entrepreneurship". 
Design Spaces
In addition to both student- and faculty-driven programs, Notre Dame has developed three primary unique spaces to foster entrepreneurship, innovation and design thinking. The first, housed in an Engineering building, is the Engineer Design Deck, or N3D. This workspace allows for Engineering students to seek out resources and training and helps facilitate hand-on learning. Students can bring work from class, independent ventures, or simply big ideas. Second, the Notre Dame Hesburgh Library has developed the Center for Digital Scholarship. This recent addition employs state-of-the-art technologies to transform the way in which teaching, research, and scholarship are performed and preserved. Finally, DeBartolo Hall, a dedicated classroom building, has developed the Innovation Room in the basement, equipped with white board walls, several TVs, projectors, and computers. Several groups on campus, including administration, learning center staff, and building management, partnered together to develop this innovative, imaginative and active learning environment. Basing their designs off of similar rooms as Massachusetts Institute of Technology, the University of Minnesota and the University of Michigan, the room is intended to be as flexible as possible and to encourage active learning. Several other smaller study areas across campus are also designed to foster the integration of technology and collaborative learning. 
Events
Innovation at the University of Notre Dame begins with inspirational events that allow for the exchange of ideas on campus. The newly-launched TEDxUND event and the annual Notre Dame Forum are two such platforms for the Notre Dame community to start a dialogue about important topics such as microfinance, social media in the news, volunteerism abroad, and refocusing the goals of higher education. 
The Gigot Center for Entrepreneurship offers many other hands-on events to spark campus innovation. The Entrepreneurial Insight Lecture Series and the Irish Impact Social Entrepreneurship Conference engage students and faculty in entrepreneurial thinking from various perspectives. All on campus can take innovative action by participating in events such as the Ideas Challenge, the Hackathon, and Startup Weekend ND. Finally, early stage ventures can enter the McCloskey Business Plan Competition for a chance to launch with support from the Mendoza College of Business and Gigot Center for Entrepreneurship. 
Resources
Outfitted with a well-staffed Innovation Park dedicated to nurturing start-up ventures, Notre Dame creates an environment for small companies to grow alongside others. However, the distance between campus and Innovation Park and lack of courses taught there does keep undergraduates away from the resources offered.
The University of Notre Dame sports multiple resources for assisting undergraduate entrepreneurship. From our Mendoza College of Business, the Gigot Center for Entrepreneurship assists students with interests in pursuing start-ups as a career. However, recently the entrepreneurship major has been stricken from the curriculum, to be revised and implemented as a minor.
Center for Undergraduate Scholarly Engagement (CUSE) allows students to request funding and coaches students in grant and scholarship writing procedures. While the organization does favor Architecture and Business students (as this is usually their only source of extracurricular funding), Science, Engineering, and Arts and Letters students are also encouraged to apply as well.
The Kaneb Center for Teaching and Learning aims to enhance teaching diversity through professional development workshops. The center encompasses both faculty and graduate teaching, including training for graduate teaching assistants.
The Notre Dame Career Center helps students explore internship opportunities, create polished resumes, and prepare for interviews to facilitate success in any application process, whether it's starting a career after graduation on gaining entry into that coveted corporation or graduate school.
The Kellogg Institute for International Studies at Notre Dame allow students to pursue research and internship opportunities beyond the United States, requiring only an in depth proposal and a letter of recommendation and pledge of supervision from a faculty member. Past projects have included studying the effects of relaxation on pain management in burn victims, defining motherhood in Third World environments, and even how graffiti can link to neighborhood development in Brazil.
If a project is already underway, Notre Dame provides mentorship and guidance from a business and legal aspect. The Fellow Irish Social Hub (FISH), a non-profit organization dedicated to developing social innovation into enterprises via its centralized infrastructure.
The Irish Angels, a venture capitalist group, serves to offer start-up capital and mentorship to high potential companies just getting their bearings. The organization seeks to fund cutting-edge technological investments in the Internet & Mobile, Scientific & Medical, Social Enterprise, Software, or Special Markets sectors.
Institutional I&E
Entrepreneurial Framework
The hub of entrepreneurship at Notre Dame is the Gigot Center for Entrepreneurship in the Mendoza College of Business. In the Gigot Center is housed the Entrepreneurship Major/Minor, the Entrepreneurship Advisory Board, and the Entrepreneurs in Residence. The Gigot Center is also home to many of the entrepreneurial programs and events on campus, including Irish Impact and the McCloskey Business Plan Competition. Outside of the Gigot Center, there exist several research facilities on campus, including the Galvin Center for the Life Sciences, Stepan Biochemistry Research Facility, Harper Cancer Research Institute, Stinson-Remmick Engineering Research, and Fitzpatrick Hall of Engineering.  Notre Dame is especially known for its research in the growing fields of nanotechnology and sustainable energy. 
Future Directions
Recognizing the importance of innovation and entrepreneurship for the future, the university has promoted current Dean of the College of Science, Dr. Gregory Crawford, to the position of Vice President and Associate Provost of Notre Dame. His charge in the coming years will be to expand Notre Dame to the West Coast by promoting collaboration with companies in Silicon Valley and San Francisco. As faculty administrators work to create opportunities and partnerships in California, there is no better time than now to evaluate the current campus landscape and culture to further promote innovation within all Colleges in the future. 
ND I&E Landscape Analysis
2014 Landscape
https://docs.google.com/a/nd.edu/spreadsheet/ccc?key=0AtGRsz4i6ggadDAzQTFkM0dUNGlNVHFFYlFfOFdQZWc&usp=drive_web#gid=0

2015 Landscape
Spreadsheet:Link
Presentation: Link
Related Links
University of Notre Dame
University of Notre Dame Student Priorities
Fall 2014 Candidates from Notre Dame:
Fall 2015 Candidates
---
---