School:University of Massachusetts Lowell
Jump to navigation
Jump to search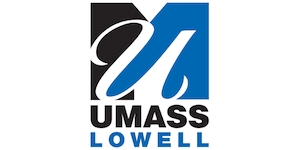 The University of Massachusetts Lowell (also known as UMass Lowell or UML) is a public doctoral/research university in Lowell, Massachusetts, United States,and part of the University of Massachusetts system. With more than 1,100 faculty members and more than 16,000 students, it is the largest university in the Merrimack Valley and the second-largest public institution in the state behind UMass Amherst. The university offers more than 120 degree choices, internships, bachelor's to master's programs and doctoral studies in the College of Fine Arts, Humanities and Social Sciences; College of Health Sciences; College of Sciences; the Francis College of Engineering; the Graduate School of Education; and the Manning School of Business.
Overview - A Campus On The Move
UMass Lowell has been evolving in every aspect; upgraded classrooms, libraries and labs; new and renovated student living and activity spaces; and enhanced parking facilities are a few on the list of what has been updated and changed over the past decade of campus improvement.
University Crossing

Officially completed and operating, this new building hosts student services and activities, bookstore, dining, University police, transportation services, and senior administration offices.

Pulichino Tong Building

The University's current construction project, the Tong Building will replace the now-relocated Honor's Eames Dorm building on UMass Lowell's North Campus and will house the entirety of the Robert J. Manning School of Business.

University Suites

This brand new dorm on UMass Lowell's East campus provides housing for 472 students in four- and six-bed suites. There is a ground-floor common area with a café - Hawk's Nest - featuring fresh bakery, grab & go items and a late night Asian menu, in addition to delicious Red Mango frozen yogurt & smoothies and "We proudly serve" Starbucks Coffee. A multi-purpose room is open to the UMass Lowell community. Each residential floor has two common kitchen/lounge areas, two quiet study rooms and a group study room.

Riverview Suites

The other half of the two-dorm addition to UMass Lowell in 2013, Riverview Suites has either two or three bedroom suites complete with a live-in kitchen, classroom and meeting rooms inside the building, and a gym inside the facility. The University leases the property from Soho Development, who also built the $42 million facility.

New Garages

In the past three years, UMass Lowell has added two large parking garages to each of its largest parking lots, greatly increasing the parking capacity for the strong commuter presence attending the school.

Health and Social Sciences Building

In 2013, this new criminal justice and criminology, nursing and psychology building had its grand opening. The construction of this building marked the first new construction in 30 years on the University's South Campus, including all campuses in the University's recent wave of evolution.
Since 2009, the University has also been heavily updating the existing buildings while acquiring and renovating new ones. UMass Lowell renovated the newly acquired Inn and Conference Center, added Taco Bell and Subway to the University's dining partners, renovated the newly acquired Tsongas Center, and heavily updated their Dining Hall in the tallest UMass Lowell building, Fox Hall 
2015 Innovation Fellows Plans
Student Entrepreneurship
NonSpec 
NonSpec participated in the 2013 first annual DifferenceMaker™ Idea Challenge where they showed dedication and enthusiasm by attending each educational workshop and event throughout the process which aided in their success.  At the Idea Challenge they received the prestigious title of "Campus Wide DifferenceMaker™" and the top award of $5,000. This prize represents the project most likely to make a significant difference in the community, region and the world.
The $5,000 award has allowed Nonspec to move their initiative forward by creating their first batch of prosthetic limbs. With a projected 15% market share in the next five years, Nonspec plans to use this market presence to launch a foundation called "Give a Hand". The purpose of this foundation would be to spread their mission, goals, charitable cause, and products around the world in order to make a difference in developing nations.
Since Nonspec's success at the Idea Challenge they have gained great publicity in other arenas.  They were recently named one of the top 10 semi-finalists in Entrepreneur® Magazine's "College Entrepreneur of 2013 Contest".  In addition, they were invited to attend IAPD Plastics Application Design Competition, which was held on October 2, 2013 in Miami, Florida.  Lastly, the team was utilized as a role model by being featured in a video that was shown at all DifferenceMaker™ freshman orientation sessions throughout the summer due to their motivation and high entrepreneurial spirits.
Departments and Programs
Center for Innovation and Entrepreneurship
The Center for Innovation and Entrepreneurship offers students and faculty of all disciplines the opportunity to work together to develop innovative and entrepreneurial solutions to the major problems facing our community, the region and the world. The Center hosts several programs that encourage social innovation and entrepreneurship among UMass Lowell students as well as the broader community in which we live. The DifferenceMaker program provides training, mentoring and other resources to UMass Lowell students and faculty who wish to address social, environmental and economic problems in our community.
DifferenceMaker™
The DifferenceMaker™ Program sponsors specific events and activities that support students in solving big problems through innovation and entrepreneurship. The Program is highly experiential by offering students a series of workshops that they can engage in to better understand innovation, entrepreneurship and launching a start-up of their interest.
Students of all majors and disciplines are welcome to join this Program and make a difference at UMass Lowell, in the community or in the world through innovative and entrepreneurial action.
Goals of DifferenceMaker™
Introduce all UMass students to creative problem solving, innovation and entrepreneurship

Accelerate purpose in each students education

Connect current students to alumni experience

Encourage a social responsibility ethos
DifferenceMaker™ Available Activities
DifferenceMaker™ Enterprise Co-op

Throughout each year, DifferenceMaker™ will hire several students from various majors to participate in paid co-op experiences. Student co-ops assist in conducting and summarizing entrepreneurial research, developing and distributing marketing materials for various center initiatives, and provide center support for faculty and innovation fellows affiliate with the center. 

Freshman Make A Difference Orientation

During the summer sessions, DifferenceMaker™ has a large presence in the Freshman Orientation days. Through the Office of Orientation, Student Activities and Leadership, and ResLife, DifferenceMaker™ was able to present to every attending freshman and gain exposure to all of the new students at UMass Lowell.

Freshman DifferenceMaker™ Convocation

At the beginning of each academic year, we present DifferenceMaker™ to every incoming freshman at Convocation. Each year we perform a fun activity to engage students in our program.

Introduction to DifferenceMaker™

Freshman Seminars-A series of in-class discussions in collaboration with the Manning School of Business, The Francis College of Engineering, The College of Fine Arts, Humanities, and Social Sciences, and The College of Health Sciences in order to introduce the DifferenceMaker™ Program to students of all disciplines and to inspire them to explore their passions through creative problem solving.

Introduction to the DifferenceMaker™ Program

A series of events were held on both the north and south campuses to introduce students to DifferenceMaker™ Program concepts, allow them to share their ideas and interests, explore possible projects and solution, and to connected with each other to form teams. These events included the DifferenceMaker™ Convocation Pitch, the Climate Change Teach-in, a DifferenceMaker™ Team Building Dinner, and others.

DifferenceMaker™ LLC

Having a presence in the student residence halls as well as the classroom is important to motivate students and discover new ideas waiting to happen. The DifferenceMaker™ Living/Learning Community brings new students together in the ResLife environment for innovation and brainstorming outside of the classroom.

Honors DifferenceMaker™ Program

In collaboration with UMass Lowell Honors Program, this concerted effort to embed elements of social entrepreneurship in our Honors Program includes coursework and community-based student efforts that have specific focus on innovation and entrepreneurial practices.

Introduction to Engineering Extra Credit Project

This activity was a collaboration effort between the DifferenceMaker™ Program and The Francis College of Engineering to introduce freshman engineering majors to the DifferenceMaker™ Program, innovation, and entrepreneurship. In this introductory activity, the students' innovative ideas were explored and presented in a format which would enable their projects to be candidates for both the DifferenceMaker™ Program Idea Challenge and Campus Catalyst program.

Creative Venture Competition

This contest held in October of 2013 hosted by DifferenceMaker™ focused on innovation from Arts, Humanities, and Social Science students. $2500 was awarded to the best entrepreneurial business a proposal, and $250 to each finalist team was also awarded.

Digital Federal Credit Union Innovation Contest 

In November of 2013, DifferenceMaker™ along with DCU hosted an Innovation Contest focusing on banking and financial innovation in the industry. With a grand prize of $500 per team member and peripheral prizes of $100 per team member, the contest gave thousands to innovative teams and cutting edge ideas.

DifferenceMaker™ Reverse Pitch

This pitch event was debuted on November 19, 2013. This event was a spin-off of "normal" idea challenges and hackathons. Instead of students pitching their ideas to funding sources or judges, businesses and community partners actually pitched their existing problems to a student audience in the hopes that they can develop a solution.

DifferenceMaker™ Idea Challenge

​DifferenceMaker™ is hosting its fourth annual Idea Challenge; this challenge is for student entrepreneurial teams to come up with sustainable ideas that will make some sort of impact on the world or their community. Help in the form of various workshops in the months leading up to the Idea Challenge is available, teaching students how to properly pitch their ideas and how to flesh out their business plans. There are various subcategories for each team to have a chance at winning spread out across over many different disciplines, encouraging all students to participate and welcoming all ideas.

DifferenceMaker™ Workshops

Team Building Mixer

Identifying Problems and Opportunities

Developing Solutions

Identifying Resources

Rocket Pitch Coaching

Campus Catalyst Program

​The DifferenceMaker™ Program works closely with 'E For All', a community business accelerator funded by the Deshpande Foundation, in order to encourage students to generate and develop their entrepreneurial ideas. The Sandbox Campus Catalyst program provided seed funding for student social and business solutions with potential. 
DifferenceMaker™ Program Available Resources
DifferenceMaker™ Central

Large open office collaboration space equipped with Wi-Fi, 3 Mac computers, printer/copier, 2 46" LCD TV monitors with projection capabilities, 6 white boards, 10 tables with chairs all equipped with wheels that can be easily rearranged for optimal use and collaboration, refrigerator, sink, cabinet space, coffee maker and other necessary office supplies.

Hawk  Hatch

Philanthropic Crowd Funding Source

Grants
Networking

Mentors

Faculty Fellows and DifferenceMaker™ Staff

Events

Series of Educational Entrepreneurial Workshops including materials

Problem, Opportunity, Solution, Resources, Pitch Coaching

Team Building Assistance

TeamMaker Platform, Team Building Mixer
Through the Center for Innovation & Entrepreneurship, along with affiliated faculty and other campus programs, the University has introduced a range of activities that help students make a difference in the world.
DifferenceMaker™ Future Efforts
The DifferenceMaker™ Program plans to continue many of the activities and events initiated in the first year of the program.  Some of these programs will be revised and they intend to launch several new initiatives, including a DifferenceMaker™ Passport Program, a DifferenceMaker™ Mentor Program and a seed grant program to encourage faculty participation in the DifferenceMaker™ program. They also plan to expand our collaboration with several University colleges. 
This year they plan to increase the role of DifferenceMaker™ Living Learning Community students in the DifferenceMaker™ program by training the members to become DifferenceMaker™ ambassadors once they transition into their sophomore year  through weekly meetings and monthly events. The training will allow LLC members to learn more about entrepreneurship and the DifferenceMaker™ Program so they can promote it to student clubs and campus classes.  Once the LLC students become sophomores they will transition into a DifferenceMaker™ Ambassador role, and hopefully will form the nucleus of a yet-to-be-formed DifferenceMaker™ student club.  
In order to assist students to both record and encourage their participation in DifferenceMaker™ events, they are planning the development and implementation of a DifferenceMaker™ Passport Program. Consistent with the goals of the UMass Lowell DifferenceMaker™ Program, the Passport Program will assist students to identify, record and collect experiences meant to: 
Develop individual entrepreneurial identity

Develop entrepreneurial skills and self-confidence

Develop creative and sustainable solutions to complex problems

Connect with the University, E For All and community entrepreneurial ecosystems
They anticipate that the number of students engaged in the DifferenceMaker™ Program and related activities will increase each year. As they encourage and reward the formation of various types of student ventures and projects, the need for mentors who can consult with student teams will increase. They plan to guide these students and track their progress through a professional Mentor Program. The UMass Lowell Mentor Program will provide a committed network of mentors with a broad set of skills and professional experiences, who can assist UMass Lowell entrepreneurs in developing the knowledge and skills, needed to grow an idea into a successful, new venture.
The DM UMass Lowell Mentor Program will seek to connect DifferenceMaker™ students with successful experienced entrepreneurs and alumnus, as well as faculty and staff.  The Mentor Program will focus on assisting students to further develop solutions as part of the DifferenceMaker™ Program. Mentors will provide guidance in further refining student team objectives and help them in building their entrepreneurial skillsets.
They are planning to offer DifferenceMaker™ Faculty Workshops to help faculty consider how they might engage their own students in DifferenceMaker™ activities through course related activities and through co-curricular activities. Our hope is that by engaging more faculty, they in turn will serve as both mentors and catalysts for students, encouraging and guiding student project selection and development. They have also observed that student teams often need support and guidance from faculty from different disciplines, these workshops and an accompanying seed grant program are meant as catalysts to encourage interdisciplinary engagement among faculty,
While the overarching goal of the DifferenceMaker™ program is to encourage UMass Lowell students to develop sustainable and entrepreneurial solutions to the challenges and opportunities they will confront in this world, they anticipate another, potentially significant impact on the University community itself. Our students will only be successful if they have the support of faculty, alumni, business and community members. During our first year of program activities, they have found these constituents to be most supportive and willing to mentor and work with our students.  Alumni are mentoring and investing in student ventures.  Faculty are working across disciplines to ensure their student teams make progress. Local profit and non-profit businesses are eager to work with student teams, providing real-world problems and opportunities for student projects. In one short year, the DifferenceMaker™ program has been embraced by the greater University community. Our hope and plan is to anchor this program in the curriculum and culture of the University, so all UMass Lowell students have an opportunity to make a difference in this world.
Commercial Venture and Intellectual Property Office (CVIP)
CVIP Mission
The mission of UMass Lowell's Office of Commercial Ventures and Intellectual Property (CVIP) is to facilitate the transfer of technology arising from government, foundation and industrial sponsored university research to the private sector. They facilitate development of inventions toward commercial relevance and utility, nurture mutually beneficial and sustainable relationships between the University and industry, promote an innovative and entrepreneurial culture at the University and contribute to the economic vibrancy and well-being of the Commonwealth. CVIP's activities enable the successful transfer of commercially viable technology from the laboratory to the marketplace for public use and benefit. 
CVIP Functions
The main objectives of CVIP are:
to license patents and other protections to industry in order to promote the development of inventions toward practical application;

to foster a culture of innovation, facilitate commercially promising endeavors, and positively contribute to the University's entrepreneurial ecosystem;

to seek new business opportunities and form productive collaborations with industry in an effort to increase research and licensing revenue to the University;

to generate income for inventors and the University as a whole for use in supporting further research, technology development and transfer;

to advocate for the research community and seek to create incentives, provide rewards and obtain resources to advance commercialization of the technologies they generate.
New Venture Initiative
New Venture Initiative (NVI) is a mix of university resources and equity investment designed to provide a path to and facilitate more start-up activity at UMass Lowell.  As part of the larger Commercial Venture and Intellectual Property Office (CVIP), the NVI fund focuses on inventions, discoveries, products and services that have been developed in whole or in part at UMass Lowell, have achieved proof of concept (or an early prototype) and are ready for commercial product development, rather than those requiring further basic research.  
Massachusetts Medical Device Development Center (M2D2):
The Massachusetts Medical Device Development Center (M2D2) is a lifeline for the state's smaller medical device companies, offering inventors and executives easy, affordable, and coordinated access to world-class researchers and resources at the Lowell and Worcester campuses of the University of Massachusetts.
M2D2 Available Resources
9000 square feet of space on second floor including:

6 wet laboratory suites

Two office suites

Large open office collaboration area

Board room

Reception area

Break Room equipped with a table and chairs, full size refrigerator, microwave, sink, dishwasher, and coffee maker

5000 square feet of space on first floor including:

Six individual offices 

Bright shared kitchen space equipped with a table and chairs, full size refrigerator and sink

One large state of the art conference room with full pull down screen, computer with web access and a projector  

All conference rooms contain a 46" Aquos LCD screen, as well as computer with web access and a projector

Business and medical feasibility assessments

Product development space

Medical and clinical pathway assistance

Connection to additional services such as laboratory use, incubator space for start-ups and clinical trial support through the product life cycle

SBIR and STTR research

Access to capital

Networking events

New Venture Competitions
Entrepreneurship For All
'E for All' is a project of the Deshpande Foundation, which has encouraged the use of entrepreneurship and innovation as catalysts for sustainable change in the United States, India and Canada since 1996. Deshpande supported centers including the MIT Deshpande Center for Technological Innovation, the Deshpande Center for Social Innovation in Hubli, India, the Pond-Deshpande Centre at the University of New Brunswick, and our own 'E For All'  at the University of Massachusetts Lowell. 'E for All' includes higher education partners (Middlesex Community College, Merrimack College and Northern Essex Community College) and a host of regional community and business partners.
E for All Mission
The mission of 'E For All' is to connect and strengthen the ecosystem in Lowell and Lawrence, Massachusetts, around entrepreneurship and leadership. This mission is supported by the following three principle 'E For All' programs:
Catalysts - The Catalyst program provides seed funding and mentoring support to foster initiative around new ideas and programs among local high school and college students.
Entrepreneurship - The Entrepreneur Program is a community-wide initiative supporting entrepreneurship. More than 30 partner organizations and institutions are participating in this initiative, which gives entrepreneurs a greater chance at success through pitch contests, workshops and intensive programs. 
Leadership - The 'E For All' Leadership Institute (SLI) offers leadership development for individuals that live, work or are interested in the communities of Lawrence and Lowell. 
Other Organizations
Entrepreneurial Ventures Association: EVA is an interdisciplinary organization that is open to all majors; they share resources, advice, and interests with other COM and UML clubs to help students turn their entrepreneurial ideas into reality.  
Honors Ambassador Program: Students participate in the Honors Ambassador Program to gain valuable experience through courses tailored for higher development and to foster relationships with communities and organizations that the program is involved with.
University Entrepreneurship
Creative New Academic Programs
The Manning School of Business 

Undergraduate - Entrepreneurship Concentration: Prepares students to be "outside-of-the-box" thinkers and innovators in today's complex global economy.
The entrepreneurship concentration prepares students to be an "outside of the box" thinker and innovator in today's complex global economy. Using an interdisciplinary focus, students who complete the concentration will:

Develop the management skills required to identify and launch new business ventures around innovative products, services and technologies. 

Develop an understanding of the concepts and activities associated with entrepreneurship and innovation. 

Understand the financial aspects of an entrepreneurial venture from start-up to "harvest". 

Discover their individual "entrepreneurial spirit" through experiential learning in interdisciplinary classes and the College's Venture Lab.
Graduate - Master of Science in Innovation and Technological Entrepreneurship (MSITE): Provides engineers, business majors and scientists with the skills and knowledge required to drive innovation in today's collaborative, global workforce.
Graduate - Master of Science in Innovation and Technological Entrepreneurship (MSITE) Healthcare Innovation & Entrepreneurship (HI+E) Option: This option is targeted towards healthcare professionals, such as hospital managers/administrators, clinicians, physicians and other medical professionals who need to understand and manage the impact of emerging technologies and innovations in the healthcare industry. The Program will also benefit recent graduates who wish to enter the healthcare industries as a career choice.
Graduate Certificate - New Venture Creation: This program is focused specifically on the creation of technology-based ventures and is designed to assist professionals with undergraduate and career experience in science, engineering, technology or business fields in better understanding how to develop and launch a technology-based business.
College of Sciences, Computer Science Department
The Computer Science Department offers an entrepreneurship option in their master's degree. It is directed at those with a strong undergraduate background in Computer Science who are interested in both deepening their technical knowledge and in understanding the tools required for developing a company directed towards software services and products.
College of Engineering, Electrical and Computer Engineering Department, Assistive Technology Program
A component of the undergraduate Electrical and Computer Engineering program, senior ECE students complete a senior capstone project aimed at designing and producing an assistive technology device for a person with a disability. Engineering students can apply the knowledge they have learned from their courses and help solve problems for disabled people through creating technological advances. 
Entrepreneurial Capital Projects and Acquisitions
The Mark and Elisia Saab Emerging Technologies and Innovation Center
This new UMass Lowell 2012-13 construction is a building developed for bringing innovation and industry together. Faculty and student researchers use the resources available in this building to meet industry challenges and improve lives using UMass Lowell technologies and patents. Core facilities for use in fundamental and translational research are available to faculty and students; it contains class 100, 1,000, and 10,000 cleanroom spaces, wet lab and engineering lab space, and a plastics processing high bay. The ETIC is has LEED Gold Certification, and is considered green. The construction of this building also is estimated to supporting at least 130 new jobs.
Health and Social Sciences Building 
This new building that houses criminal justice and criminology, nursing, and psychology provides classrooms, simulation laboratories, observation facilities, a demonstration hospital wing, and ample meeting space for community projects. The construction of this new building supported more than 800 construction and related jobs, and provided the much needed resources and space for UMass Lowell's growing social science population.
University-Industry Collaboration
Research Activities
UMass Lowell places a large focus on professional research, as evidenced by the ample lab space professors have to work with in buildings such as the ETIC. A comprehensive list of all research areas and information about them can be found on the UMass Lowell website. 
Center for Industrial Competitiveness
For nearly 20 years, UMass Lowell's Center for Industrial Competitiveness has conducted research on industrial innovation, regional development, corporate governance, financialization, and sustainable prosperity. Resources available stretch all around the world through collaborative networks and relationships, providing ample information and a global understanding on development. Research also includes local industrial development in Massachusetts. 
Regional and Local Economic Development
Economic and Social Development of Regions Department:
This graduate program focuses on giving an interdisciplinary education that is tailored to fit the needs of the individual. By educating both the private and public sectors of economic and social development, this program aims to create work ready individuals that can bring innovation and change to shifting social and economic environment.
Lowell Makes 
Lowell Makes is a non-profit, shared community workshop and laboratory. It is an organized group of local artists, engineers, makers, and thinkers who work together to provide tools and learning resources to the public. They use these resources to collaborate on individual and community projects in order to promote science, technology and art; while working and experimenting on innovative ideas to encourage learning within the community.
Mill No.5
Mill No.5 is one of the few non-UML entrepreneurial constructs in the Lowell urban environment. Like many mills in Lowell, it has been renovated and repurposed. Being subdivided and updated to proper code, there are rooms available for offices and start-ups looking to have an office space to centralize their resources. 
Related Links
University Innovation Fellows:
UMass Lowell Student Priorities
---
---