School:Tulane University
Jump to navigation
Jump to search
Student Innovation and Entrepreneurship

Tulane offers two majors for those interested in entrepreneurship and innovation:
Business Management- Entrepreneurship Major
Students choosing the entrepreneurship track will take a course on the management of new ventures that is structured around developing a real new venture plan. Students are presented with the opportunity to apply their knowledge from various business functions (e.g. accounting, finance, marketing, etc.) to conceive and develop a business plan for a new venture.  This course will allow students to experience the entrepreneurial process first hand, learn about traditional and social entrepreneurship business models, and discuss new ventures in different industries.

Social Innovation & Social Entrepreneurship Minor
Building upon Tulane University's strengths in civic engagement and service learning, the interdisciplinary social innovation and social entrepreneurship (SISE) minor will prepare students to use solutions-oriented thinking, integrate theory and practice, generate and support stimulating research across fields, & better understand and create new models of social change. Tulane recognizes that well-informed, motivated, and connected citizens are the real agents that create change, and the time and place to cultivate these changemakers is during their university studies. SISE will enable students to explore how they can be changemakers in whatever career path they choose, be it working for a nonprofit, a corporation, in academia, or starting their own venture.
Classes:These help students understand how to translate technological/engineering ideas to a market.
BMEN- Biomedical Engineering
2310 – Produce and Experimental Design

4040- Team Design Projects II

4900- Biomedical Research and Professional Practices
MGMT - Management (Entrepreneurship Specialization)
4140 - Entrepreneurial Management

4180 - Management of Technology and Innovation

4610 - Managing New Venture Creation
SCEN - Science and Engineering
6000 - Entrepreneurship in Engineering and Bioscience: A New Way of Inventing
SISE - Social Innovation and Social Entrepreneurship (Minor)
2010 - Intro to Social Innovation and Social Entrepreneurship (+ service learning)

2020 - Intro to Business Principles and Method

3010 - Design Thinking for Collective Impact

4910 - Independent Study

6020 - Senior Practicum
Furthermore, there are student led organizations:
ComeFail : Brings people together to talk about societal issues, learn about best startup strategies, and work together to build startups. The organization hosts networking events, organizes weekend hackathons, brings in guest speakers, and provides a collaborative space for students in entrepreneurship to build their ventures. Launchange brings leaders in entrepreneurship across campus and from New Orleans together to learn from one another and build "better" businesses.
Tulane Entrepreneurs Association (TEA): TEA's mission is to assist members in expanding their entrepreneurial skill base. TEA sponsors lectures, workshops, and social networking events, and provides student entrepreneurs with assistance in organizing their own ventures. TEA coordinates student teams that create business plans for entry into business plan competitions, and sponsors the Tulane Business Plan Competition. TEA is open to all Tulane students.
TUChangemakers: Foster and engage a community of students interested in changemaking in all its forms. Create an enabling environment where every individual has access to the resources, learning opportunities, role models, and peer community needed to actualize their full potential as changemakers.
TedXTU

: TUChangemakers

brings innovators from all of the city's different micro-communities together to share an evening of story-telling and inspiration. TEDxTU

celebrates and cultivates social innovation in New Orleans.

Speakers will include some of New Orleans's most active innovators, from entrepreneurs to educators, and public service professionals to students.
The Bioinnovation program at Tulane elucidates the mechanisms for PhD students to translate their biological research into a biotech market (http://tulane.edu/bioinnovation-IGERT/).  They also support student changemakers outside the classroom through a student-led incubator program ([2]) and a start-up funding competition ([3]).
Faculty Innovation and Entrepreneurship



The Bioinnovation Program at Tulane University has combined faculty from different Schools of Medicine, Science and Engineering, Business, Law, and Public health (http://tulane.edu/bioinnovation-IGERT/) to aid in growth of this innovation themed program. This interdisciplinary program provides graduate students withtranslational research and entrpreneurial training opportunities. Faculty innovation is also linked to Tulane's Entrepreneurship Association (TEA), in which faculty from the business school help students form entrepreneurial teams and goals. Also, the Engineering for Medicine Center of the J. Bennett Johnston Health and Environmental Research Building (http://tulane.edu/asvpr/ora/jbj.cfm) promotes faculty from Schools of Medicine, Science and Engineering, and Public health to cultivate a research community and transform medical technologies. 
Another major faculty resource includes the Levy-Rosemblum Institute for Entrepreneurship. The Levy-Rosenblum Institute for Entrepreneurship (LRI) trains and inspires entrepreneurs through coursework, community service projects, and internships. Freeman School students are provided the opportunity to work with experienced faculty members of entrepreneurship, network with a regional board of entrepreneurs and participate in a student based entrepreneurial association which provides a training ground for business development. In addition, LRI coordinates joint academic, government and business initiatives that stimulate private enterprise and regional economic growth. It also contributes to regional and economic development by assisting the corporate and family business communities in identifying and exploring business issues through shared learning experiences.
Undergraduate Faculty:
Sidney Pulitzer, Bs, University of Pennsylvania
Graduate Faculty:
John Elstrott, PhD, University of Colorado
Research Faculty:
Levy-Rosenblum Institute
Tulane University
Goldring/Woldenberg Hall I
7 McAlister, Suite 401
New Orleans, LA 70118
email: Click here
Phone: 504-865-5306
University Technology Transfer Function
The Office of Technology Transfer and Intellectual Property Development (OTT) (https://tulane.edu/ott/) to secure intellectual property of Tulane students and faculty and to advance commercial translation. When a student or faculty member discloses an invention or idea it is OTT's expertise to evaluate the commerical potential of the novel idea. Furthermore, OTT directs students accordinlgly on the appropriateness to start a venture based on market size, strength of intellectual property, ability of technology to penetrate the market, and the likelihood of the venture to raise necessary funds. OTT also connects the student and/or faculty inventor of local resources to move their venture forward. Importantly, OTT works hard to reach out to students and faculty and make them aware of OTT's services through entrprenurial seminars and local community activities. 
Intellectual Property Rights Summary for Inventors at Tulane



The following points are applicable to inventions developed in the course of Tulane research:
Inventions that are conceived or reduced to practice under Tulane research will be disclosed to the Office of Technology Transfer and Intellectual Property Development.

Upon analysis of the technology, Tulane may elect to protect the technology by patenting or copyrighting it. In the event Tulane elects not to manage and protect the technology, it may be placed in the public domain through publication or other means or assigned to the inventor under applicable terms and conditions.

Tulane will retain the right to practice the technology for research and educational purposes.

For inventions that arise from federal support, Tulane will comply with the provisions of the Bayh-Dole Act, including providing the government with a non-exclusive royalty free license to such inventions.

Tulane will share Net Proceeds from intellectual property with inventors according to the

Tulane Intellectual Property Policy and Procedures

. Tulane will retain a portion of the Net Proceeds in order to further the research and educational mission of Tulane.
If inventors choose to sign an agreement with Tulane on their IP, Tulane will:
Market the invention

Negotiate a licensing agreement if a commercial partner is interested

Collect royalty payments and distribute as followed:
50% to the inventor(s)
15% to the department, section, or research activities of the inventor
35% to the campus where the inventor(s) has his or her appointment
15% to OTT Operation
University-Industry Collaboration



A great resource for Tulane University and Industry collaboration is the New Orleans Bioinnovation Center (NOBIC) (http://www.neworleansbio.com/about_us/our_team/). NOBIC is a life-science small business incubator of lab, office, and conference space. It currently holds more than 25 businesses, including startups, service providers, and investors. NOBIC is supported by Luoisiana state funds and grants to provide technical assitance to life-science based startups. The Director of Technology Commercialization assits startups with market analysis, business plans, and grant writing assistance. Other organizations like NOBIC foster industry collabortaion with Tulane University such as New Orleanse BioDistrict (http://biodistrictneworleans.org/), IdeaVillage (http://ideavillage.org/), Propellor (http://gopropeller.org/), and MEPOL (&nbsp http://www.mepol.org/).  
Annually, Tulane partners with Propellor to host a city-wide pitch competition known as PitchNOLA. PitchNOLA: Community Solutions is a pitch competition with a simple mission: to provide a platform for community members to propose their solutions to our city's most pressing social and environmental challenges. The goal is to facilitate start-up funding, project support, and media coverage to ensure the community benefits from the best and most innovative ideas! The "First Place Winner" will receive a $5,000 cash prize, pro bono technical assistance, and consulting through Propeller.
http://gopropeller.org/pitchnola/pitchnola-2013-community-solutions/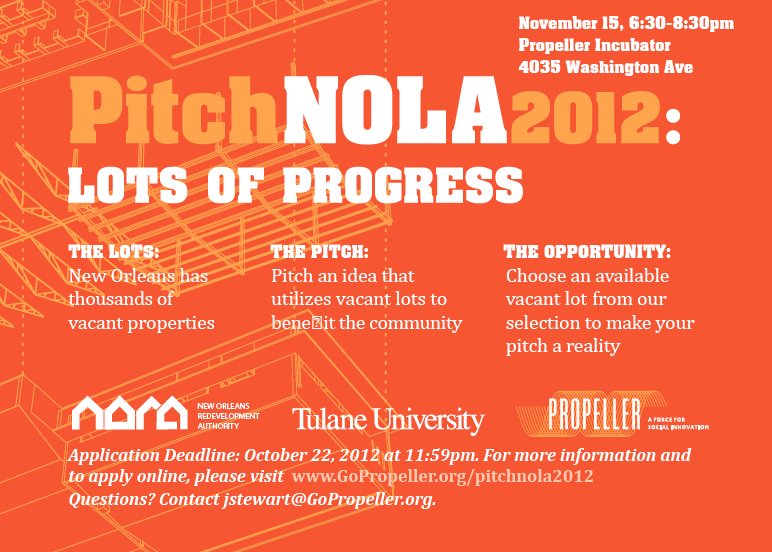 Regional and Local Economic Development Efforts



Local funders in New Orleans include New Orleans Startup Fund (http://neworleansstartupfund.org/), South Coast Angel Fund (http://southcoastangelfund.com/), and the Louisiana fund (http://www.louisianafund.com/). The funds from these organizations help grow an innovation community within the New Orleans area. Moroever, NOBIC, Idea Village, and New Orleans BioDistrcit are also helping grow an innovation community through various business pitch competitions. Lastly, the Bioinnovation PhD program at Tulane University is support by NSF-IGERT (http://tulane.edu/bioinnovation-IGERT/) and promotes overall translation of medical technology education so that the Biotech industry can grow in the greater area of New Orleans.   
Other
There are many workshops and lecture series on Tulane's campus from the Schools of Business, Medicine, and Science and Engineering, along with the tech transfer office (OTT) and Social Innovation and Social Entrepreneurship Program (SISE) ([1]) to assist in entrepreneur and innovation education. For example, Tulane's School of Medicne and OTT provide a lecture series bringing in entrepreneurs, local attorneys, investors, and other experts to educate students on different aspects of entrepreneurship. Moreover, the novel Bioinnovation Program hosts a monthly colliquium series for Tulane students and faculty and the larger New Orleans area of scientific and entrepreneurial community to learn and discuss issues on ethics, entrpereneurship, intellectual property, and translational research. 

Specifically, for undergarduate students the Associate Dean for Undergraduate Programs in Tulane's School of Science and Engineering works with OTT to provide two seminars a year, in which invited entrepreneurs discuss their paths to success and share stories of their failures. 
Landscape Canvas
Related Links
Tulane University Student Priorities
---
---