School:Texas A & M University
Jump to navigation
Jump to search
Student Innovation and Entrepreneurship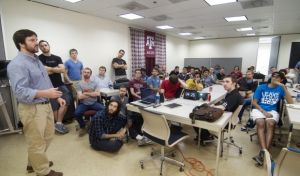 Texas A&M University proudly hosts an inclusive and enabling infrastructure for entrepreneurship and innovation efforts led by students through various on-campus programs: Startup Aggieland, Aggies in Business, and the Engineering Innovation Center are all manifestations of such an effort and allow students to exercise their business-savvy, creativity, and product development skills.
The Mays Business School Center for New Ventures and Entrepreneurship provides undergraduate and graduate certificates for entrepreneurship. Unfortunately, the undergraduate certificate is limited to undergraduate students in Mays Business School. Only the graduate certificate is available to students across colleges. The Center for New Ventures and Entrepreneurship, however, does support student entrepreneurship as well as faculty and the local community with competitions and lecture series to inspire and educate across campus. Some of its popular programs include:
Ideas Challenge - idea competition where 40 finalist ideas are chosen, and the top 3 ideas receive a cash prize (1st - $3,000, 2nd - $2,000, 3rd - $1000)
3 Day Startup - a weekend event where students collaborate to form businesses and demo a prototype to a panel of judges, including investors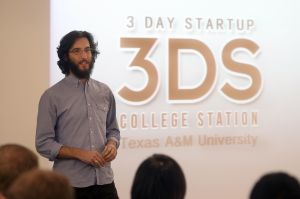 Lunch and Learn - lunch speaker events
Startup 101- a weekly lesson spanning 3 or 4 weeks featuring presentations from business leaders, marketers, and IP attorneys and their advice on startup creation
Startup Aggieland is a brand new student incubator designed to provide students who have launch-ready concepts with the opportunity to receive co-working spaces, mentors, and a supportive community.  They lack laboratories, equipment, and funding. 
Aggies in Business (AiB) is another brand new program that provides business consulting for local businesses, and enables students to be employed by the university to perform this consulting work.  The student employees are overseen by leadership.
Texas A&M also has several avenues, such as the Center for New Ventures and Entrepreneurship Newsletter, Texas A&M Regional Engineering Conference, and Engineering Development (hosted by Student Engineers' Council), to inform students of and market innovation and entrepreneurial activities and opportunities.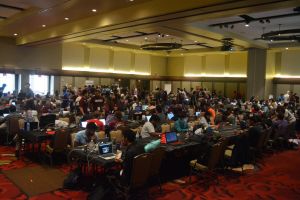 Aggies Invent is a monthly, 48 hour intensive design experience offered at the Engineering Innovation Center (EIC), a 20,000 square foot rapid prototyping lab. The format of the experience is to engage 60 or more students in multidiscipline/multi-level teams in hands on projects that will push their innovation, creativity, and communication skills. Each event will have a specific theme and will be designed in collaboration with industry and faculty. At the final presentations, Aggies Invent teams will compete for cash awards. 1st place - $1,000, 2nd place - $750, and 3rd place - $500 per team. The end goal is to provide students the opportunity to acquire skills essential to becoming successful innovation leaders and support them in founding startup companies.
TAMUHack is the official hackathon of the university, where 700 students across the world get together on our campus to build amazing products quickly and intelligently. TAMUHack brings relevant industrial partners such as Google, Facebook, Microsoft, and Rackspace to connect with our students and helps them to meet the needs of a world that is incessantly expanding. This event particularly allows the students to exercise their sense of entrepreneurship and innovation by rapidly developing solutions to modern problems in an efficient manner, and also helps our students to learn to work with a diverse set of team members. Additionally, this event exposes our students to the rapid construction/deployment framework, such as agile development, that is one of the hallmarks of modernly relevant powerhouses in tech such as Square, Uber, Facebook, AirBnB, and others.
Faculty Innovation and Entrepreneurship
The university offers great resources to enable faculty entrepreneurship. CNVE offers online resources ( for e.g. lectures and case-studies) to help faculty introduce innovation and entrepreneurship to students in both innovation- and entrepreneurship-focused and non- innovation and entrepreneurship-focused courses.
Faculty are allowed to participate in nearly all of the programs run by CNVE  which also enables them to be introduced to and educated in entrepreneurship, and there are numerous institutions that provide commercialization of research. For example, the Office of Texas A&M System Technology Commericialization assists faculty in taking their research outside the university in the form of inventions and startups. 
The Division of Research at A&M is a library of resources in the university and surrounding network.  They accept grant proposals and funnel research opportunities to the correct institutions (most of which are listed under Entrepreneurship and Funding Resources).
University Technology Transfer Function
Texas A&M offers a number of offices to encourage quick transfer of research to industry, aided also by some incubators in the surrounding Bryan / College Station area.
The Aggi-E Challenge Program is a program designed to actively engage engineering undergraduate students with multidisciplinary team projects related to the engineering challenges facing our society. The grand challenges include, but are not limited to, the 14 Grand Challenges for Engineering (articulated by the National Academy of Engineering), the 14 Grand Challenges for Global Health (articulated by the Bill and Melinda Gates Foundation), and Engineering World Health: Projects That Matter. The program provides engineering undergraduates with opportunities to engage in multidisciplinary team projects addressing elements of some of the most important engineering challenges. Since fall 2012, more than 680 students have participated in the AggiE_Challenge program.
The Grand Challenges Scholars Program (GCSP) is a selective, three-year program that will attract, retain, and graduate future leaders who are equipped to solve engineering grand challenges facing our society today and in the future. The Grand Challenge Scholar (GCS) will achieve in-depth understanding of their technical areas in the context of research related to a Grand Challenge problem while also gaining interdisciplinary, entrepreneurial, global, and service learning expertise and experiences. Grand Challenge Scholars will be prepared to be global leaders, in all sectors: academe, government, and industry. The program assists proactive and dedicated students to hone their academic aptitude into producing solutions to modern engineering problems.
The Texas A&M Office of Technology Commercialization identifies and supports the transition of academic research into a monetized product by linking researchers with entrepreneurs and investors.  Businesses are spin-outs of the A&M System research and licensed through A&M.
~36 current startups listed
Formation of over 700 license agreements
Manage 900 patents, 1500 patent applications
Texas A&M AgriLife Research is a hub for agricultural entrepreneurs.  They have existing relationships with sponsors in order to quickly develop startups where researchers can remain scientists and hand over project management to a sponsor. 
Network of

250 country extension offices
900 professional educators

Texas A&M Transport Institution provides networking for innovators to research institutions regarding the transportation profession as a whole, including construction and safety. 
Research Valley is a hub that provides support to early stage startups as well as networking to quickly bring startups and technology ventures to the industry. They are built on strong industry relationships that enables the quick move to industry. 
Access to capital from

Aggie Angel Network
Research Valley Funds, LLC
Texas  Emerging Technology Fund ($200 million in funding for commercialization)
Cancer Prevention Research Institute of Texas
See updated landscape analysis for more options on regional capital.
University-Industry Collaboration
The University has strong ties with big industry leaders to encourage a quick transition from research to industry.
Research Valley is a hub that provides support to early stage startups as well as networking to quickly bring startups and technology ventures to the industry. They are built on strong industry relationships that enable the quick move to industry. 
Relationships with

Pfizer
Novartis
MDF Anderson
Hewlett Packard
Schlumberger
ConocoPhillips
The Mays Business School Center for New Ventures and Entrepreneurship has an advisory council built from industry leaders, including leaders in finance, construction, banking, law, technology, and marketing. Additionally, they have strong relationships with local I&E institutions in the local community and the state of Texas. 
The Dwight D. Look College of Engineering within the university supports and fosters industry and nonprofit relationships within the realm of engineering.  In addition, the individual departments within the school have close ties with industry leaders and a campus presence from representatives of those businesses.
Regional and Local Economic Development Efforts
Texas A&M University has a relationship with a number of local institutions that are fostering local entrepreneurs and innovators.
HackDFW is the sister organization to TAMUHack and sponsors the event by connecting our thinkers and builders with a myriad of diverse students, access to the DFW area's most competitive tech companies, and connecting the Texas regional hackathons together in order to increase participation and competitiveness.
Binary Space is a professional workspace & community for entrepreneurs, creatives, and go-getters in the core of Downtown Bryan, Texas. Their vision as a diverse community of goofy, creative individuals, is to equip, collaborate, and motivate each other in a holistic environment.
Research Valley is a hub that provides support to early stage startups as well as networking to quickly bring startups and technology ventures to the industry.   They are built on strong industry relationships that enables the quick move to industry.  CNVE has ties with Research Valley's leadership. 
BCS Chamber is the local chamber of commerce.  The BCS Chamber is unique in its very strong commitment and involvement in the local community.  CNVE is developing a stronger relationship with the chamber, the first steps being induction of several student startups (primarily from Startup Aggieland) as members. 
The May's Business School Center for New Ventures and Entrepreneurship provides programs for students and faculty, but also opens the doors of their lectures and programs to members of the local community (see Entrepreneurship Bootcamp for Veterans). 
The Aggie 100 recognizes and celebrates the top 100 fastest growing Aggie-owned or Aggie-led businesses in the world.  The annual gathering hosts nearly a thousand attendees, and aims to pass the successes and strategies of the top businesses to the next generation of Aggie entrepreneurs. 
Texas A&M AgriLife Research provides a community development program to provide technical assistance, grants, and workshops to communities to strengthen the foundation for economic development.  
Texas A&M Engineering Experiment Station provides networking to all Texans to find a research partner, including all the other research-capable universities in the state, and to pursue higher research opportunities. Grants provided for 3 school districts, 1 community center, and 4 hospitals. 
Landscape Canvas
Presentation
Fall 2016 Landscape Presentation 
Related Links
Texas A & M University Student Priorities
Texas A & M University Student Priorities Part II
Texas A & M University Student Priorities Part III
---
---