School:Sri Padmavathi Mahila Viswa Vidhyalaya
Jump to navigation
Jump to search
INTRODUCTION: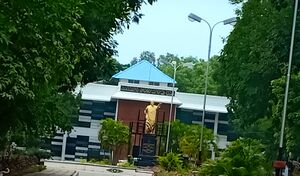 Sri Padmavati Mahila Visvavidyalayam (University for Women)was founded in the year 1983 by Sri N.T.Rama Rao, the then Chief Minister of Andhra Pradesh, with the fervent desire to train women students as better builders of the Nation and to inculcate skills of leadership in all aspects of life.The University was established under the Sri Padmavati Mahila Visvavidyalayam Act of 1983,which has come into force on the 14 of April 1983.It was started with ten faculties and 300 students and twenty staff members. Today the University has a student population nearly 4000 and an academic staff of 105 and 131 academic consultants. This year the University has 59 courses at the post-graduate and undergraduate level and a good component of research. The campus of Sri Padmavati Mahila Visvavidyalayam is spread out in a lush green area of 138.43 acres. The University is situated at a distance of 3 km from the railway and bus stations of Tirupati.The campus has the necessary buildings to run its academic programmes and administrative machinery. There are separate buildings for Humanities and Sciences, University Administration, Central Library, University Auditorium, Sericulture Complex, and School of Pharmaceutical Sciences and also an independent building for Computer Science, Business Management and Engineering College.
 Strategy #1: Provide feedback mechanisms for students to give inputs to the university administration
To provide feedback mechanisms for students we need to organise different activities for every week up to a month so by that students get interacted with each other that is students of different departments and blocks. After that we can organise various clubs, because of before conducted activities they would have got some keen idea about what is going around and they may have got a chance to know and get into the world with some awareness and knowing.
Interactions between students also helps them for knowing different thoughts of various people. By this we can say that students get to share their thoughts with each other and also meet the different circumstances with different mind-sets.
And there should be a blog created for students only to keep them connected and also to share the information what they got in their department about similar concepts they are aware of.
Strategy #2: Increase of industrial tours
This can be developed by making a person as a representative and every one to share their views as a group and their view about the best concept should be kept in front of a higher authority by their selected representative with good reasons and examples for development by their practical exposure to the industries. And a very convincing person should be representing in front of higher authorities so that they could understand the importance.
The support from the management is also important so the industrial tour should be meaningful and the students should get the more benefit is to be under stood by the management.
Strategy #3: Development in equipment and facilities
        Utilising the laboratory apparatus , quality college supplies and technical tools like computers etc provides various benefits to students .Advanced laboratory instruments provide learners with more convinient means of conducting studies , testing theories and finding solutions to problems. Interesting technologies in the acadamics also makes learning more enjoyable, interactive and fun. By this means of examples we can say that improvement in equipment benifits  the students.
Strategy #4: Development of practical learning among students
Practical learning encompasses anything that helps someone master a skill or ability. There will be great satisfaction in being able to accomplish something. Practical learning can be improved in students by not only keeping students a simple tests theoritically but also by giving them some tasks to complete by experiencing them by only doing them and experience them .And the support from the faculty should always be present to their students in their practical tasks they are given and helpful for their doubts clarification and also for a simple help. Skills help them develop their practical learning so they should always be supportive and helpful in improvising their skills.
Fall 2018 batch:
Fall 2016 batch:
Fall 2017 batch:
---
---