School:Furman University
Jump to navigation
Jump to search
Overview
Located in the foothills of Greenville, South Carolina - Furman University is one of the nation's premier undergraduate liberal arts colleges. At 2700 students, Furman is known for outstanding faculty and student relationships, its approach towards engaged learning, its robust visual and performing arts program and its competitive NCAA Division I athletics. Furman prides itself on its unique academic program, which teaches students how to think critically, how to evaluate and create, and how to see multiple perspectives through the lens of empathy. Built upon these principles, students graduate broadly-educated, well-rounded, prepared for leadership and eager to take on the challenges of a complex world.

In an age of constant change, the fields of science, technology, engineering and mathematics are touted as the engines that will drive our nation's economy forward. Without a foundation in the humanities, this pursuit of innovation lacks depth and does little to foster meaningful progress. Proponents of STEM seek to change the conversation to STEAM – which integrates the liberal arts into the pursuit of innovation.
Indeed, the liberal arts education empowers students with the awareness and empathy to understand how technology is a tool for meeting human needs and solving complex problems in society. In the effort to bridge the gap between science, technology and the humanities, liberal arts universities like Furman play a critical role in the national conversation around innovation and progress, by equipping students with the tools and skillsets needed to create solutions that are meaningful and engaging.
Student Innovation & Entrepreneurship
Rather than finding its home in a particular discipline, emergent entrepreneurs and innovators are scattered throughout Furman's academic departments. From Poverty Studies to Sustainability Science, Furman's student entrepreneurs apply what they're learning on through events and fundraisers, often waiting until after they graduate to launch a company, start a non-profit or join a start-up.

Cultural Life Program (CLP)

Furman's Cultural Life Program stands in the middle of the movement of innovation on campus by regularly connecting students with innovators, entrepreneurs and thought leaders from around the world. The Cultural Life Program (CLP) is designed to encourage students to attend a variety of high quality events that provide enriching and challenging cultural experiences. Collectively, events designated as CLPs engage students in a spectrum of issues, ideas, and artistic expressions from various disciplines and cultures. These events foster a sense of community on campus and help those in attendance see multiple compelling and legitimate views on cultural issues, inspiring a life-long pursuit of intellectual fulfillment and cultural engagement.

As a central component of the Furman experience, a typical student is required to attend 32 CLP events in the four years (8 semesters) they study at Furman inorder to graduate. Each student must attend a total number of CLP events equal to four times the number of semesters in which he or she enrolled for courses on the Furman campus.Registration priority for courses is based on class standing as determined by credits earned and CLP events attended.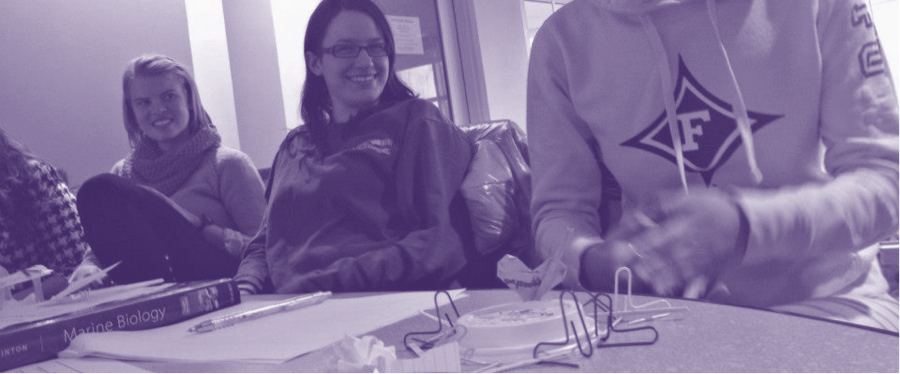 Engaged Living:
To help first year students, the engaged living program provides an easy transition into college. Students live in close quarters to one another, and attend the same first year required classees. Students develop leadership skills throughout their first year as they are in charge of certain events (homecoming, tailgating, etc...). In preparation of these events, students use their creative thinking skills and simultaneously learn how to collabarate with one another. The active and exciting life style of engaged living promotes community, and provides students with the necessary 'problem solving' skills. Furthermore, students are surrounded by other students who share similar interests. The professors that teach these classes teach pecific topics that address modern day problems such as enviornmental issues, finding a life purpose, global poverty, healthcare, and artificial intelligence. 
Student Ventures:
Whether by necessity or by choice, many of Furman's student entrepreneurs wait until after they leave campus to pursue their big ideas. A year after graduating with a degree in Psychology, Furman alum Dan Widenbenner launched Mill Village Farms- a community farm that's growing food and creating jobs in Greenville's historic mill communities. Similarly, Furman alum Shane Sniteman enrolled in The Iron Yard Code Academy a year after graduating with a degree in economics. Students like Dan and Shane are both representative of the driven, ambitious and socially-minded students that Furman recruits. If motivated students are starting ventures upon graduating, what might happen if they had access to the tools, classes, networks and spaces to build capacity and start ventures while at Furman? 
Other students, however, utilise the assets offered by Furman to start companies during their time at Furman. Brooks Buffington and Tyler Droll are Furman alumni who started Yik Yak - a famous app that lets you see and publish posts within 10 miles of your radius. Currently the school's business department is working towards starting a student venture competition where juniors and lowerclassmen can come up with business plans, submit them for evaluation and the three winning teams will be awarded $1000, 750 and $500 with respect to their positions. This initiative is expected to challenge students to explore their talents by provoking the innovator and entrepreneur within. The goal is to nurture a culture of creativity and innovativeness at Furman by encouraging students not to wait till they graduate to implement their ideas. Furman's internship office also has a database called myinterfase that students can use to contact alumni whether to inquire about internship or just get in touch with an alum working in their field of interest. The opportunity to connect with company owners and other alum working in students' respective fields of interest is supposed to increase innovation and entrepreneurship on campus indirectly by providing our students with access to vital information necessary for one to be a changemaker.
FUEL Furman:
To help fund student projects, start ups and events, the Furman Office of Development launched FUEL Furman - a crowd-funding platform that offers donors the opportunity to fund a smaller project in scope and cost. Each spring, Furman students nominate potential projects for FUEL Furman. Fundraising takes place during a set time frame and donors can watch their dollars immediately impact dollar totals. Explore 2014's projects below and find out how your gift, no matter the size, can immediately help Furman students. The projects supported by Fuel Furman range from facilitating recruitment of High School students by the Furman's acapella group to creating sheds for students bicycles for protection from corrosion and encouragement of green transit on campus. The projects that qualified for FUEL Furman in 2015 can be found here.



Student Organizations: 

During their time on campus, many students choose to pursue their passions by joining student organizations, leading community projects or participating in Greek Life.  These organizations introduce students to concepts related to entrepreneurship, technology and innovation by hosting various events, cultural life programs and conferences. 

The Furman Creative Collaborative (FCC) is a student-led movement of creativity and innovation that was started by three freshmen in 2012. What began as a critique of student media organizations on campus evolved into a broader discussion about design, creativity and innovation and its role in shaping future of the liberal arts. From connecting students to a global conversation about the future of the city to hosting talks by creatives like Artisinal Pencil Pusher David Rees, FCC sparks curiosity among the student body - indirectly planting the seeds of entrepreneurship. In the years to come, FCC plans to host engaging events on storytelling, start-ups and brand-building - along with off the wall speakers and experimental events that remind students to approach life with a playful spirit. Check out this PDF for more insight into how the movement emerged and where it's headed. 



TEDxFurmanU is an annual student-run TEDx event affiliated with the Furman Creative Collaborative. When the group acquired a license to host its first conference in 2013, organizers invited students, teachers, authors, founders, and creatives to Furman's campus to discuss the theme of "Redesigning Education." In March of 2014, the group hosted its second annual conference at the Peace Center's Gunter Theater in downtown Greenville around the theme "Stories: The Common Thread of Our Humanity." TEDXFurmanU had its third annual conference on March 21, 2015 and the theme was "Shatter." The theme for 2016 is GO BIG and many students are now applying to be speakers at the event on February, 20..  
The
Shucker Leadership Institute
at Furman is a comprehensive program designed to foster change in students and the greater Greenville community. A Shucker Fellow engages in a four year experience and gains an understanding of personal strengths as a leader, practices collaborative leadership and learns how to be a catalyst for change. Each year, 25 candidates are chosen to become New Fellows in the Shucker Leadership Institute. SLI's guided process is intended to enhance the college experience and prepare an individual for a lifetime of meaningful leadership and service in any field.
The Furman Robotics Team is a student-run
organization that connects people with an interest in robotics and electronics to collaborate on small projects - both for fun and those that are entered in regional and national competitions. Every new member is taught basic electronics and programming skills and is assigned to a group of 3-5 people working on a shared project. Group's previous president 
Evdokiya Kostadinova shares,
 "No previous experience is needed, just pure enthusiasm." Evdokiya and a team of three other people came second at the Amtel Robotics Contest in 2012.
In 1988, Furman's Board of Trustees transferred $100,000 to form The Investment Club from the school's endowment. Since then, the club's members have used that balance to identify investment strategies, purchase stocks and gain experience in the world of finance. The group also hosts events with Greenville's business leaders. The club currently meets twice a month to learn about investment topics and study its portfolio.

The StudioLab, a branch of the Center for Teaching and Learning (CTL), offers Furman students, faculty and staff access to cutting-edge technology. Student consultants provide one-on-one assistance in learning to use all forms of technology, including assistance with writing. We offer both assistance with collaborative digital projects and one-on-one writing consultations. The mission of the Writing & Media is to facilitate the effective use of communication technologies at Furman and initiate learning experiences through collaboration. 

The Environmental Action Group (EAG) is the campus go-to group for environmental and sustainable movements on campus. They aim to educate the campus on how to live in an eco-friendly way, while doing service projects and hosting events that support their philosophy. Efforts include demonstrations of sustainable technologies, discussions around social entrepreneurship and explorations of sustainable solutions for issues of waste, transportation, climate change and energy.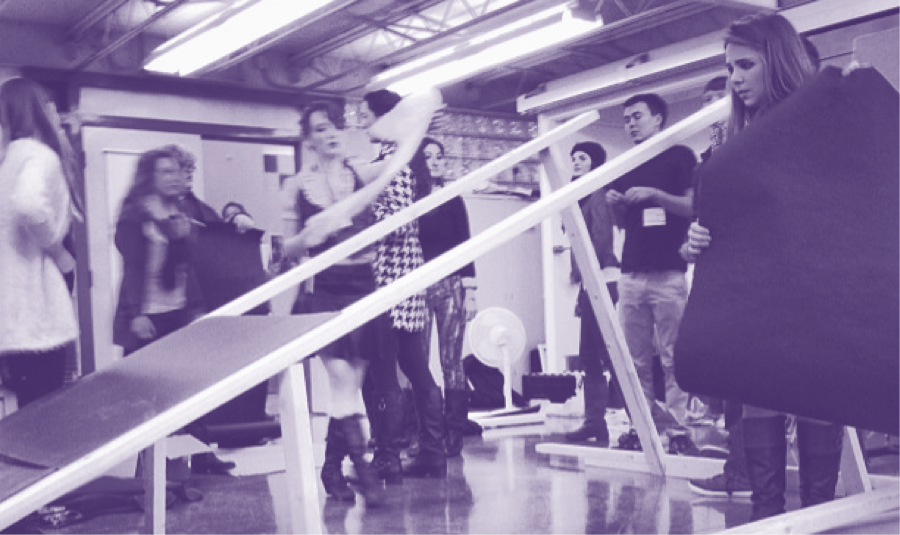 In the Art Department, Furman's Fine Arts Entrepreneurship Society (FAES)
 fosters interest and growth in visual studies by demonstrating the value of the arts through entrepreneurial activities. The organization accomplishes this through events, social activities, field trips, workshops, and lectures with artists, designers and entrepreneurs. Speakers have included world-renowned surf artist Drew Brophy, who hosted a workshop and lecture students on how to build a career around making what matters to them. 
FU Art is also home to
CreateAthon
on Campus: a 
24 Hour pro bono design and branding blitz for social good. This annual event brings students from across campus together with mentors and designers that build brands and movements for Fortune 500 companies, social ventures and start-ups alike.
CreateAthon is planned in partnership with local non profits - who are the client for the project. In addition, students work with faculty and mentors from word-of-mouth marketing firm Brains on Fire and the national CreateAthon movement to bring ideas to life.
Different organization-based student discussions have been nurtured in a cross-departmental level. Political Science Department attempts to promote a casual setting between students and professors through a biweekly meeting called Pizza & Politics where students debate on political matters with their professors and their student peers in a conversational, non-hierachical style while having lunch together. The newly-founded Creative Writing Club also focuses on work sharing, encourages the expression of emotions and mutual appreciation on each others' writings, and so on. These small seeds altogether cultivate a more democratic culture implanted on students' thinking and verbalizing patterns, therefore promotes diversity of ideas and perspectives.
Above all, Furman students are known for their passion, enthusiasm and willingness to do things differently to have fun. From floating a giant swan made out of plastic bottles on the lake to shed light on consumption habits to planning a giant flashmob with the president in downtown Greenville, the student body isn't afraid to do things differently. It's time to harness this energy and enthusiasm and channel it through entrepreneurship and innovation, which will equip students with the tools and skill sets needed to create new solutions for the world's most pressing problems. 
Faculty Innovation and Entrepreneurship

At Furman, small classes and authentic faculty-student relationships are what sets the school apart from other colleges that are similar in size. This dynamic interaction allows faculty to have a keen sense of what students are interested in, and model their course content accordingly.
Sowing Seeds of Entrepreneurship
While Furman does not have a program in entrepreneurship or a particular area of study that focuses on innovation and technology, Furman faculty do explore these concepts through their teaching, coursework and research. Courses such as 411 Entrepreneurship and New Venture Development, 230 Problem Solving and Decision Making for Management and 312 Sustainable Corporation introduce students to the importance of innovation and entrepreneurship through the Business Department. Other disciplines introduce the concepts through courses like 433 Introduction to Embedded Systems in Physics and 271 Morals, Law and Society in a Digital Age in Computer Science, which invite students to dig deeper into the topics through personal research.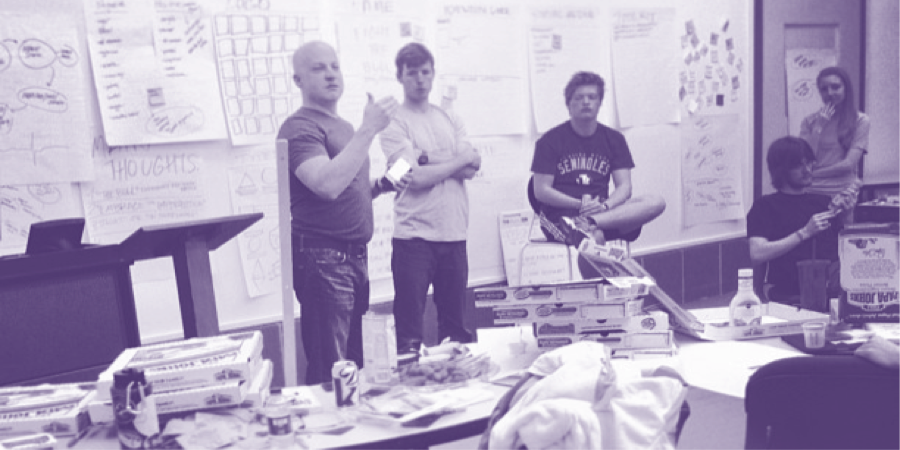 Curricular Innovation
The May Experience is an optional three-week term following spring commencement that encourages faculty to create innovative and intensive academic experiences. Successful completion of May Experience courses will yield two credits. While May Experience courses do not meet General Education Requirements, they can carry concentration credit or be an elective in a major. With its flexible guidelines, the May Experience block allows faculty to create courses like Design for Social Change. This interdisciplinary course brought faculty from the Art and Sociology departments together with students from diverse academic backgrounds to engage local residents in community-based problem solving. Upon completion, students worked with residents to develop a concept for a bakery and maker space that will bring new jobs and opportunities to a neighborhood near the University.
Engaging Research
Through collaborative research projects, faculty and students often work together to explore shared interests in fields across the university. Through a faculty-student research project organized by Sustainability Science professor Bruce Clemmens, Furman students travel to a small village in Guatemala to examine how access to clean water impacts a small community. Furman students work with medical students, a Catholic mission and a non-profit organization founded by Dr. Clemens to study how access to this water has improved the village's public health system and stimulated economic growth. Several students have published papers based on their research. Along with gaining valuable research experience, students can earn academic credit by participating in a May Experience course. The research is supported by annual fundraisers held on Furman's campus.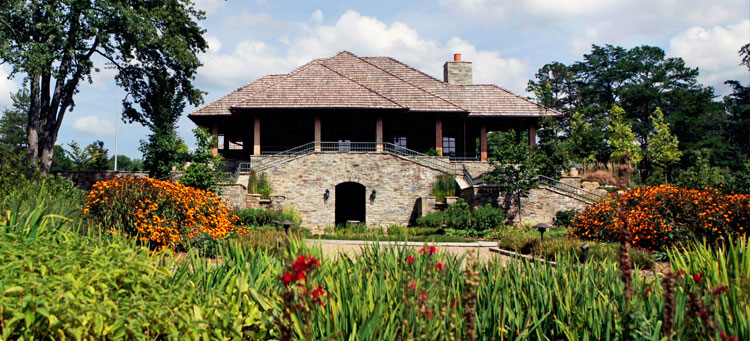 In addition to individual research projects, Furman is home to centers and institutes like the Shi Center for Sustainability, which serves as a hub where educators, students and community leaders work together to explore the complex issues of sustainability. Through their efforts, the Shi Center staff, student fellows and faculty collaborators partner on community projects and generate solutions that can be modeled across the globe.
Program directly funds students to engage in internship and research over the summer. Provides students to take part in would-be expensive internships, research, or fellowships for low cost. Recent efforts have been made to enhance the educational experience for students at Furman Univeristy, the recent launch of 'Vision 2020' includes $47 million from the Duke Endowment to combine a liberal arts education with experience outside the classroom. The personalized notion of Furman Advantage allows students to explore various fields, prepares them for the future, and sets students up for successful careers. The strategic vision will allow students to grow both academically and professionally in the future.
Need for Incentives:
While many faculty are interested in creating new courses and programs that explore entrepreneurship and innovation, they are limited by current curricular requirements, departmental objectives and individual responsibilities. Apart from creating new opportunities for students, few incentives are provided at Furman to promote innovation and entrepreneurship among the faculty. While faculty pursue research and dedicate their time to creating compelling classroom experiences, few have the time, resources or bandwitdth to explore new material or launch their own entrepreneurial ventures. One approach favored by many faculty members is a tiered system that would allow for more flexibility in course scheduling and provide incentives through pay compensation, grants and awards. 
University-Industry Collaboration
Furman Advantage Internships
The Furman Office of Internships connects students with industry partners through engaged learning experiences. The Office offers fellowships, travel stipends and funded internship opportunities for students in any field - from STEM related research projects to internships with international social justice organizations. In addition, the University's unique Furman Advantage program is designed to acknowledge and support students who pursue interesting and challenging educational opportunities beyond the classroom during the summer.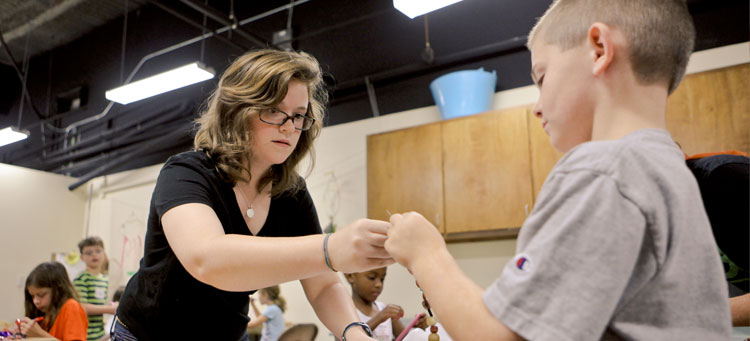 Through workshops, connections programs, online resources and personal advising, the Furman Office of Internships works with students to create opportunities to pursue their interests and apply what they learn in the classroom. By working with industry partners, community organizations, faculty, alumni, parents and friends of the University, the Office of Internships matches students with career paths in any field. Throughout the year, students are connected with members of the Furman Internship network through events that are planned to give advice and provide a link to internship opportunities.
GHS Clinical University
Through a cross-instutitional partnership with Clemson Univeristy and the University of South Carolina, Furman University has entered into new academic partnership with the Greenville Health System (GHS) that will allow for the creation of innovative programs for undergraduate students interested in health-related careers. This partnership will provide students with an array of hands-on experiences at one of the Southeast's largest health systems. As part of the agreement, Furman will be the Health System's primary undergraduate partner, providing its faculty and students, as well as those of other colleges in the area, with distinctive opportunities to study and work with healthcare professionals at GHS in both clinical and non-clinical settings.
Running for FIRST 
The Furman Institute of Running and Scientific Training (FIRST®) seeks to promote running as a healthy physical activity by providing training based on scientific principles. The FIRST® provides scientific and time-proven information on all aspects of becoming a better runner and empowers runners of all ages and abilities to achieve their goals by developing individually tailored training programs. FIRST provides testing for the average to elite runner, believing that increased knowledge of personal fitness parameters facilitates precise development.



 Students join the institute's researchers in studying the mechanics of running and the physiology of endurance. FIRST inspired the publication of the best-selling Runner's World book, Run Less, Run Faster, which has led to a series of tools (apps, websites, online e-coaching programs) that connect runners with students / researchers and coaches at the institute.
Corporate & Continuing Education
Through the Herring Center for Continuing Education, Furman provides courses, workshops and seminars on industry-relevant topics like information technology, data management and sustainability.
Furman University's Summer Institute in IT Management was established to bridge the gap between the results of academic research and discovery about how knowledge-based organizations can best achieve their objectives and the practical application of these results within these organizations. Major topics for the Summer Institute include: a disciplined approach to system development and project management; organizational theory; managing change and planning in the face of uncertainty; economics, accounting, finance and marketing for technical managers; fostering creativity and innovation; decision-making; problem-solving; and critical thinking. The objective of the Summer Institute is to help participants synthesize and relate such knowledge for the purpose of forging a successful integration of technical and business cultures within the knowledge-based organization.
Furman's Post Graduate Diploma in Corporate Sustainability teaches business leaders the tools, techniques and thinking required for a successful green transformation of existing companies. This program discusses problem-sovling, systems thinking, intrapreneurship and sheds light on emergent green technologies.
Furman's BEST (Businesses Engaged in a Sustainable Tomorrow) program is aimed at helping businesses perform an assessment and identify opportunities to save money in the areas of energy, water usage, waste creation and management. Partnering businesses are provided with a simple, intuitive process that assists them in creating a customized plan for implementation, along with ongoing performance analyses designed to impact their bottom-line.
Partners in Sustainability 

The Shi Center for Sustainability works with partners from the public, private and social sector to complete research projects and design collaborative solutions that address local and global issues. Partners include the City of Greenville's Green Ribbon Advisory Council, AmeriCorps, Dream Big Greenville, Gardening for Good, the Duke Endowment, Piedmont Natural Gas, Greenville Forward, Lake Conestee Nature Park, United Way, Upstate Forever and the US Endowment for Forestry and Communities, among others.
University Technology Transfer Function
As a liberal arts college, Furman has no formal Technology Transfer Function. However, the university does have a number of programs that explore ways to connect university research with industry partners and other institutions.
The Office of Integrative Research in the Sciences (OIRS) is responsible for developing, managing and assessing programmatic opportunities that cut across Furman's science disciplines. Created by the Provost's Office in 2008 and directed by Prof. John Wheeler, OIRS currently includes a full-time staff of three including Dr. Wheeler, Dr. John Kaup (Coordinator of Science Education) and Ms. Sydney Wood (Administrative Assistant). In total, these programs reflect more than $7M in funds supporting student and faculty research, curricular development, and outreach at Furman University. In addition to providing supervision of external programs, OIRS is engaged with both on-campus and off-campus initiatives that enhance research and educational opportunities for Furman faculty, Furman students, professional scientists and the K-12 sector across the Upstate of South Carolina.
Regional and Local Economic Development Efforts
Nestled in the foothills of the Blue Ridge Mountains, the Upstate of South Carolina is a region poised for growth. Located between Atlanta and Charlotte on the I-85 business corridor and equidistant between New York and Florida on the East coast, the Greenville area offers access to all major markets in the United States. The Greenville MSA is the most populated region in South Carolina with more than 1,326,073 residents according to the 2010 Census.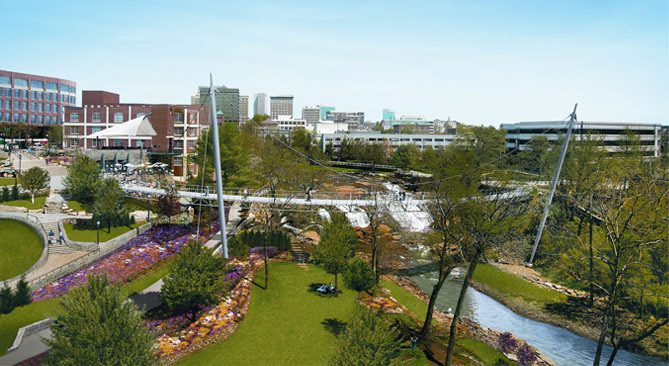 Thanks to the technological and manufacturing prowess of Michelin, BMW and GE, which all call the area home, Greenville is home to more engineers per capita than any other community in the US. With a pro-business environment, Greenville offers low taxes and attractive incentives to both existing and new businesses. Over the past decade, the Greenville area has attracted more than $6 billion in new business investments and 43,000 new jobs. This growth has allowed for more businesses to be created per capita than any other region in the southeastern United States. 

Organizations like Greenville Area Development Corporation and Upstate Alliance markets the region to companies around the world, with a focus on these clusters: bioscience, advanced materials, automotive, aerospace and energy. For companies that are starting up or seeking to grow, regional sources of capital are available through the Upstate Carolina Angel Network (UCAN), the Chamber of Commerce's venture crowdfunding initiative and SC Launch - which focuses on applied research and technology. The Innoventure conference series and online platform conncets entrepreneurs and innovators with potential collaborators, sources of funding, mentoring and support. These regional collaborators regularly work with Clemson University's International Center for Automotive Research (CU-ICAR) to attract students, companies and research groups that are focused on developing the future of mobility in the Upstate of South Carolina.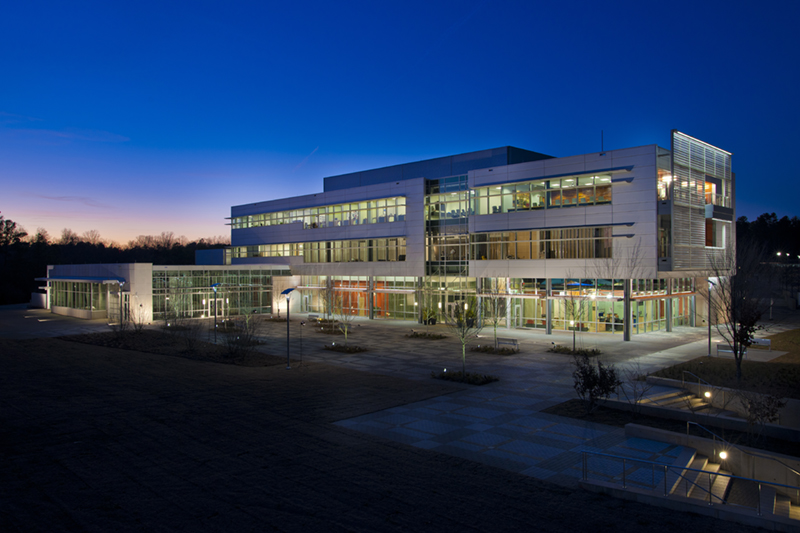 Outside of higher education, incubator and accelerator programs like The Iron Yard and the NEXT Innovation Center connect entrepreneurs with opportunities to recieve support, training and mentorship in the effort to grow their ventures to scale. Clemson's MBA Program in Entrepreneurship and Innovation is home to a number of programs that engage small business owners, first time entrepreneurs and seasoned executives through training and support programs. In addition, programs like The Iron Yard's Code Academy and Coder Dojo after school program connect people of all ages with training in coding and web development.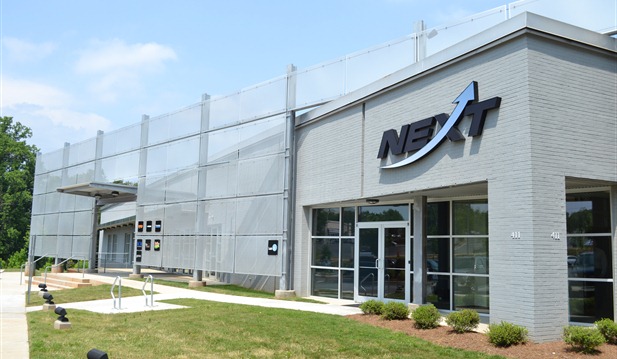 The network of entrepreneurs and innovators in the Upstate connect through co-working spaces like CoWork and OpenWorks, which make space for freelancers and startups to work alongside designers and experienced business gurus. After hours, Greenville's doers and thinkers gather through groups like PULSE Greenville and Tech After Five, and regulary attend events like TEDxGreenville, Grok, the Makers Summit and Indie Craft Parade. 
Current Fellows (Link to Bios)
Zach Hughes
Related Links
Furman University Student Priorities 
Furman on FIRE: Strategy for Fueling Innovation, Creative Research & Entrepreneurship 
Furman Innovation & Entrepreneurship Landscape Canvas
---
---