School:Florida State University Panama City
Jump to navigation
Jump to search
Overview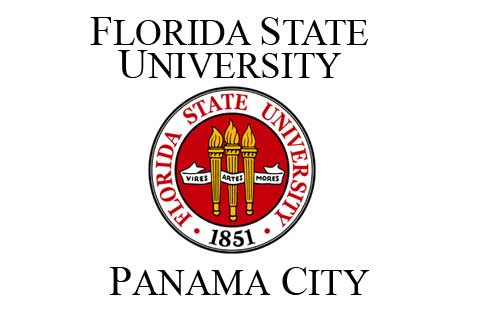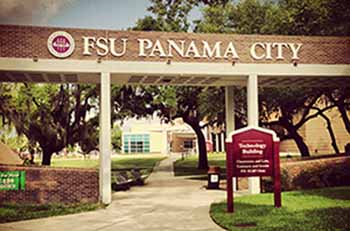 Florida State Univeristy, Panama City, was founded in 1982 as a full-service campus of the Florida State University in Tallahasee, Florida.  It is a very small campus, with around 1,200 full time students, and also only offers 13 undegraduate programs:
Accounting
Business Administration
Civil Engineering
Computer Engineering
Computer Science
Electrical Engineering
Elementary Education
Communication
Psychology
Public Safety and Security
Recreation, Tourism, and Events
Social Science Education
Social Work
and 6 graduate programs:
Corporate and Public Communication
Electrical Engineering
Elementary Education
Psychology: Applied Behavior Analysis
Reading Education and Language Arts
Social Work
Thus, the campus is still growing year by year.  Freshman are a recent addition to the FSU-PC campus, starting the fall semester of 2013.  The once non-existent campus life (as all of the students used to be upper-classmen attempting to finish their degree) is now slowly growing due to the influx of freshman.  Strides have been made by the faculty and student body to engage the new students, including many faculty sponsored entrepreneurship opportunities.
Promoting Student Innovation and Opportunity

Business Innovation Center


The first of these faculty sponsored improvements is the Business Innovation Center. The Business Innovation Center (BIC) is a newly created incubator on the FSU-PC campus.  It was created in 2013 in order to: "foster entrepreneurship through a structured model that provides tools and metrics for success to emerging innovation-based enterprises".
The BIC provides:
Counseling
Office Space
Professional Services
Networking
Workshops
to students and local businesses, with little to no cost (depending on circumstances).  It couples itself with various student organization, most notably the FSU-PC Entrepreneur Club.  This is the prime hub in FSU-PC entrepreneur life.
IdeaSpace

The IdeaSpace is a newly created (Spring 2014) space that will allow students to collaborate on solving problems.  The IdeaSpace houses a large whiteboard that is serves as a "Problem Board", that will be covered by student generated problems.  Students who are inspired by certain problems can offer solutions, arrange meeting dates, and network utilizing the the other writable surfaces in the room.
Small Business Development Center


The Small Business Development Center (SBDC) is a newly created business incubator housed within the Gulf Coast State College's Advanced Technology Center.  It is very similar to the FSU-PC Business Innovation Center, but is also directed toward existing small businesses.
The SBDC can help students with:
Business Plan Development
Marketing Research
Patent Searches
Loan Packaging/Procurement
Technology Assistance
Campus Events

Entrepreneur Club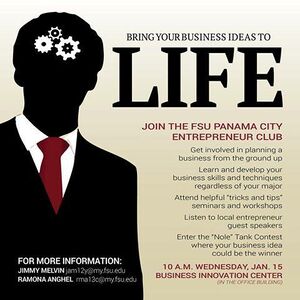 The FSU-PC Entrepreneur Club is the premier group that sponsors I-E related events. In the Spring Semester of 2014 the Entrepreneur Club will be mobilizing to bring more speakers to the campus, as well as coupling with the Business Innovation Center to create a "shark-tank" competition, Nole Tank. 
Nole Tank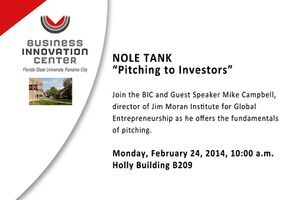 The Nole Tank competition is the first Business Plan competition to occur at FSU-PC.  It was created through a union between the Entrepreneur Club and the Business Innovation Center. The Nole Tank is a "shark-tank" competiton that pits 5 entrepreneurs in a business plan presentation in front of local business and community leaders.  The competition has two phases:
Phase 1:  Submit an elevator pitch.  5 elevator pitches out of the pool of submissions are selected blindly by a group of judges. If selected you move on to Phase 2. Each of the 5 winning pitches get $100 in cash.
Phase 2:  Create your business plan, and prepare a 15 minute presentation to show to the judges. One winner is selected from this phase.
Currently, the award for winning Phase 2 is $1000 in cash.
Faculty Innovation and Entrepreneurship



Currently, there is no support for faculty innovation on the Panama City campus.  This is likely due to the small population, and lack of graduate research being done.  Most Faculty support is found within main campus resources, but for sake of differentation, that is beyond the scope of this article.  This extends to the Univeristy Technology Transfer functions that are often found on campuses.  This feature is not found locally, and instead is found at main campus.
Univeristy Tech Transfer

FSU Council of Research and Creativity: Council made up of research faculty that stimulates growth in research.
FSU Office of Commercialization: Provides services to patent reserach and find investors.
Regional Development



Florida State University, Panama City is contained within Bay County, Florida.  While there are numerous collegiate campus groups within Tallahasee, Florida, (the location of the main campus), regional development organizations have yet to sprout within Bay County.  The two organizations recognized above, the Small Business Development Center, and the Business Innovation Center have been working together to try to improve the small business environment in the Bay area.
Landscape Analysis

Florida State University, Panama City, is taking it's first steps toward improving the I&E landscape within Bay County.  There are many problems that had prevented the university from improving this area in the past, however, one particular issue still afflicts the campus: lack of student participation.  As there are only around 1,200 full-time students on the campus, and most of these are adults coming back to school to finish their degrees, there is a certain lack of passion and motivation toward improving the campus and beyond.  In the fall of 2013, FSU-PC opened it's doors to freshmen, thus establishing a group of passionate and excited students onto the campus.  In order to direct this passion toward beneficial activites, the university is now investing it's time and money toward establishing a broader campus life - as well as attempting to reign in upperclassmen who are notoriously hard to convince to participate. 
FSU-PC is recognized as an integral part of the business ecosystem in Bay County.  In fact, it has created an environment for software companies, in particular Nanthealth (previously iSirona), to house their headquarters here.  However, a partnership between the university and these entities has yet to be pursued.
In 2013, the Business Innovation Center was created, as well as Gulf Coast State College's Advanced Technology Center, which houses the Small Business Development Center.  The creation of incubators are the tiniest of steps toward creating an entreprenuerial ecosystem within the county.
The stark lack of resources within Bay County are being improved day-by-day.  Any addition to the pool is a significant impact, as there is so little to utilize as of Spring 2014.
To view FSU Panama City's landscape canvas, please follow this link.
Related Links

FSU Panama City Student Priorities
---
---