This site will go under maintenance from 25-11-2020 to 30-11-2020. It might not reachable during the maintenance period.
School:Ambalika Institute of Management and Technology
Jump to navigation
Jump to search
AMBALIKA INSTITUTE OF MANAGEMENT & TECHNOLOGY
Nothing is more expensive than a missed opportunity.
Best Engineering College Lucknow – Ambalika Institute and Group was established to provide high quality professional education in the streams of Engineering and Management. The Trustee is currently managing Ambalika Construction Limited, Ambalika Chit fund Limited and Ambalika Farms & Resorts Ltd. The main lines of business of the promoters are Infrastructure Development activities, Building Construction, Machinery Rental, Transportation & Logistics, Earthwork, Mining and Crushing. The business is carried out by the group's parent company Ambalika Construction Limited. The state of Uttar Pradesh has vast natural resources. But it is still behind in the field of Technical and Management Education in particular. This adversely affects the industrial growth and overall economy of the state. Therefore, there is an urgent need of expansion of management and technical education in the state.
ABOUT INSTITUTE
Ambalika Institute of Management and Technology (AIMT) was established in 2008 as a private engineering and management college in (Mohanlalganj) Lucknow, Uttar Pradesh India and is affiliated to AKTU and BTE and Approved by AICTE. The Lucknow campus is spread over 200 acres and is located near NH-56B, surrounded by lush green field and enhanced by a beautiful lake.The institute is 24 kilometers from Lucknow Railway Station and 20 kilometers from Amausi Airport, Lucknow. It is very well connected to the district headquarters.
Ambalika center of excellence has become the most dominating center delivering high-end technical skills to our engineers to make them highly employable. AIMT, Lucknow is imparting training and joint certification programs of innovative technologies in collaboration with the Industry giants such as Microsoft, KUKA Robotics, Siemens, Ace Micromatics, MTab, Master CAM etc.
WORKSHOPS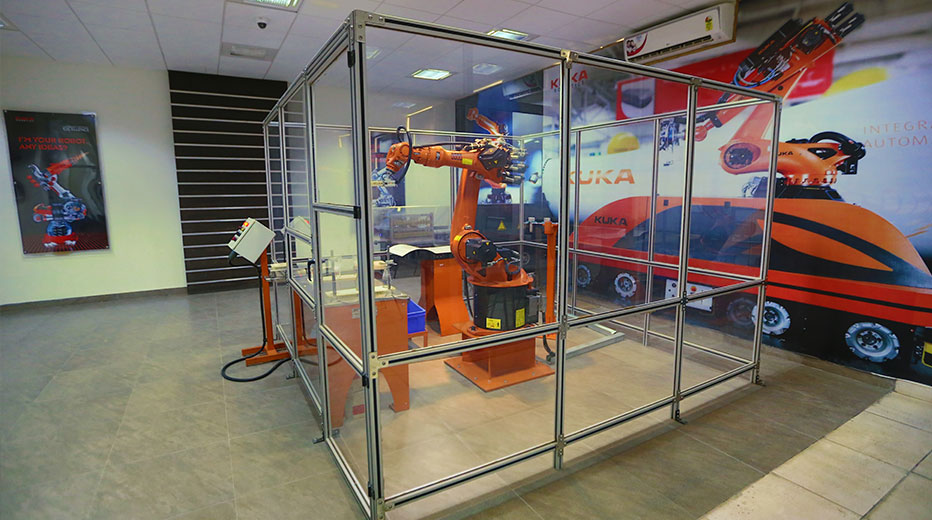 For an engineer who designs and implements large scale projects, the student phase of his/her life is of crucial significance. This is because it provides an engineer with the foundation through small-scale but critical project designing and implementation skills.
Therefore, the College has a very spacious workshop. It also serves as a production center.
CLASS ROOM
The Teaching-Learning pedagogy used in the classrooms is IT enabled and almost all the classrooms are fitted with LCD projectors, OHPs and sound systems. The lecture halls can accommodate 80 students in one class and tutorial classes are designed for strength of 20-30 students.
We have a Wi-Fi-enabled campus, on which a Learning Management System(LMS) is made available, which can facilitate students to discuss academic topics, submit their assignments online, see their class notes, study through specially designed learning resources, and also refer to reference and digital library. The campus as well as student hostels are Wi-Fi enabled with a bandwidth of more than 20 Mbps.
LIBRARY
The library operates on an open access system. The students have free in- hand facilities for books and journals through the use of computerized catalogue. The Journal Section, apart from general science magazines, subscribes to around 75 national and international engineering, technical and science journals, conference proceedings and transactions published by reputed institutions like the IEEE, IETE, ISTE etc.The Audio-Video Section, equipped with the latest in trend audio-video systems, with information and full course lectures, VCDs of eminent professors from IITs, is striving for the unlimited ambit of frontier vision in education technology. In addition our library is supported by DELNET and all the University previous year question papers are available in the library for student's access.
The Audio-Video Section, equipped with the latest in trend audio-video systems with information and full course lectures, VCDs of eminent professors from IITs, is striving for the unlimited ambit of frontier vision in education technology. 
ROBOTICS
AMBALIKA is doing its best to provide new direction to young engineers by giving them opportunity to explore the diversifying field of technology and the projects developed till date. Ambalika academy of advanced robotics stands behind the innovation in robotics from line follower to humanoid robot. The delegates from Spring Innovations, Singapore, visited the college with robots (Humanoids and Rescue). The workshop focused on fundamentals of robotic, robot control and calibration, robot sensors and actuators, practical session with humanoid robot and rescue truck robot.


RELATED LINKS
Ambalika Institute Of Management And Technology University Innovation Fellow Fall 2017
Ambalika Institute Of Management And Technology Overview
Ambalika Institute Of Management And Technology Student Priorities
Ambalika Institute Of Management And Technology Pitch Video
Ambalika Institute Of Management And Technology Landscape Canvas 2017
---
---