Resource:How to engage the university leadership in a design thinking workshop
Jump to navigation
Jump to search
Contents 
Introduction

Goals and Purpose

Stakeholder and Set Up / Logistics

Curriculum and How to Teach 

Success Stories
Introduction
              Tanner Wheadon, a UI Fellow, hosted a design thinking workshop with professors and faculty to address challenges faced at his university.  This workshop included an overview of the design thinking process as well as icebreaking activities to break people out of their shells and encourage collaboration in ways that do not normally occur.  It was introducing this new idea of design thinking that led faculty at Tanner's university, Utah Valley University, to work towards implementing solutions created during the workshop.
Goals and Purpose
              In hosting a design thinking workshop, one of the first decisions made has to be the purpose of the workshop.  For Tanner, his goal was to bring people together who wouldn't normally work in the same room and collaborate in an interactive way that they wouldn't in other situations.  This is simply an example of a goal, some questions to help you find the goal for your design thinking workshop are:
1.       Who are you attempting to target?
          a.       Faculty?
          b.      Students?
          c.       The campus culture?
2.       What is the faculty's current stance towards design thinking?
          a.       If it is supportive:
                    i.      Do you want to build on that attitude?
                   ii.      Do you want faculty to buy into the idea that this is a beneficial thing for students to learn?
                  iii.      Do you want faculty to work with each other in more a productive manner to create solutions to problems faced
                            at the university?
          b.      If it is not supportive:
                    i.      Do you want faculty to understand the idea behind design thinking?
                   ii.      Why do the faculty need to buy into the idea of design thinking?
3.       What impact are you trying to produce?
From these questions,  you can work towards defining a purpose and goal for your design thinking workshop.
Stakeholder and Set Up / Logistics
If you want to put on an executive leadership design thinking workshop like Tanner, one of the first hurdles to jump to your mind is probably getting everyone in the room.
       1. Find a date when another leadership event is going on
                a. Tanner was able to find out that there was a leadership training event going on at his school focusing on innovation. The great                      thing about leveraging one of these events is the people are already there and you just need to show up with your curriculum.
       2. Mini break out session within existing meeting
a. Find another university-wide administrative meeting. At some universities this can be called university council or administrative council. You can find this information on the committees section of your universities' website. Send an email to the committee chair and let them know what you are wanting to do.
         3. Contacting event planning personal within your president's office.
                a. Most University presidents or provosts' office will have an event planning and coordinating staff. If you are able to get the                           approval of your president or provost, this staff should work with your to put on and coordinate the
       4. Putting on smaller event with leadership from your college or department
                   a. If you are just beginning as a fellow on your campus and do not have relationships with high level leadership, it can                          be smart to start having sessions with your faculty and administrators from your academic program or major. This will give                         you a chance to prototype your presentation and make connections with administrators who can iintroduce you to leadership is                         greater positions of authority. you a chance to prototype your presentation and make connections with administrators                            who can introduce you to leadership is greater positions of authority.
       5. Using residential life as a stepping stone to other leaders
              a. Residential life departments are always looking for interesting events and trainings to put on for students and their staffs.                           Putting on a good event for a dorm community or group of RA's can be a great way to get on the radar of residential life                             administrators who might want to use your example.
       6. Building trust and respect on your campus
            a. One of the major things that allowed Tanner to succeed is he had a track record of successful workshops on his campus. He                      started small, teaching freshman classes or covering for a teacher who had a sick day. For over a year he served his campus                    and built up good will with administrators around his university who saw he was truly passionate about this topic.
            b. Though you may not have a year to begin working around your campus, you can start putting on innovation workshops for your                   peers and serving your campus community today. This will build good will that will be reciprocated back to you in the future.
      7. Setting up the event independently
           a. If you have to set up the event independently, there are a few key logistical things to keep in mind.
                 i. Identify your target list of attendees and email them early. The key administrators you want at your event have very busy                           calendars maintained by assistants that set events months in advance. I would email all parties you are interested in                                 attending at least 2 months in advance and send follow up emails if you do not hear back.
              ii. Room availability. You need to begin by doing an inventory of what spaces on campus have all the equipment your need                             (movable desks, white boards, ect) and it large enough to hold everyone you want to attend. These rooms are also scheduled                     months in advance so find your campus's space scheduler and lock up your date before you start sending out personal                               invitations.
                iii. Find sources of funding for food. It would be great to have cookies, finger foods, or even a light lunch at your event, but you                        certainly don't want to foot the bill for this yourself. Talk with your college's dean, UIF sponsor, and campus's innovation                            center about sources of possible funding for this.
           b. Once you have your room reserved, guest list invited, and preparations for food, all that is left is preparing your curriculum and                     self to put on a great workshop the day of. 
Curriculum and How to Teach
The first step of this workshop is to teach the professors the process of Design Thinking. Knowing design thinking for themselves will allow the staff to pinpoint many problems that might not be visible to students such as you!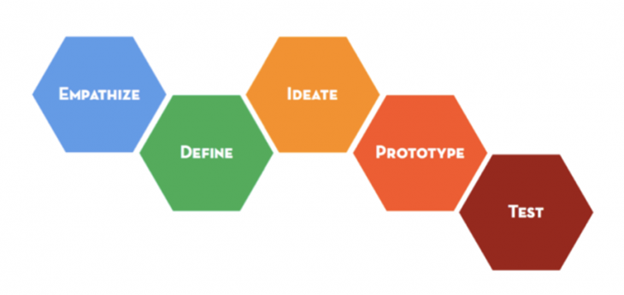 Explain the steps of design thinking to the professors. Following the explanation, engage them in activities that allow them to truly comprehend the process. One way is having them analyzes a basic concept or object with the design thinking process. For example, one could use a garbage can as the object to be analyzed. Have the staff use the design thinking process to pinpoint problems that may be associated with garbage cans and their users. After they discuss a few problems, they should the come up with some solutions such as changes that can be made to the garbage can design or use. After figuring out ideas that solve the problems, encourage the professors to prototype their solutions. It is great to have a variety of rapid prototyping supplies such as markers, paper, cardboard, glue tape, and clay at the workshop. Have them make a physical model or  demonstrate a use by role playing a scene. If possible, they should try to test these new designs or uses with other individuals at the workshop.
http://universityinnovation.org/wiki/File:Pasted_image_0_(1).png
By teaching the members the process of design thinking through a fun and simple example, they become enthusiastic and invested in the process. After the professors have mastered design thinking, it is time to have them apply it to education. Have them define educational problems themselves. By defining these problems on their own, they become more familiar with the process and will come up with some problems you likely hadn't even spotted. Have them formulate solutions and discuss them amongst themselves. Remember that one goal of this workshop is to encourage more involvement and collaboration between staff members.
http://universityinnovation.org/wiki/File:Pasted_image_0_(2).png
They should prototype and attempt to test their solutions just like they did with the garbage can example. It is important to note that there are many ways to 'prototype,' it doesn't always involve some physical model or device. You can have them act out a solution or draw out a plan or layout. Encourage creativity and collaboration!

Check out the big wigs at Utah Valley University putting on their design thinking caps!
<u
<u
SUCCESS STORIES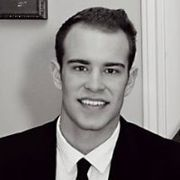 The tips on this Wiki were inspired by Tanner Wheadon, a University Innovation Fellow from the Spring 2015 cohort.He hosted a Design Thinking Workshop at his university, Utah Valley University, where he is studying Technology Management.Tanner also teaches small innovation workshops at UVU, sometimes even during general-ed classes. Tanner's Design Thinking Workshop that he hosted for his university's leadership was focused on simplecart that he had purchased through the university for about $400-$500. He filled this cart with "rapid prototyping supplies". With this cart, Tanner essentially had a classroom with wheels! This is how he would go around to different classrooms to have innovation/design thinking workshops.
As explained in the above information, Tanner started by doing basic Design Thinking activities, and later, having the participants apply this mindset to their everyday environment. By doing this, Tanner was getting the participants to be more open-minded before trying to solve real problems. After hosting the Design thinking Workshop, and presenting his cart to faculty and staff, Tanner had great response. Tanner's (originally) 5-7 year plan for his make space soon turned into a 3-year plan by the university, and in the meantime, Tanner was even offered spaces around campus to host workshops by the faculty members who participated in his workshop.
Much of Tanner's success came from not taking "no" for an answer, and finding an innovative way to work around barriers. Because of his persistence and passion for Design Thinking, Tanner made a lot of headway into his plan. Instead of sitting around and waiting, Tanner hosted his Design Thinking Workshop for university leadership, which in turn, helped to make progress on getting a makerspace for him to host more workshops.If you are ever struggling with your university leadership not understanding the importance of Design Thinking and Innovation on your campus, we hope you will refer to the above tips, so you can become another success story! Tanner is living proof that hosting Design Thinking Workshop can be wildly successful and make a huge impact on campus.