Priorities:St. Augustine's University Student Priorities
Jump to navigation
Jump to search
Strategy: The Fl1ght LAB "Where ideas take off"
The Fl1ght Lab is Collaboratorium designed to teach students and community members about the opportunities for innovation, entrepreneurship and solution orientation. Initially the Lab consist of team and not a place, the team will focus on creating educational programs for display in public spaces like the library, quad and game room on campus. This future lab will contain tools like multifunctional writing surfaces for flexibile ideating, smart boards for interactive 3d/ augmented conceptualizing and extensive networking space both virtual and physical. To implement our project our first goal is to understand where our peers stand in terms of problem identification and solution focused discussion. The overall goal of our Flight lab is to bring communities together to achieve greater visions.
Through assessment we have found that our student body lacks the spaces and tools to fully flourish. The student feel that the teaching methods are dated and lack luster, while staff state that they lack the proper tools to engage students. Based on surveying we have found that the university does promote I&E but it is not broadly recognized and severely restricted to the school of business on campus. The university staff have noted that their departments discuss the possible monetization of research but impress greater focus on creating curriculums for the student that maintain the status-quo of the university. Staff members display s mixed desire to adapt to new technologies unless proven to be essential to their performance or can visibly alter it for the better. The office in the process of creating the systems for IP Office, the University based on observation invest more into the act of education and preparing professionals for established fields as opposed to disruptive innovation.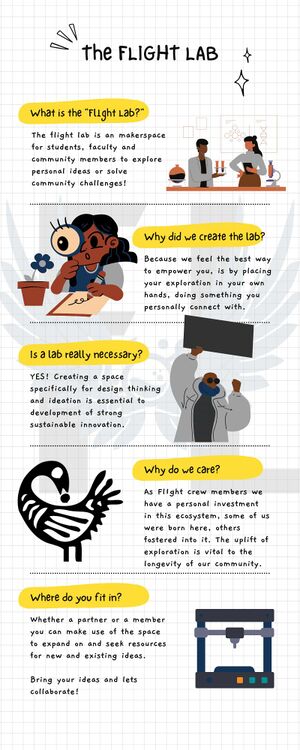 Proto-type : Fl1ght Lab
Our goal is to develop a community innovation lab dedicated to researching and developing Community initiatives using "STEAM"  as the primary medium for problem solving. Utilizing our diverse backgrounds, we seek to combine our department strengths to not only strengthen other departments on campus, but to also open the door for new programs as well. With heavy focus on interdisciplinary studies, we aim to push students and community members to think outside the box for problem solving.  
Goals
Use technology and innovation to foster interdisciplinary learning
Check community pulse  
Give insight to differentiating careers
Provide a safe, educational platform for the youth
Increase excitement and retention in STEM fields
Specifications
The flight lab will be a social incubator dedicated to advancing students in interdisciplinary innovation and community solution management.  The lab will see to:
Teach students technology and coding skills that can be used in data collection and analysis. Examples include social studies surveys, athletics and STEM courses.
Give access to tools in the makerspace for thorough ideation and proper proto-typing.
Eventually the goal is to have the lab open to members of the public and teach relevant technology skills.
The lab will be located on campus and will be determined after further exploration.
Questions that need answers
Are South-East Raleigh students exposed to innovation and design thinking?

Though there are opportunities for education in these realms, they are almost out of reach to the majority of the population. One would either have to pay, change school districts, or simply wait for college or a program to come around.

What are major issues the community faces that can be solved with design thinking?

The lack of fair opportunities, educational resources, career readiness, etc. With design thinking, the community can potentially be open to bigger and better opportunities because we won't be seen as less than. If New technology and programs are strategically placed throughout the community, the potential that the community possesses will finally be on display.

What is the pulse of the community's relationship to the university?

As of now, we are seen as the "either way" university. These last few years has put Saint Augustine's University in a different light when it comes to how the community perceives the institution. It's going from being just an "HBCU" to the small school that has national attention now. The tide is quickly turning and just as these last few years were pivotal to the reputation of the institution, these next are just as important.  

Where would we host the Fl1ght Lab?
Downstairs, cheshire building (potentially). This location allows for easy library access as well as the best internet connection on campus. This is also a building that can be customized and renovated to make the FL1GHT LAB come to life.
Milestones
Survey Community ecosystem for points of opportunity
This student survey measures the technological awareness of students on campus, approved by IRB.
2 week quantitative study of campus ecosystem conducted.
The survey consisted of a series of open ended questions to stimulate conversation
Can you tell me about your day to day?
If you could think of one or more things that could dramatically change work experience for the better, what would it/ they be?
How do you feel about the current campus climate in terms of morale?
How do you feel about student/staff/ faculty awareness of resources?
Develop a landscape canvas of community resources for assessment.
Reflection
Assessment has determined that due to lack of awareness of basic technological resources our community must first be properly educated about current technologies before introducing the "Hype" for newer.
Possible solutions that have become a point of interest
Documentary about the technological disparity in the African American community of south east Raleigh and the communities of our student body.
Create a symposium discussing the need for more education in the broader community on current technology to educate and near future technology to inspire.
Create a makerspace that focuses on offering the tools and developing the ideations of students and faculty, while supporting existing infrastructure with innovative solutions.
Establish a summer STEAM BOOT CAMP for local youth and promote it by creating presentations around summer topics, then presenting them to local schools.
---
---