Priorities:California State Univeristy of Fullerton Student Priorities
Jump to navigation
Jump to search
Spring 2015 Strategies

Strategy One: Implementation of an Innovation Center



The objective of this project is to spread awareness about entrepreneurship and innovation within the University of Fullerton. The innovation center will be high-tech space in which students from different majors will have the opportunity to collaborate and pitch projects they would like to work on. Every semester, there will be one project that will be chosen, and within the course of the semester, that project will become tangible. The project can range in size, but the focus will be creating an object or application that solves a problem within the community or within least developed countries. The innovation center will follow the model of design thinking.Through our research, we have found that the ideal location for the innovation center, would be a place that is located at the center of our campus. We have found that students often feel intimidated to go to departments that they are not familiar with.
Design Thinking Process Stages:
1.Define
In this stage students will answer the following questions: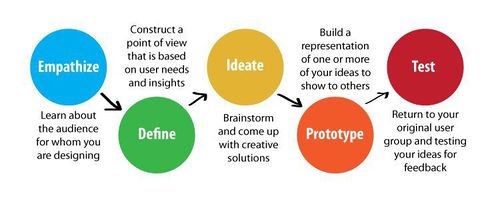 What issues are you trying to solve?
Who is your target audience ?
How can this project be successful?
2.Research
Students will do field work to gather data, gather history of the problem at hand, check if there is someone trying to implement something similar,determine the supporters of this project ( i.e department, investors, community partners) and communicate withthe end user.
3.Ideation
Determine needs and motivations of the end user and brainstorm many ideas that can possibly solve the problem at hand
4.Prototype
Create multiple drafts, seek feedback from a diverse group of people, present a selection of ideas to the client, create and present actual working prototype
5.Choose
Review the objective and choose amongst alternatives
6. Implement
Plan, Assign, Execute
7. Learn
Gather feedback from the consumer,Determine if the solution met its goals, Discuss what could be improved, Measure success, and collect data.
Strategy Two: TEDx CSUF
Bringing a TEDx to the Univeristy of Fullerton would be a way of unifying all the campuses colleges, and serve as a medium to welcome people from every discipline and culture who seek a deeper understanding of the world. Collectively believing in the power of ideas to change attitudes, lives, and ultimately, the world. The TedX events will have many themes, some of which include: Dynamic Women Entrepreneurs, Education,Technology, Innovation, Religon and Inspiration.This broad theme will attract alumni, faculty, and students to showcase their successes in a TED talk format building hype and recognition to them as well as the University. Keeping in mind TED talks is multidisciplinary, and is compatible with any concentration, a future TED talk can emerge from this and can focus on any Innovative breakthrough from any colleges. TedX will focus on attracting women that are involved in leadership roles. The objective of this initiative, is to promote women in business.
Strategy Three:Crowd Funding Campaign
Objective: The focus of this campaign will be to create a sense of community amongst students. The campaign will focus on one organizations objective and if successful, will be opened to other organizations. This is an effort to have departmental staff and students collaborate and push for innovation. We have found that the student organizations on campus seek resources out of the university to obtain their objective. For example, engineering students directly seek sponsors to fund their projects. This campaign will pave the way for an initiative to work together as CSUF students. Business students will work alongside engineering students to achieve objectives.
Purpose: To have each department participate and serve as a support for students that are pushing for innovation.
Pilot: Crowdfunding will be a new platform that will be brought to CSUF. The capmaign will be piloted using an engineering club on campus and if successful, crowd funding will be used to fund student projects.
Support: Since this is a student led movement, we are partnering with departments from engineering and Business to support this campaign.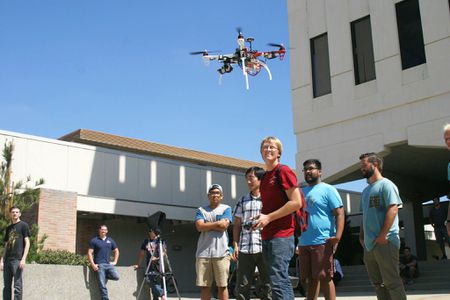 Spring 2015 Fellows
http://news.fullerton.edu/2014fa/Business-Incubator-to-Open.asp
http://www.dailytitan.com/2014/03/titan-mechanical-engineers-hope-to-build-uav-for-the-future/