Organization:Skills Academy
Jump to navigation
Jump to search
Overview
SKILLS ACADEMY Pvt  Ltd is a social Entrepreneurial venture started by Mr.Pramod Bhasin known as 'Father of Indian BPO Industry' he is the founder of the Genpact formerly GE Capital International Services in 1997 and was the President and CEO of Genpact till June 2011.
      The key Objective is to make skill development opportunities accessible to a cross-section of society across India and achieve excellence across sectors to maximize impact and efficiency.
      We have nearly 7 million people joining the workforce, the employability workforce, every year. Only 5-8% of our entire employment is in the organized sector.The rest is in an unorganized sector.  We forget that 90% of the population is actually being left out  from its thought. So education and skills remain a very emotive subject and a very difficult one to grasp.  There are many issues today like awareness of skills and the values of skills; who will pay for skills training is still an open question frankly. Even though the current government has done an enormous amount to push it forward, we still need to train 50 million people up in vocational skills.
       Skills Academy is not just about skills, or qualifications, or jobs. It's about individual potential to help people develop the skills to find meaningful and sustainable employment to overcome the unemployment and various problems faced by citizens of India.
Purpose
Skills academy as the name itself suggests that its aim is to work with organizations who share and support the endeavour of improving people's lives through skill development and sustainable employment solutions.
  The reason why we have chose the skills academy as our resource is that the vision and mission of this resource inspired us that this resource can further make a change in other peoples life. The main motto of this venture is:
1.   'Aspiration and Awareness
2.   'Create Skilling Models and Create Job Networks
3.   'Empowering Youth and Paths to Progress
4.   'Operating Framework and Develop Frameworks
5.   'Deliver Experience
We thought that the work of skills academy can sort out the problems of the people who are uneducated or partially educated by empowering them with the development of their talents and skills.Hardly 20% of graduates of our country are job-ready. In this context skill enhancement becomes vital which provides assessment services to educational institutions, government organisations and corporate entities.Hence considering this issue where some graduated students are not capable enough to constantly develop innovative things and find solutions to complex problems which are main factors working behind the employability of an engineer has pushed us to opt for this resource as their goal is to build an institution that has the capability to train tens of thousands of people in all parts of  our country specially those parts where jobs are hard to come by.  
Distinct Differences From Other Offerings
Profit-hungry managements, lack of skill education, focus on rote-learning methods, and shortage of faculty (both in quantity and quality) are the major issues plaguing higher education. Graduates are collecting their degrees despite not being skilled enough to be a productive part of the Indian economy.Regarding this issue of lack of skill education ,this skills academy is actually a boon to not only the students who are unemployed but also to people of poorer economies.
The major and unique differences this resource exclusively yet extensively has are:
Skills development is not equated with formal technical, vocational and agricultural education and training alone, but is used more generally to refer also to the productive capacities acquired through all levels of education and training, occurring in formal, non-formal and on-the-job settings, which enable individuals in all areas of the economy to become fully and productively engaged in livelihoods and to have the opportunity to adapt these capacities to meet the changing demands and opportunities of the economy and labour market.

 Around 40+ centres were set up in Rural and Urban India which established significant reach and distribution along with strong network for job placements.

In other words, skills development does not refer to the curricular or programme source of education or training itself but to the productive capacities that are acquired through these skills courses and programmes.

 But the utilization of these capacities needs the support of other private and public organisations and people especially students must be aware of these opportunities to change their lives in order to gain sustainable income,development and growth, stable economy and further inspires others also to do so.
Impact Achieved For Students and Campus
The skills academy mission is to transform learners in to employees by enhancing their earning capacity.They work towards empowering youth from places with high unemployment rates.
Success stories:-
Asha Devi-Healthcare Trainee
Asha,came from a community where women were not accepted when they raise their voice.Asha had gone through a traumatic period of married life with her husband.However ,she took courage to stand for herself and joined as a "geriatric assistant" student in skills academy centre in Mamura.She is now earning 7.5k per month ,who is independent and confident.
  Priyadarshini - IT Trainee   
   A girl is accepted by the in-laws only if they bring lump sum amount of money as bride.Priyadarshini showed her bravery that   it can be no more in practise, when a girl is stubborn and confident enough to stand for herself.She gained this after getting trained in skills academy after which she was with a job and married as per her wish which is" dowry free".
1. There are at least 15 sectors in every skills academy centre with best services provided for training the youth.
2. More than 45,000 students have been trained by the academy in the last 3 years and about 500,000 trainees would impact in 5 years.
Notes About How This Resource is Deployed
For the mission "Sustainable employment solutions" to be successful various skills academy centres have been setup across the country. Experienced team is provided for training the learners. Network establishment with employers from various organisations to enhance employability. Learning processes like group activities, Job environment training are organized to give a strong foundation to the trainees ,so that they can easily adapt to the industry after getting placed in to it. The training is based on not only adaptability of employees but cares for their efficient task performance to reach the company requirements.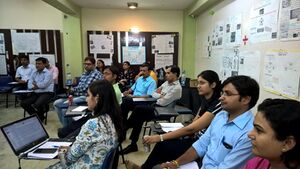 Steps Required To Bring Resource to Campus
Skills academy has put up its establishment in 17 states all over India till date and is planning for its expansion in 6 states more and so students must be aware of the advantages of this organization as skills development is the need of the hour at present. Instead of facing the blame for not being employed, students must pose a question to themselves on "How can I unveil my potential by enhancing my capabilities which not only provides a sustainable employment but also renders a happy existence".
       It took work over 6 Indian states up to date as it is a multi collaborate society to bring it to campus we have to consult the "state heads" of the respective states by knowing the different skills to be trained to the students in campus and the regional head will help the campus to choose their collaboration cooperation companies.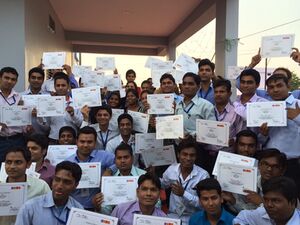 Basic steps that makes this resource accessible to students:
The educational institutions and government must take the initiative of bringing the awareness among the students and elevate the importance of skills development

 Students have to be trained to work independently and taught the importance of integrity by maintaining good workplace relationships.
Students can get the chance of direct application to The SKILLS ACADEMY they can mail to the society.
For more information regarding the application, they can access the link provided here
E-MAIL:           jobs@skillsacademy.co.in
meghna@skillsacademy.co.in
Contact Information
Address: Plot No. 108, 1st Floor
44, Gurgaon | Haryana – 122003
Email:info@skillsacademy.co.in
Phone: +91 124 4232953/54
www.theskillsacademy.in
Skills Academy- School of Banking Centre Location
SNO

PLACE

CONTACT DETAILS

1

Gurgaon (Corporate Office)

 

Plot No 108, 1st Floor, Sector 44, Gurgaon – 122003,

 Contact No:0124-4232955

 

2

Kolkata

101 Tollygunge Circular Road, UTSAV building, Mahabirtalla, Near New Alipore Pin 700053, Contact No: 033 64521231, 033 65241231

 

3

Harinagar (New Delhi)

 

BE-336, Street No.2, (Opp.Aggarwal Sweets), Hari Nagar,New Delhi 110064,

 Contact No: 9958037897,
  8527249506

 

4

Pitampura (New Delhi)

 

FD-2,Lower Ground Floor, Near Pitampura Metro Station Gate No.3 (Below Sagar Ratna Restaurant),Madhuban Chowk-110034,

 Contact No: 9868163508

 

Written by: Harichandana Vijitha Navya sri Yaswanth_G