Organization:Pradhan Mantri Kaushal Vikas Yojana
Jump to navigation
Jump to search
Overview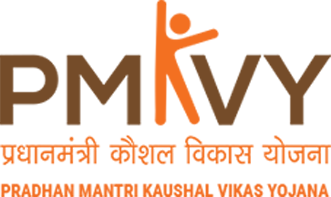 Pradhan Mantri Kaushal Vikas Yojana was founded by Narendra Modi in the month of 16th july 2015.
The main objective of the scheme is to provide skill certification scheme to the Indian youth to take up industry-relevant skill training that will help them in securing a better livelihood.
Purpose

Pradhan Mantri Kaushal Vikas Yojana (PMKVY) is the flagship outcome-based skill training scheme of the new Ministry of Skill Development & Entrepreneurship (MSDE). This skill certification and reward scheme aims to enable and mobilize a large number of Indian youth to take up skill training and become employable and earn their livelihood. Under the scheme, monetary reward would be provided to trainees who are successfully trained, assessed and certified in skill courses run by affiliated training providers.
This will boost the productivity of the country's workforce by enabling them to acquire high quality skill training across a range of sectors. It will also bring about a paradigm shift from input-based to outcome-based skill training in the country. It also seeks to significantly scale up skill training activities in the country and enable skill training to happen at a fast pace without compromising quality. Institutional arrangements comprising of the National Skill Development Corporation (NSDC), Sector Skill Councils (SSCs), Assessing agencies and Training Partners are already in place for implementation of the scheme.
Distinct Differences From Other Offering

1.Short-Term Trainings. (Already trained 60 lakh youth)
2.Recognition of prior learning.
3.special projects.
4.kaushal and rozgar mela. (schema analysis every six month)
5.placement assistance.
6.continous monitoring. (monitoring of a student using technologies driven methodologies)
7.standardized branding and communication.
Impact Achieved For Students and Campus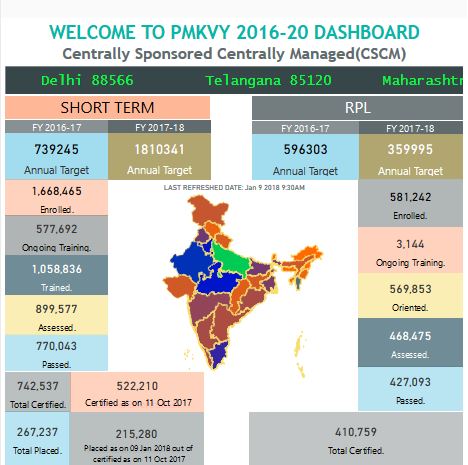 Pradhan Mantri Kaushal Vikas Yojana (PMKVY) has dragged a huge of impact on youth of india.
The scheme has seen 10,28,671 enrolments under 382 active job roles out of which 70% have already completed their trainings. 

The states which reflect maximum enrolments under PMKVY are Uttar Pradesh, Tamil Nadu, Madhya Pradesh, West Bengal and Andhra Pradesh while the sectors which saw maximum enrolments are Logistics (135615), Agriculture (90489), Electronics (82903), Beauty and Wellness (72316), Retail (65901) and Automotive (61846). 

It has been implemented across all 29 states and 6 union territories of the country, and covered 596 districts and 531 constituencies. It addresses the requirement for skill development across 29 sectors in which around 566 job roles have been identified for courses in which the youth can enrol and can get trained. These courses help in making them more employable with hands-on experience on skills that will make them more employable and also more efficient in their work. 

"The figure encourages us to gear ourselves even more, and galvanise many more in this public private partnership. With 8749 active centres across the country through which we implemented PMKVY, it wouldn't have been possible to achieve this milestone, without the due support of the Sector Skill Councils and the affiliated training partners," said S. Ramadorai, Chairman, National Skill Development Agency (NSDA) and National Skill Development and Corporation (NSDC) in a release. 

The Ministry of Skill Development with the help of NSDC and the local training partners, and support from state governments, MPs and MLAs conducted 410 Kaushal Vikas Shivirs across the country, to educate and encourage the youth to avail the scheme. Most of these shivirs also had Classrooms cum labs set up within the venue to enable visitors to witness the format of the training.
Notes About How This Resource is Deployed
Pradhan Mantri kaushal Vikas Yojana (PMKVY) was a scheme founded by government of india under collabration with ministry of skill department and entrepreneurship and national skill development (NDC).
On 20 March, 2015 the Government of India gave the Ministry of Skill Development and Entrepreneurship the official go-ahead to formulate and implement the Pradhan Mantri Kaushal Vikas Yojana (PMKVY) through the National Skill Development Corporation. With a total outlay of about INR 1,500 crore.
The scheme was developed over a period of almost three months and its implementation started in select states (primarily Bihar) by early June 2015. The schemewas launched in all states of the country on 15 July which is observed as National Skills Day. India's unemployment rate averaged about 4.9 percent by early 2014. It is hoped that this scheme will bring that number down by a reasonable measure.
Steps Required To Bring Resource to Campus

1. At first registration must be done on the smart portal which is in the website over here.
2. After Registration was done , Accreditation for training center (TC) must be applied with full documentation.
3. Then the step-3, Training centre must pay for continous monitoring fee.
4. Training Center should also need to apply for affiliation.
5. Check for expiry dates in future, if anything is going to expire then apply for renewal.
Contact Information

PMKVY Contact Number : 088000-55555
PMKVY EMAIL : PMKVY@nsdcindia.org
PMKVY YOUTUBE : https://www.youtube.com/channel/UChLzOWNsivCxuHgd9Gha_Lw
PMKVY TWITTER : https://twitter.com/msdeskillindia
Writen By :
Yaswanth Balaramaraju Manthena