Organization:Massive Open Online Courses
Jump to navigation
Jump to search
Overview

Massive open online courses (MOOC) are a way to make knowledge and information available to anyone. Like the name implies, they are online courses, which are open to anyone. There are many free options available, but paid courses also exist. The courses do not count for credit. As they are open to anyone, attending university is not a requirement. However, they provide a great way for people to not only access course information and materials (such as documents, videos, and exercises) but also to participate and interact with the facilitators and other participants. Due to the nature of the course, it is up to the students to decide how much they actually learn. These courses are offered by many universities and organizations and the topics covered range across all disciplines.
Popularity

MOOCs first became popular in 2006 and quickly became very popular. Millions of people around the world use MOOCs now, of which many are from third world countries. MOOCs truly have an impact on the ability to learn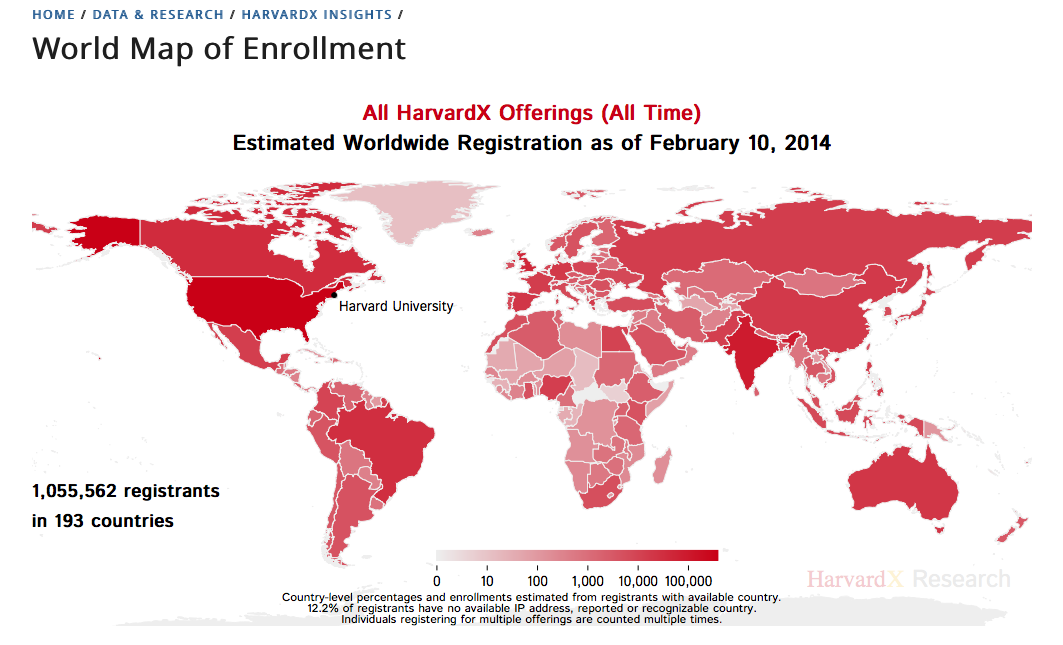 Benefits

1. MOOC use technology to teach information in new and innovative ways that may not be available in regular classroom settings. 
2. Students can educate themselves about topics not available to them at their universities.
3. Students can gain knowledge and skills that may not be directly relevant to their studies.
4. A stress-free, low threshold way to learn; no need to worry about grades and payments.
5. Due to the overwhelming amount of classes now available, there is a class available on almost any topic or subject. 
6. They are all available to you anywhere with internet access! 
Limitations 

1. Self-regulation is a must. If you're the type of person that has trouble staying focussed, this may not be for you.
2. Due to the massivess of the courses (many participants), controlling the learning process is difficult for instructors.
3. Digital literacy and a computer are required to participate. These courses are not suited for rural third world areas.
4. With the huge availability of these courses, it may be difficult to know where to start.
Impact of MOOCs
"In South America, China, countries in Africa, there is a huge appetite for learning, and some of the world's best courses are being offered online. If people are genuinely fascinated by learning, then why not? The real challenge is to allow those countries not just consume and study Moocs, but also to create them." - Mike Sharples, chair of Educational Technology. He published a report in 2012 predicting the rise of MOOCs.
"The evolving form knits together education, entertainment (think gaming) and social networking. Unlike its antecedent, open courseware — usually written materials or videotapes of lectures that make you feel as if you're spying on a class from the back of the room — the MOOC is a full course made with you in mind."– Published in The Year of the MOOC in 2012
MOOC Sites

Carnegie Mellon Open Learning Initiative "The Open Learning Initiative offers online courses to anyone who wants to learn or teach. Our aim is to combine open, high-quality courses, continuous feedback, and research to improve learning and transform higher education."
Duke University "Endowed in 1924, Duke is a university with the ambition and audacity to make a global impact in our new century. We seek to grow, connect, and empower diverse and inclusive communities of excellence to enhance the creation, delivery, and translation of knowledge for a rapidly changing world. Through online learning, Duke seeks to offer flexible global learning opportunities to a wide set of students throughout their lives."
edX "EdX offers interactive online classes and MOOCs from the world's best universities. Online courses from MITx, HarvardX, BerkeleyX, UTx and many other universities. Topics include biology, business, chemistry, computer science, economics, finance, electronics, engineering, food and nutrition, history, humanities, law, literature, math, medicine, music, philosophy, physics, science, statistics and more. EdX is a non-profit online initiative created by founding partners Harvard and MIT."
Harvard Open Courses "Videos for the following free Harvard courses are made available by the Harvard Extension School's Open Learning Initiative. Featuring Harvard faculty, the noncredit courses are open to the public. You do not need to register to view the lecture videos."
iTunes U "The free iTunes U app gives you access to the world's largest online catalog of free education content from leading institutions -- on your iPad, iPhone, or iPod touch."
Khan Academy 'Khan Academy offers practice exercises, instructional videos, and a personalized learning dashboard that empower learners to study at their own pace in and outside of the classroom. We tackle math, science, computer programming, history, art history, economics, and more. Our math missions guide learners from kindergarten to calculus using state-of-the-art, adaptive technology that identifies strengths and learning gaps. We've also partnered with institutions like NASA, The Museum of Modern Art, The California Academy of Sciences, and MIT to offer specialized content.' Khan Academy is utilized in many classrooms and offers an additional feature that allows you to "coach" other students and allows you to monitor their progress and see in which areas they are struggling or striving. 
MIT Open Courseware "Through OCW, educators improve courses and curricula, making their schools more effective; students find additional resources to help them succeed; and independent learners enrich their lives and use the content to tackle some of our world's most difficult challenges, including sustainable development, climate change, and cancer eradication."
Stanford Online "Stanford Online offers a variety of professional education opportunities in conjunction with many of the University's schools and departments. We also offer an array of free online courses taught by Stanford faculty to lifelong learners worldwide."
UCLA Extension "As one of the nation's oldest, largest, and most comprehensive continuing higher education providers, UCLA Extension gives you all the options and a wide range of courses you need."
Udemy "Today, 2 million students in 190+ countries are taking online courses on Udemy. They're learning Programming, Yoga, Design, Photography, Spanish, Marketing, Guitar, Finance, Cake Decorating, and so much more. More than 12,000 courses (in 10 different languages!) have been published in our marketplace. Each course is designed & taught by an expert instructor and hundreds of new courses are published every month." These courses require a small fee to access their content. 
webcast.berkeley  "webcast.berkeley is UC Berkeley's central service for online video & audio for students and learners around the globe." This site requires a Berkeley login to access its content. Free content can be found on edX or iTunesU.
Open Yale "Open Yale Courses provides free and open access to a selection of introductory courses taught by distinguished teachers and scholars at Yale University. The aim of the project is to expand access to educational materials for all who wish to learn."
...and many more! You can use this search engine for many of the MOOC providers. 
UIF Experience
Listen to UIF fellow Trevor Nicks talk about his experience using edX as a way to introduce a new course at his college and check out this article with suggestions on how to implement this at your college. How_to_leverage_Harvard's_free_CS50_online_class_to_teach_code_on_your_campus
Videos

Still confused about MOOCs? Watch this great short video written and narrated by Dave Cormier
An interesting TED talk about MOOCs
Sources
Contributors to this page