Organization:Global Entrepreneurship week
Jump to navigation
Jump to search
Overview

Global Entrepreneurship Week (GEW) is a global movement that helps to inspire people everywhere to unleash their creativity and to take the steps into an innovated journey. During one week each November, the Global Entrepreneurship Week hosts several activities locally, nationally, and gobally to help promote people to reach their potential as innovators. The activites range from large scale activities to inimate networking gatherings. Most of these events help to connect people to new possibilities and oppertunities. Several entrepreuners have be invovled with GEW, such as: Richard Branson, Virgin Group; Michael Dell, Dell Computers; Muhammad Yunus, Grameen Bank (and winner of Nobel Peace Prize); Dennis Crowley, Foursquare; Blake Mycoskie, TOMS Shoes; Mark Cuban, serial entrepreneur & NBA owner; Russell Simmons, Def Jam Records; Snoop Dogg and others.
What is Global Entrepreneurship Week?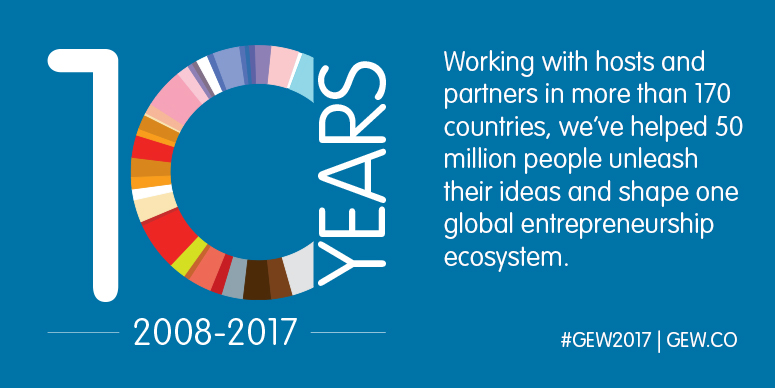 Purpose
Global Entrepreneurship Week (GEW) is more than just an awareness campaign.Nowadays the world is full of entrepreneur of all ages driven by self-interest and this platform for connection and collaboration is useful in order to engage all players along the entrepreneurship spectrum in strengthening ecosystems around the world.
GEW think entrepreneurs might be the force for change in their country for things beyond just economic change; you can actually make the world a better place.
History
The GEW was first started up in November 2007 with 37 countries were involved in the startup of the movement. Within a year host organizations in 77 countries signed up for the campaign with 3 million people that participated in 25,022 activities and events. Since November 2007 the number of countries that are participating has increased to 138 countries. In the year of 2013, 7.43 million people participated in Global Entrepreneurship Week and 24,008 partner organizations conducted at least one activity, event or competition during Global Entrepreneurship Week. In fact, by november 2008 about 3 million of people participated in 25022 events and activities.
<parsererror style="display: block; white-space: pre; border: 2px solid #c77; padding: 0 1em 0 1em; margin: 1em; background-color: #fdd; color: black">
This page contains the following errors:
error on line 1 at column 1577: attributes construct error
Below is a rendering of the page up to the first error.
</parsererror>
Impact on student and campus

Startup Weekend (boot camps)
Startup Open (competitions)
Hundreds of universities strengthen connections that help them commercialize research from their labs. 
DECA (Distributive Education Clubs of America) helps bridge the gap developing the connection between student, institution, and entrepreneurship.
Contact
Global Entrepreneurship Network
1(202) 683-4100
Edited by