Organization:Accelerate Michigan Innovation Competition
Jump to navigation
Jump to search
Overview
The Accelerate Michigan Innovation Competition (AMIC) is a business pitching competition open to any early stage business.  While originally being a collaborative effort between various Michigan business accelerators, AMIC recently combined with the University of Michigan Centre of Entrepreneurship in order to tackle student led ventures. The competition requires the submission of a business plan and a presentation in front of a set of judges.  Company startup awards range up to $500,000 while student awards range up to $21,000. In order to accept awards your company or sending university must be located in Michigan. AMIC is commonly regarded as,
 "THE launchpad for Great Lake startups"
Purpose
The Accelerate Michigan Innovation Competition was created by the Business Accelerator Network for Southeast Michigan to foster Michigan's fledgling entrepreneurial ecosystem.  It is supported through a combination of various business incubators, including - Ann Arbor SPARK, Automation Alley, and Macomb-OU INCubator.
The competition is designed to encourage early stage businesses and startup companies. The competition is designated for startup ideas and innovative business opportunities. In turn these companies aid the local economy by creating new jobs. AMIC is
"Targeting entrepreneurs with mid-to-late seed-entrepreneurial businesses — the competition has an immediate and positive impact on Michigan's economy."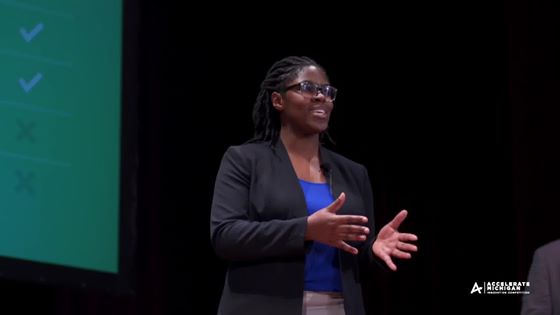 Competition
Company Competition
Eligibility
The company competition is separated into 8 categories:
Advanced Materials

Advanced Transportation

Alternative Energy

Information Technology

Life Science

Medical Devices

Next Generation Manufacturing

Products and Services
Note:  The company does not have to fit perfectly under any of these umbrellas, these are simply guidelines for companies to follow.
Competing company may enter from anywhere in the world; however two members of the company must be present at the competition in order to be considered. Also, in order to accept any prizes, the company headquarters must be located in Michigan; this may require relocation.
Criteria
Companies will be judged on the following criteria during the competition:
Problem/ Solution evaluation

Market fit/ Size

Product distribution/ Customer acquisition

Business Model

Competitive Landscape

Financial Projection over 4 years

Team Evaluation
Competition
The company competition is split up into 3 stages with their own deliverables:
Application Stage

10 Slide Deck Presentation

2 Page Executive Summary

Semifinal Stage

10 minute Presentation of slide deck

10 minute Q/A session.

Final Stage

5 minute elevator pitch
The prizes for first, second, and place and the people's choice are $500,000, $100,000, $50,000, and $10,000, respectively.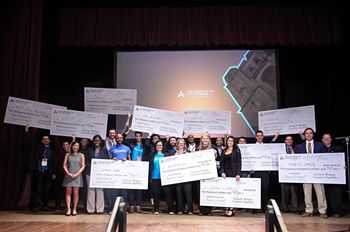 Student Competition
Eligibility
To compete in the student competition, you must attend any Michigan Universities.
Criteria
The student criteria is the same as the company competition, listed above.
Competition
The student competition is split up into 4 stages with their own deliverables:
Application Stage

Application form

1 Minute video pitch

Mentor Session Stage

4 minute slide presentation to be reviewed by entrepreneurial experts

Semifinal Stage

Present the 4 minute pitch

Narrowed to 27 teams

Final Stage

Present the 4 minute pitch

Narrowed to 9 teams
Student winners may be awarded up to $21,000 for their startup.
Impact
ACMI raised $40,000 dollars in the 2013 student competition, giving three small student-led ventures the financial stability to move forward.

Through the collaboration with the Michigan Collegiate Innovation Prize, ACMI supported the education of several student teams, as well as offered more than $100,000 in award money for student ventures.

The company competition has raised over $550,000,000 for Michigan startups. These startups have created over 1000 jobs for the area.
Contact Information
Lauren Bigelow
Lauren@growthcap.net
http://acceleratemichigan.org/contact-us/
Related Links
Website:http://acceleratemichigan.org/
LinkedIn:https://www.linkedin.com/company/accelerate-michigan-innovation-competition
Facebook:https://www.facebook.com/AccelerateMICH/
Instagram:https://www.instagram.com/acceleratemich/
Twitter:https://twitter.com/acceleratemich
Edditted by
By: Jeffrey Stransky