Fellow:Zaijohns
Jump to navigation
Jump to search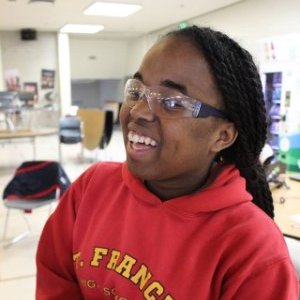 Zaire Johnson is a University Innovation Fellow at Rensselaer Polytechnic Institute. She is majoring in Computer & Systems Engineering, but is interested and energized by much more. She strives to expand her worldview and build her empathetic skills.
Her journey through UIF and RPI's innovation ecosystem began through a series of happenstance conversations. She was drawn to the opportunity to create a direct impact on Rensselaer's campus at a system-wide level and to the feasibility to change the culture on RPI's campus. She has seen that many students put on "blinders" and  focus on their grades and getting jobs immediately after college. While this approach to college is not inherenently incorrect, being an engineer means more than just acing classes.
Zaire aims to be a strategic and integral part in invigorating RPI's culture.
On campus she is involved with RPI's Society of Women Engineers, Pi Beta Phi Fraternity, and RPI 91.5FM.
Off campus she is a school-year intern for the IRS and General Electric - Renewable Energy.
Related Links
Rensselaer Polytechnic Institute
Rensselaer Polytechnic Institute Student Priorities
University Innovation Fellows
Spring 2017
Spring 2016:
Spring 2014:
---
---