Fellow:Yifan Ge
Jump to navigation
Jump to search
Yifan Ge is a senior engineering student at Bucknell University and entrepreneur who is the co-founder of Unparalleled Systems, alongside Kevin Thomas.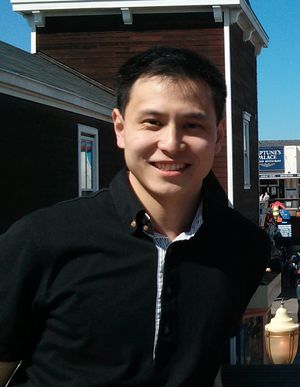 Undergraduate Studies
Currently, Yifan is on the track of pursuing a B.S. degree in Electrical Engineering and a B.A. degree in Computer Science. During his education at Bucknell University, Yifan has done undergraduate research on Design of An Autonomous Unmanned Robotic Vehicle (Summer 2010) and Ground-based Space Object Surveillance System (Summer 2013).
In 2012-­13, Yifan has been a team member of a Electrical Engineering senior design team, ZipDT working with Avnet on its newly released FPGA platform, ZedBoard (Zynq Evaluation & Development Board). The goal of the project was to develop an image processing application that demonstrates hardware acceleration by implementing part of the program on re-configurable hardware fabric. At the end of the project in May 2013, ZipDT successfully delivered an implementation of a motion-controlled block stacking game on the ZedBoard and achieved 3X acceleration rate on erosion algorithm through hardware implementation.
After finishing undergraduate studies at Bucknell University, Yifan is planning on entering graduate school for further education and research in the area of computer architecture.
Professional Development
Besides his academic endeavors, Yifan also shares a passion for business development and entrepreneurship. Since 2010, Yifan has been working at Bucknell's Small Business Development Center (SBDC) as a student engineering consultant. He has helped many entrepreneurs and small businesses successfully develop their first prototypes.
During the summer of 2011, Yifan Ge also worked with GE Energy on its Smart Grid System as a student consultant through Institute for Leadership in Technology and Management.
In May 2013, Yifan co-founded Unparalleled Systems with Kevin Thomas. "The mission of Unparalleled Systems is to provide affordable and accessible high-performance computers to medical researchers, because saving time on medical research leads to saving lives." Yifan's main responsibility is developing the hardware implementation of software-based algorithms onto re-configurable hardware.
Contact Information
LinkedIn: Yifan Ge
Email: ygg001@bucknell.edu
Articles