Fellow:Wendy Fernandez
Jump to navigation
Jump to search
Wendy Fernandez is a current University Innovation Fellow Candidate at Utah Valley University. She is a Junior majoring in Business Management with an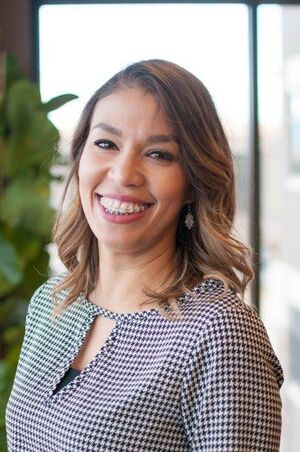 International Emphasis. Wendy is from the Dominican Republic. She loves Utah and its beautiful mountains. Wendy currently works in Young Living Essential Oils, a multilevel company. Wendy plans to graduate in Spring 2019. 
Wendy is a member of the Enactus club and the intramurals club at Utah Valley University. In the Enactus club, she works with projects.  During Fall 2017, she was the Project Manager of the Social Innovation Challenge. A challenge that offers the participants a hands-on experience working to identify and research a social problem and gaps in the solutions market. She believes a great place to start for those who want to make changes in the world. Also, the Enactus club had invited her to participate in the Regional and National competition of 2018. As competitors, they are going to showcase how they are transforming the lives of those around them through entrepreneurial actions. The intramurals club is a program that provides members with opportunities to participate in competitive leagues and tournaments in a variety of team and individual sports and activities. Wendy plays during the volleyball tournaments. 
Also, Wendy is a dancer for the Light of the Nations program. That is a program where hundreds of singers and dancers perform Latino songs and dances before a live audience in the Conference Center in Salt Lake City, Utah once a year. Through this program, Wendy had been able to invite others to come to Christ and introduce others to Latin traditions. 
During tax season, Wendy helps all her international student friends to file their taxes. She also provides financial management training to them. 
Wendy is currently learning how to snowboard and skiing on weekends. In her free time, she loves to hike, spent time with friends, and watch and play sports.
---
---