Fellow:Vincent Arena
Jump to navigation
Jump to search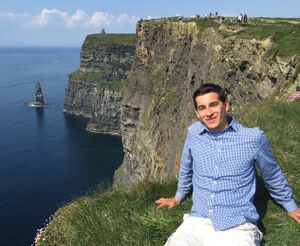 Serving as a UIF Since: Spring 2017
School: Rensselaer Polytechnic Institute -Mechanical Engineering & Design Innovation and Society
What he does now: Co-founder of Tazzetto Coffee - coffee brand and cafe franchise serving authentic Italian coffee, food, and edible cups.
What that means: learning all aspects of building a new business from scratch while simultaneously trying to steer the food industry to being more honest and sustainable.
Contact Vincent about: fostering a culture of innovation, curriculum/courses on creativity and entrepreneurship, feedback on product ideas or startup pitches, bouncing around ideas and problem solving, creative workshops and activities, existential crises (call me), collaboration on talks or podcasts, wanting to talk anything related to food, sustainability, or green technology. 
Email: vincent.l.arena@gmail.com
Phone: 516-286-0002
Vincent Arena is a lifelong learner, design thinker, and food fanatic. Originally from Long Island, Vincent studied at Rensselaer Polytechnic Institute and one semester abroad in Denmark (DTU). He dual majored in Mechanical Engineering and Design Innovation & Society which gave him hands on experience in technological entreprenurship, product design, and social innovation/inventing. Vincent developed creativity-based curriculum for HS students as an Engineering Ambassador and as a TA for an RPI course called How To Change The World (HTCTW). He is now helping to write a book called Don't Do Nonsense which will summarize the philosophies of his professor Burt Swersey, who inspired Vincent to use his creativity, passion for technology, and drive for helping others to pursue a career as an entrepreneur. 
Vincent is a highly energetic and adaptable individual who is always eager to jump on new ideas and initiatives. He has pursued many side-projects which align with his interests, such as a cradle-to-cradle 3D printer filament, hydroponic furniture, a mood-based social app, and meditation/inspiration virtual reality experiences. Vincent is the co-founder of Sanguine Diagnostics, a low-cost, paper diagnostics startup that won 3rd place in the NY State Business Plan competition and went through many accelerators including the NSF I-Site. He loves to share what he's learned and give feedback to other socially-minded startups.
In his free time, Vincent loves to draw and write in his sketchbook, travel to new cities or places in nature, have long talks or jam sessions with friends, and prototype his ideas. Since a kid, his sacred place has always been the beach. He loves listening to the sound of the waves, surfing, as well as entering sand-sculpting competitions.
Vincent would love to know about your passions and talk, collaborate, or share ideas in whatever way possible.
bit.ly/DontDoNonsense
Contributions:
Rensselaer Polytechnic Institute Student Priorities
---
---