Fellow:Tyler Laredo
Jump to navigation
Jump to search
Tyler Laredo is a passionate individual who wants to use engineering and business to make the world a better place. A second-year electrical engineering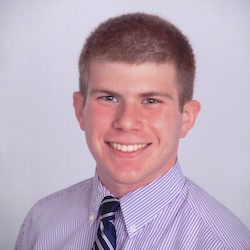 student at the University of Michigan, Tyler has been actively involved in the engineering and entrepreneurial landscapes on campus.
Tyler is an active member on the MHacks core team, successfully planning three hackathons throughout the last year. His freshman year, he implemented a new social media campaign and boosted online engagement by over 35%. This year, as the new Director of Sponsorship, Tyler successfully led a team of five students to raise over a quarter of a million dollars for its fall hackathon, exceeding budget goals by 175% and growing the number of sponsors by 50%. All three hackathons Tyler has worked on have been an enormous successes, and they all profoundly impacted the students, companies, and U-M faculty involved.
With MHacks 6 behind him, Tyler is now looking for a new outlet to focus his passion and energy. He is always eager to learn new things and gain real-world experience—especially in the areas of technology and entrepreneurship.
Related Links
University of Michigan, Ann Arbor
University of Michigan, Ann Arbor Student Priorities
Tyler Laredo