Fellow:Tiffany Smith
Jump to navigation
Jump to search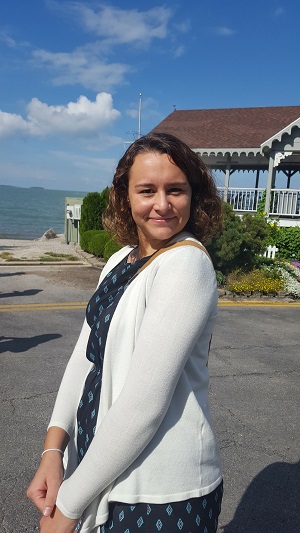 Tiffany is a Junior at the University of Pittsburgh studying Chemical Engineering and pursuing a minor in Studio Arts and certificate in Innovation, Entreprenuership, and Product Design. She grew up in the small country town of Marysville, Ohio. From and early age, her parents encouraged her to learn, be creative, and work hard, ultimately setting her on the path to engineering. Tiffany loved building things, from small crafts to home improvement projects. This passion is what drew her to the Honors Engineering program at the Swanson school of Engineering with a course called The Art of Making. The Art of Making is a class designed by the first cohort of University Innovation Fellows at the University of Pittsburgh, with the help of faculty member Dr. Joseph Samosky.
The Art of Making is designed to inspire innovation and hands on learning in a format that is unlike any other course at the university. Tiffany thrived in the environment and was wholeheartedly engaged in the class. The final in the course is a capstone project that the students present at the University Design Expo, where Tiffany and her team won the overall award for Best Project Integrating the Humanities and Engineering as freshman at an expo full of senior projects. 
At the close of the class, Tiffany learned about Pitt's University Innovation Fellows recruitment program, the Innovation and Entrepreneurship Bootcamp, which she attended. There she learned basic skills and tools for successful business design and was exposed to the UIF program. She was later invited to apply for the University of Pittsburgh's Spring 2017 UIF cohort. 
Tiffany has continued in the spirit of innovation, working as a teaching assistant for the Art of Making class for 3 semesters and particiapting as a University Innovation Fellow. She is excited to be able to work with the University of Pittsburgh and her fellow students to promote innovation, entrepreneurship, and creativity at the school. She is currently helping to re-vamp the Chemical Engineering Intro to Product Design course.
Furthering her career and skills, Tiffany has been working at Cooper Tire & Rubber Company as an engineering co-op with several departments, including Product Design. She also holds a position at the Pittsburgh Quantum Institute as a Graphic Design student worker. Tiffany also loves outdoors, going on adventures, trying new things, and learning about the world. Art and reading are two of her favorite hobbies. She enjoys spending time with her freinds from the Art of Making and hanging out with her roommates and family.
---
---