Fellow:Tarun kalakoti
Jump to navigation
Jump to search
Tarun Kalakoti is a University Innovation Fellow candidate for the upcoming Fall 2015 cohort. He is currently attending the University of Virginia with a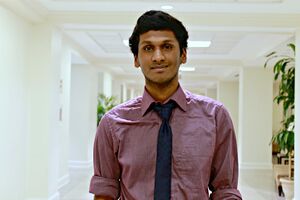 major in cognitive science and plans to graduate in 2016. He has a strong interest in medical entrepreneurship and leadership.
As a first year going into college, Tarun only knew that he had a tangential interest in medicine and science. However, at that point, the only way he knew that he could translate that interest was by becoming a doctor or going into academia. Eventually, he soon discovered that career paths are often much more varied and nuanced. One day, on a whim, he decided to attend a small biomedical design expo. The projects were all interesting but Tarun felt like he had no real way to start working on a project. He didn't know the people, he didn't have an idea, and he only had interest in a pure but unrefined form. But then at the event he surreptitiously ran into a recent college graduate trying to organize a biotech program that would help students get involved in entrepreneurial projects.  "Talk about fate!", Tarun couldn't help but feeling.  One connection led to another. Tarun went to gather a team to participate in the local E. Cup, eventually making it to the semi-finals and being awarded $1000. It was a small victory but to Tarun, it was affirmation that a dedicated interest can produce results. At the same time, Tarun also became more involved in the health entrepreneurship community at UVa. Realizing the context of his story, he knew that surreptitious encounters are often the only way that people hear about the entrepreneurial resources on grounds. He became involved in a club called Health UnBound that seeked to promote and provide these types of resources to students. Eventually, a year later, things had come full circle with Tarun helping to host a biomedical design expo of his own.
The desire to promote awareness of entrepreneurship and its benefits in all career paths motivated Tarun to be a University Innovation Fellow.  He believes that by understanding the landscape of resources at a university and working with the administration, long lasting change can be introduced. 
Related LInks
University of Virginia Student Priorities
Tarun Kalakoti