Fellow:Tahereh Hosseini
Jump to navigation
Jump to search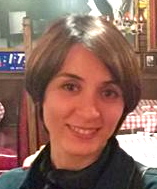 Tahereh Hosseini is a University Innovation Fellow and aPhDcandidate in electrical engineering-nanotechnology at University of Wisconsin - Milwaukee, and an experimentalist researcher in solid state optoelectronics and semiconductor devices at UWM Nanotechnology Research Laboratory (NTRL).
As a member of the academic community, she is been serving as the UWM Research Foundation Graduate Student Ambassador where her mission is to help the research foundation team with bridging the gap between research and commercialization by a range of activities from early discovery through commercialization. 
As a human, Tahereh cares and is concerned about human rights, human relations, as well as environment, and been trying to act toward her concerns by supporting organizations such as Amnesty International, UNESCO, and Society of Students Against Poverty . Tahereh believes in knowledge, and her vision is a world where true, unbiased knowledge is accessible to all human beings. 
Related Links
University of Wisconsin Milwaukee
University of Wisconsin Milwaukee Student Priorities
Fellows
RTENOTITLE