This site will go under maintenance from 25-11-2020 to 30-11-2020. It might not reachable during the maintenance period.
Fellow:Sreevanikanala
Jump to navigation
Jump to search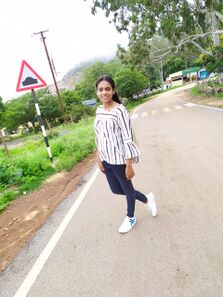 Sreevani is an undergraduate student in Madanapalle Institute of Technology and science pursuing Bachelor of Technology in Electronics and Communication as specialization. She dreams of bringing changes in the campus ecosystem through her innovative thoughts. She is a member of MSR (MITS Social Responsibility) club and likes to spend her time in serving the society. She is an optimist. Sreevani personal strengths are impressive personal intellectual accomplishments.
She can easily interact with new people. Her communication skills leads her to share her ideas and views in an effective way. She believes in "Doing something good to others".  With that thought she actively participates in the activities related to social value. Her passion, aim, and everything is to become an entrepreneur and utilizing those skills for the needy. She is a student coordinator of Entrepreneurship development cell in MITS and takes care of the developmental activities of the students.
Related Links:
Madanapalle Institute of Technology & Science :
Fall 2K18 Fellows:
Pitch Video:
---
---