Fellow:Sreevanikanala
Jump to navigation
Jump to search
| | |
| --- | --- |
| Serving As UIF Since | Fall 2018 |
| What she does now | Oracle Application Developer in Accenture. |
| School | Madanapalle Institute of Technology & Science, Madanapalle, India |
| Email | sreevanireddykanala@gmail.com |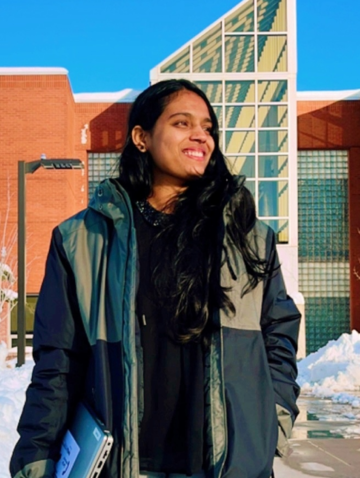 SREEVANI KANALA motivational Speaker, Innovator and small Entrepreneur. Who is currently pursuing her master's in Computer Science in Northern Arizona University, AZ, USA. Her empathetic nature and social skills have led her to develop projects such as a drunk-driving prevention system, IoT devices for farmers, and a start-up that sells refurbished laptops at affordable prices for low-income students. Sreevani is also actively involved in various social events, such as teaching rural children the importance of education, hygiene, and nutrition. With her diverse background and passion for making a positive impact, Sreevani is an inspiring leader and role model.
Sreevani Kanala is finished her Undergraduate on Electronics and Communication Engineering at Madanapalle institute of technology and science, Madanaalle India. Born and raised in the small town of Bethamcharala, Sreevani has a deep understanding of the challenges facing rural communities and has made it her mission to make a positive impact. During her undergraduate studies, Sreevani held several leadership positions, such as Sr. Student Co-Ordinator and HR for Entrepreneurship Development Cell MITS, Member of National Service Scheme, University Innovation Fellow, Co-Founder of Student Activate Centre in MITS. Additionally, she conducted motivational sessions on career building, modern innovations with design thinking, and self-empowerment. She is also a certified Design Thinking Facilitator and has conducted 60 workshops for over 1500 students on and off campus. With her strong leadership skills, innovative mindset, and passion for making a change, Sreevani is a truly motivated her peers.
Her Recent Works:
She worked in Accenture Ltd. as a Oracle Application Developer. During her tenure, she was responsible for managing and developing databases on two Oracle-based projects. Sreevani demonstrated exceptional work skills and was recognized for her achievements, receiving the award for Best Employee of the Month and being named Top of the Batch for scoring high during training.
During the COVID-19 pandemic, Sreevani took the initiative to co-found a global community called iServe, iServeLife. The community aimed to help those who were affected by the pandemic and were struggling with mental health issues. Sreevani used her international connections to gather a team of dedicated volunteers to provide support and resources to those in need. She organized and conducted online workshops and webinars on coping with the pandemic and provided one-on-one sessions with psychologists for those who needed more personalized support.
As a member of the National Service Scheme (NSS) where she visited rural areas to educate students and farmers on the importance of education, hygiene, and nutrition. Her dedication to making a positive impact in the lives of those in underserved communities highlights her strong sense of social responsibility and compassion.

Fall 2018 doings as UIF:
We, the Fall 2018 MITS fellows (Rohith.B, Abhishek Pasupulate, Tasmi Samreen, and myself), established the Student Activities Cell to assist all clubs on campus and to help new clubs flourish. This had a major impact and significantly expanded student activities on campus. This SAC is intended to be controlled entirely by students, with a President elected by the students as the cell's leader. This SAC is made up of nine clubs, each with 200 or more volunteers.
We launched MITS TALKS by recognising student leaders and exceptional talent on campus. This will allow students to showcase their unique abilities and motivate other students to enhancing their skills. We have successfully held four MITS TALKS, and our next fellows are working on more.
On-campus, we successfully conducted 60 Design Thinking sessions. Every session, we changed our techniques by bringing new activities for better immersion and fun learning. In addition, we held two online Design Thinking workshops, one Starter Kit workshop, and four revised Starter Kit workshops. Our workshops drew well over 1500 students. Aside from that, we also had student interactions. We provided students with assistance and direction in order for them to meet their needs on campus. Every year, we held an orientation session for newcomers to help them better comprehend college.

Social Media:
---
---