Fellow:Sreenivasa Rao
Jump to navigation
Jump to search
SREENIVASA RAO  is a Strong engineering professional with a Bachelor's degree focused in, Electronics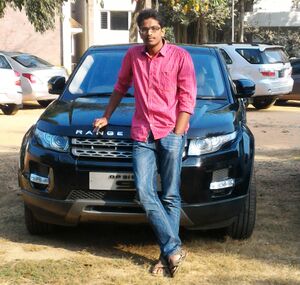 and Communications Engineering from GAYATRI VIDYA PARISHAD COLLEGE OF ENGINEERING(A) VIZAG.He is an Experienced Web Developer Intern with a demonstrated history of working in the higher education industry. Skilled in Event Planning, Microsoft Excel, Customer Service, Microsoft Office, and WordPress.
 He is presently working for YES WE CAN youth society which is an NGO(non-governmental organization) which EMPOWER and ENLIGHTEN through giving EXPOSURE and laying platform for OPPORTUNITES to the Youth in social development and innovation.He is also a former member of ROTARACT CLUB GVP which is a social club on his campus.
His Technical interests include ANDROID DEVELOPMENT, JAVA, AND HADOOP, for which he has worked on so many online courses and also got qualified in every test and finally certified by IBM(LEVEL1 BADGES )  For BIG DATA, HADOOP, AND PYTHON.
He is also an active volunteer for ANDHRA PRADESH tourism Projects for which he volunteered for so many like CII SUMMIT 2017 (CONFEDERATION OF INDIAN INDUSTRY), REGIONAL VISAKHA UTSAV 2017, Delegate for 20th NATIONAL CONFERENCE ON E-GOVERNANCE.He is also an active member in Institution Of Electronics and Telecommunication Engineers.
Linkedin:linkedin.com/in/sreenivasa-rao-b46906102/
Website:https://sreenivasaraosite.wordpress.com/
Phone:+91 9492773574
Email:srinivassomu12345@gmail.com
Related links:
Gayatri_Vidya_Parishad_College_of_Engineering
Gayatri_Vidya_Parishad_College_of_Engineering_Student_Priorities
How_to_Introduce_Design_Thinking_to_Students_in_INDIA
Pitch Video: https://www.youtube.com/watch?v=g-AOUh78FkY
Fellows in Team: Sravana_Lakshmi, Srujana_Kameswari, Bhavyatha_Pandrangi
---
---