Fellow:Sophie Zehentner
Jump to navigation
Jump to search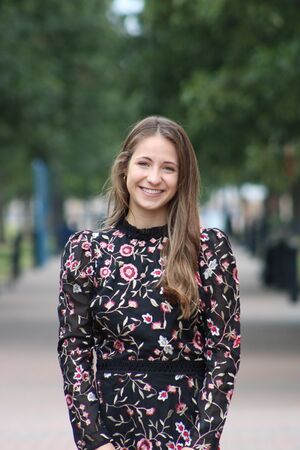 Sophie became a University Innovation Fellow in Spring 2018. She is an undergraduate studying Marketing with minors in Innovation & Entrepreneurship and Finance at The University of Tulsa. Sophie is originally from Friendswood, TX, a suburb outside of Houston. Growing up, Sophie was heavily involved with sport teams. This was the start of her love of human connection and teamwork. Sophie's love for sports, teamwork and handwork was the foundation to pursing a degree in Marketing. She will graduate Spring 2021.
At The University of Tulsa, Sophie is involved with various activities. Sophie's love for travel and sustainable practices lead her to high involvement in the Global Scholars Program. This program studies global issues, works on projects to better the community, and travels abroad. December of 2018, Sophie traveled to Panama with the Global Scholars program to meet with local entreprenurs and businesses to explore the process of helping those businesses burst into the American market. Sophie studied abroad in Copenhagen, Denmark her Spring 2019 semester. While Sophie is in Tulsa, she is involved in University Ambassadors, Aspiring Management and Marketing Professionals, NOVA Fellowship and Chi Omega. 
Sophie has interned at CACI International at NASA Johnson Space Center every summer while she has been in college. She updated CACI's college recruiting marketing assets by enhancing their copy, visuals, career fair collateral and created social media content. As a result, CACI experienced an increase in student interest and hired the largest number of top engineering student interns and full-time hires to date. Sophie also updated the company's marketing fact sheets by interviewing subject matter experts and translating complex technical information to be relevant for a non-technical audience. She enhanced the visual look and feel of the fact sheets by using white space, photographs and graphics.

Sophie has interned at various Tulsa companies during each semester of school since her Junior Fall. She has worked at Summit Financial, Sustainable Tulsa, and Atento Capital. Sophie wants to make a lasting impact on her campus and learn from her impact to apply to the real world after graduation.
Related Links
University_of_Tulsa_Student_Priorities
Fellow 2018 Spring Cohorts:
---
---