Fellow:Sierra Hinds
Jump to navigation
Jump to search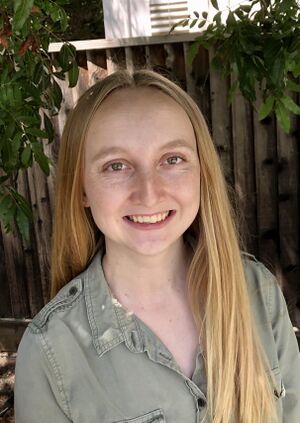 Name

Sierra Hinds

School (Cohort)

George Fox University (2021 cohort)

Majoring in

Mechanical Engineering

Country

United States

Email
Bio
Sierra Hinds is a Junior Mechanical Engineering student who grew up in Brentwood, California, she currently studies at George Fox University in Newberg, Oregon.
Ever since Sierra was younger, she has been captivated by puzzles. Her parents and teachers encouraged this, when she solved one, they would have the next one waiting for her. From connect the dots and legos when she was a child, to logic puzzles and math as time passed, her love for puzzles only grew. Now her love for puzzles can be seen in her academic work as well as her personal life. Other than the puzzles inherent in her major this passion can be seen in her dedication to rock climbing and her involvement in the challenge course industry.
Sierra sees people with problems that they do not have the resources to solve and people with underutilized resources, and desires to connect them. She dreams of one day using engineering overseas to help connect people to resources that could lessen the burden of these problems.
Achievements
Social media profiles
---
---