This site will go under maintenance from 25-11-2020 to 30-11-2020. It might not reachable during the maintenance period.
Fellow:Sara Fitzpatrick
Jump to navigation
Jump to search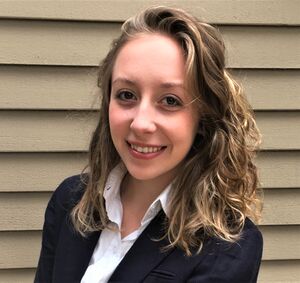 Sara Fitzpatrick is a University Innovation Fellow candidate and an undergraduate at Worcester Polytechnic Institute. She studies chemical engineering with a concentration in biomedicine. Sara is particularly interested in pharmaceuticals, medical devices, and the application of research to product design. At WPI, Sara is the Secretary and Outreach Coordinator of Rotaract Club, a participant in the Sophomore Success Program, and an active member in the WPI chapter of the American Institute of Chemical Engineers. She is also a certified Emergency Medical Technician, a lifeguard, and a swim instructor. In her spare time, Sara enjoys swimming, playing tennis, reading, skate skiing, and paddle boarding.
Sara is originally from Scarborough, Maine, but moved to Worcester, Massachusetts to study engineering at WPI in 2016. There, she was introduced to the University Innovation Fellows program. Sara has always been interested in innovation and leadership and she has been working on integrating new ideas into her community since early adolescence. At WPI, Sara is particularly interested in incorporating student ideas into the workings of the classroom and expanding project opportunities for new students. 
Worcester_Polytechnic_Institute
---
---