Fellow:Sai Srinivas Revanth Sudanapalli
Jump to navigation
Jump to search
I am Sai Srinivas Revanth Sudanapalli And I was a University Innovation Fellow for the fall-2018. I am from Guntur, Andhra Pradesh. I was born, grown and brought up in Guntur From 9th May,1998.
Family Background: I am Only Boy Child to My Lovely Parents Veeranjaneyulu Sudanapalli Who is Retailer and Aadi Naga Lakshmi is a Home maker And I have a little sister Preethi Going to Graduate in 2022 in Electrical and Electronics Engineering(EEE) From Narasaropeta Engineeering College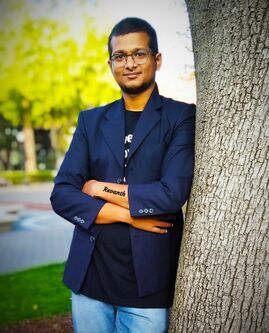 Academics: I Have Completed my Schooling From Tiny Tots,ST ANN'S English medium School,Bhashyam Public School and finally I completed My Secondary Education From Sri Chaitanya Techno School with a 9.3 GPA In 2014.Completed my +2 Education From Narayana Junior College With 82% In 2016 And Completed my Bachelors of Technology in Electronics and Communication Engineering From Narasaraopeta Engineering college with 70% In 2020.
Study Motive: In my Professional life, I realized that the skills learned in bachelor's and my work experience aren't enough to enhance my career, but a Master's degree from United Kingdom will surely set me a path to fulfill my dreams. I will learn to apply technical skills in areas such as Technology and scientific applications, research. I will develop skills in data management on and off the cloud, as an electronics and communication graduate, I will have the opportunity to choose electives in areas such as cybersecurity and Information technology to expand my knowledge.
I Was Assertive in expressing feelings, needs, ideas, and rights in ways that cannot violate the rights of others. And direct, expressive, spontaneous, and self-enhancing. I was capable to negotiate terms and conditions in an efficient manner. I Was a multitasker and show Enthusiast in participating and organizing events since childhood. I was an effective team player with the bent of mind to lead if the opportunity strikes. I will Always easily mingle with the people very easily and I was open-minded.
I got a very good appreciation all through academics. During Academics, I was appointed as a volunteer for the National Service Scheme (NSS) And attended the National Integration Camp in Audisankara Engineering College at Nellore. I have done a Mini Project during the 3rd year of Bachelors on Arduino as a major element with that we have a done Tachometer in which My project deals with the finding the rotating speed of the disc using the Infrared Radiation Sensor, And The Major Project was done with a Robot in which it is used as a Multipurpose cleaning Robot and is a specially designed Robot used majorly for the home automation purpose. It is majorly used for the cleaning and mopping of the floor. In addition to that I have done Internet of things(IoT) Fundamentals and Advanced In Collaboration with APSSDC. In This I came to About The uses of Raspberry Pi.
I Done My certifications in C-programming, Python, Microsoft certification, Design Thinking for innovation, Covid-19: What you need to know (CME Eligible), AI for Everyone, Introduction to IoT and embedded systems, Introduction to google docs and I can do the MS-Office,Blogging And I Can Use all Technical and Non Technical Sites and applications.
As a part of the University Innovation Fellow-Fall 2018 Program, I Got a Visiting visa towards the United States of America and successfully visited the Google headquarters and Stanford University, California, USA.
With Regards,
Sudanapalli Sai Srinivas Revanth,
Email: sssr9598@gmail.com
Phone or Whatsapp : +91 9494249240
---
---