Fellow:Sai Harsha Kothamasu
Jump to navigation
Jump to search
 SAI HARSHA KOTHAMASU, pursuing UNDER-GRADUATION degree in the stream of Electrical and Electronics Engineering at SAGI RAMA KRISHNAM RAJU College of Engineering, Bhimavaram, Andhra Pradesh, India ; became a University Innovation Fellow.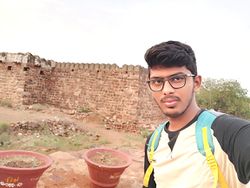 He believes : "True Entrapreneurs are doers, not dreamers; have the tenacity to solve World's problems; have the vision for long term success."
Raised by his enthusiastic parents who believe in education being the cornerstone for success both inwardly and outwardly, he grew amidst values, ethos and respectable principles taught by SWAMI VIVEKANANDA that clearly reflects in his interactions and behaviours -  empathising and analysing the problems faced by society, the power of shared success energizes him everyday.

Inspite of his upbringing in the remotest village and very humble beginnings, he got inspired by his environment - business enterpreneurship engrained in each farmer raising crops, fisherman selling shrimp, and diverted his passion towards obtaining the FELLOWSHIP from the STANFORD UNIVERSITY. He firmly believes in motivating others and was instrumental  in establishing INNOVATION CLUB that promotes ideas from his University colleagues. Currently, serving as the 'PRESIDENT of  COMMUNICATION SKILLS - ENHANCING' and 'CREATING LEADERS' clubs, he continues to provide advisory services across various university forums.
Areas of interest :
Entrapreneurship, Psychology, Philosophy, Archeology, History
Languages fluent in : 
English, Hindi .
Hobbies :
Reading a lot, Travelling a lot, Exploring.
Inspirations :
Swami Vivekananda, Mahatma Gandhi, Nelson Mandela.
                  "Making others happy makes you happy . Be thyself "
Related links : 
Campus Wiki Page :

UIF : 
Fall 2019
Fall 2018