Fellow:Sahar Qavi
Jump to navigation
Jump to search
Sahar Qavi
is a PhD candidate in the Department of Chemical and Materials Engineering at New Mexico State University (NMSU). Sahar was a double-
major student during her B.Sc. in Polymer Engineering and Industrial Engineering. After graduation, she immediately got accepted in master's program in Polymer Engineering in Amirkabir University of Technology (Tehran Polytechnic) in Iran. She worked for a year in two different work environments.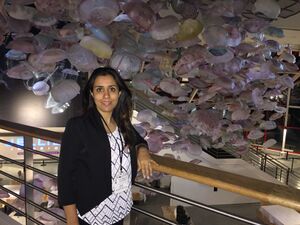 After acquiring real-time work experience, her passion for learning has made her to pursue PhD in Chemical Engineering. During the first semester of PhD program, she had an opportunity to voluntary mentor under representative students. After serving for a semester, she mentored a high school student from EXCEL program at NMSU and made him really enthusiastic about Chemical Engineering, as he is now a freshman in the Department of Chemical and Materials Engineering at NMSU.
After a year at NMSU, she was recognized as one of the outstanding graduate assistants through NMSU because of her great accomplishment in community service and academic. Sahar is now pursuing to be a University Innovation Fellow to accomplish her dreams. She has been always passionate about new techniques of education and innovation and is seeking to apply such models to her college.

Related Links