Fellow:Rodney Kimbangu
Jump to navigation
Jump to search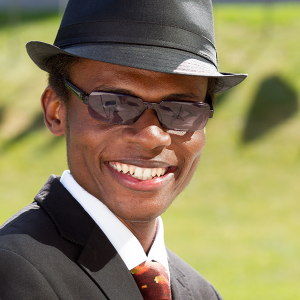 With a genuinely positive attitude as part of my job description, I am a cinematographer, photographer, and painter with over 5 years experience in the digital art industry. My work, ranging from photography to cinematography to sculpture has been featured and displayed at Dartmouth College and Berea College. Since 2009, I have worked as a Ceramicist, Graphic & Web Designer, photographer and Cinematographer. 
In 2016, I participated in the Mandela Washington Fellowship, a program that catalyzed my entrepreneurial mindset. It introduced me to deep concepts of leadership and business and exposed me to Human Centered Design and Design Driven Entrepreneurship. Currently, I work as a cinematographer at Berea College where study Studio arts and Film Production.
My collaborators see me as a strange and unconventional creative artist and thinker who comes up with counter-intuitive approaches to challenges and problems. While it is true that I enjoy working alone to go fast, when I am in a good team of positive-minded people open to new perspectives, I perform at my very best.
Related Links
Berea College Student Priorities
University Innovation Fellows
Spring 2018:
Spring 2016:
Spring 2015:
Spring 2014:
Ability Kakama
---
---