Fellow:Rishi Geddada
Jump to navigation
Jump to search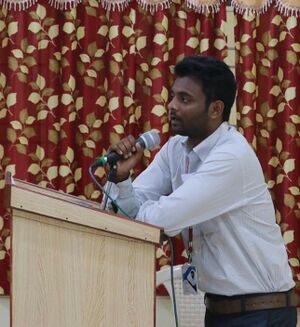 GEDDADA RISHI KUMAR is an University Innovation Fellow , B-TECH graduate in MECHANICAL ENGINEERING at Sri
Vasavi Engineering College, Pedatadepalli, Tadepalligudem ,Andhra Pradesh,, India. He is from Pedatadepalli, Andhra Pradesh, India.
He is passionate about Machines and Automobiles.
Besides he is interested in leadership on his campus, He believes students can bring change the World. Our ideas and efforts matters and can make difference.
Being a Mechanical Engineer he always likes to work on challenging tasks and troubleshooting the issue and finding the ways to solve the issue. Participated in all college level events like Workshops, Technical Clubs, Technical Fests, Seminars, Cultural activities actively.
He is a student leader who motivates peers that students can alone bring the change and also the development of  society depends upon  students and their activities. He encourage those students who believe in like him. He is  a kind of person who like the vintage things.
He look forward to learn from other innovators and leaders at his school and always inspire by them and He wants to be an inspiration for his peers by making impact on his school and village.
   ACHIEVEMENTS:
    1.SECURED FIRST PLACE IN POSTER PRESENTATION conducted by (Jawaharlal Nehru Technological University Kakinada)   
    2.SECURED FIRST PLACE IN POEWR POINT PRESENTATION conducted by (Sri Vasavi Engineering college)   
    3.AUTODESK CERTIFIED PROFESSIONAL.
    4.SECURED SECOND PLACE IN CALLIGRAPHY COMPETETION 
    5.ORGANISED SEVERAL WORKSHOPS IN HIS COLLEGE.
6.PARTICIPATED IN ATV DESIGN AND FABRICATION CHALLENGE
7.WON BEST INNOVATION AWARD IN CHAMPION OF CHAMPIONS CHALLENGE 2020 IN KLUNIVERSITY, VIJAYWADA.(TEAM AGRAGANYA).                                                                                                                                    
 INTRESTS:
  1.DESIGNING,DRAWING,MODELING.
  2.UNDERSTANDING MACHINES FUNTIONING
  3.LEARNING                                                          
  4.TRAVELLING
  5.PHOTOGRAPHY
  6.TRYING SOMETHING NEW                                                                                                                                                                    
          MOBILE-8331924494
          WHATSAPP-8179105494
---
---