Fellow:Rebecka Seward
Jump to navigation
Jump to search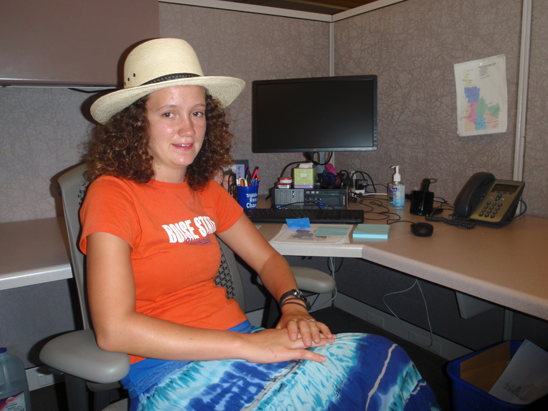 Rebecka "Brecka" Seward, also known as "puzzle brain," "kid magnet," and "animal whisperer," is an eighth-generation Idahoan and an avid outdoorswoman with a passion for learning about life through working with animals and children.  Upon graduation from Boise State University she will be known as "One Who Studies Life" or simply a biologist!   Throughout her first quarter of a century of living life Rebecka has immersed herself in a variety of jobs, hobbies, volunteer opportunities, athletic endeavors, and educational endeavors.  She hopes to synthesize these experiences by establishing an "Oasis of Opportunities" for marginalized youth and animals.
As a lifelong, insightful nvestigator she hopes to help find innovative solutions to some of life's issues - even if they are considered by mainstream society to be insignificant, or insurmountable.   Rebecka is particularly passionate about uprooting the subtle and yet pervasive fear of mental illnesses and disabilities that is prevalent in today's society.  She believes that this fear is the underlying factor for many of the social and health trends that are present in America and other cultures.   
Through the activities of the Oasis of Opportunities she hopes to overcome the social and cultural glass boxes that are the labels, misconceptions, and stereotypes that confine and constrain many youth and animals to the margins of mainstream society.   
In addition to working with marginalized animals and youth, Rebeckahopes the Oasis will be a place of community engagement and education.   Several of her interest areas are: educating about the cycles of life in a wholesome, hands-on approach; researching innovative ways to grow produce and crops; and enabling all individuals to find their life passion by giving them the opportunity to reach out and give back in meaningful ways. 
One of the ways she is currently synthesizing her experiences is through the creation of Kamiah's Kool Vest: an innovative solution to heat stress in service dogs.
Related Links

Boise State University Student Priorities
University Innovation Fellows
Spring 2016: