Fellow:Rangoli Bhattacharjee
Jump to navigation
Jump to search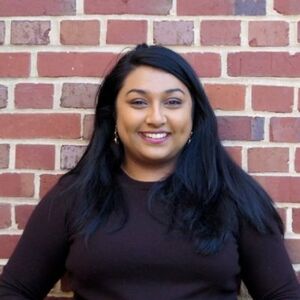 Rangoli Bhattacharjee is a Senior at the University of North Carolina at Chapel Hill studying Health Policy and Management and Business. Rangoli started her academic career with strong interest in healthcare specifically infectious diseases like AIDS and their impact on communities. However, after taking a Lean Startup course, during her first-year at Carolina, in which she had the chance to launch a venture she realized the power of entrepreneurial thinking in solving big problems. Soon thereafter she had the chance to study abroad in Cape Town, South Africa where her work for the Desmond Tutu HIV Foundation took her into the most impoverished townships in the Western Cape. Once again, she was amazed by how these South Africans in dire poverty were responding to the needs of their own communities using entrepreneurship (Department of Coffee in Khayelitsha is an awesome example). Upon her return to campus, she decided to join Innovate Carolina in their quest to cultivate a robust entrepreneurship community at UNC as one of their 2 program interns developing their student engagement strategy.
Rangoli has always been fascinated by talent development and how exceptional leaders are able to magnify the power of the individual by inspiring others to act. So to learn this better, in 2014 she leveraged her role with Innovate Carolina to re-launched the Chancellor's Student Innovation Team which brought together 40 student leaders across campus to liaise with the Chancellor's Office of Innovation and Entrepreneurship on key policies affecting the Student Innovation ecosystem. This group has now become a much larger community of students who are not only student leaders but of student startup- founders and growers of the ecosystem.
Rangoli is now focused on engaging more students in the I&E community in an effort to show them the power of entrepreneurship and to empower them to launch their own ideas. She spends her time both in class and out of class looking for students who have ideas and then connecting them to the appropriate resources and support to grow their ideas. The University Innovation Fellows program is an opportunity for Rangoli to understand how to institutionalize student empowerment and entrepreneurial thinking.    
Rangoli is passionate about growing ideas from early stage to maturity and developing her peers. She believes that behind every great idea is a fantastic team and that in order to face the world's greatest challenges we need more confident, empowered, innovative individuals. She is now most curious about disruptions that will change the healthcare system, and how to increase inclusivity in innovation ecosystems. If you would like to connect with Rangoli, please feel free to email her at rangolib@gmail.com . 
Related Links
University of North Carolina Chapel Hill
University of North Carolina Chapel Hill Student Priorities