Fellow:Pierce Logan Perkins
Jump to navigation
Jump to search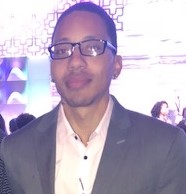 Pierce Logan Perkins is a University Innovation Fellow from the Spring 2015 Cohort. He graduated from Morgan State University in Spring 2019 with a degree in majoring Chemistry concentration Biochemistry. Pierce began his college career at the Baltimore City Community College where he received degrees in Arts and Sciences and Applied Sciences. He has always maintained a strong interest in robotics, nanotechnology, data science and medicine. While attending the Baltimore City Community College Pierce co-founded the Anthropology-Sociology Club with Dr. Boyd Servio-Mariano in order to bridge the gap between the academics and community of Baltimore. 
Pierce has had many opportunities to gain experience in his field of study. In the Summer of 2013, Pierce had an internship with the Washington Center. Progressing through his internship he took part in the Aspiring Leaders course and became involved in the Bioethics seminar held weekly at the DC VA medical center. Carrying out the duties of the two courses, Pierce was still able to work efficiently within his internship in the Biomedical engineering lab of the VA Medical center. He enjoyed the atmosphere of the medical center so much he also became a volunteer in the Neurology lab. 
Currently, Pierce is a post-baccalaureate IRTA fellow at the National Institute for Mental Health. He aspires to attend medical school and receive a MD/PhD and become a medical researcher in the of biomedical engineering. He hopes to conduct medical research pertaining to public health, neural circuits, mechanobiology, mechatronics, and bionics. 
Contact Information:
pierce.perkins19@alumni.morgan.edu
https://www.linkedin.com/in/pierceloganperkins/
240.802.0448
---
---