Fellow:Payton Bradsky
Jump to navigation
Jump to search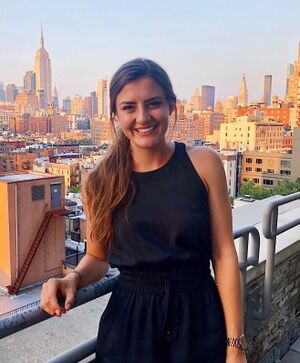 Payton is a University Innovation Fellow and undergraduate student majoring in Computer Science & Engineering and minoring in Entrepreneurship at Santa Clara University. She was born and raised in the Black Hills of South Dakota, where she developed her passion for small businesses and her desire to see the world. She made the leap to California for school in the hopes that pursuing a Computer Science & Engineering degree in Silicon Valley would one day lead to her becoming a CEO. Since arriving in Silicon Valley, she has come to understand the distinctions between a software development track and the path of a CEO, but she has an deep interest in both. Pursuing a version of this original dream, she is finding ways to integrate her love for technical challenge with her strong passion for entrepreneurship.
At Santa Clara University, Payton has worked hard to immerse herself in the innovative and entrepreneurial cultures on campus, while constantly seeking opportunities to enable others' success. Aiming to create entrepreneurial opportunity, Payton was the Director of the 2018 Startup Weekend Santa Clara, which she intends to develop as an annual event. Within the engineering school, Payton is the Professional Development Chair for the Theta Tau Professional Engineering Fraternity and the Treasurer for the Tau Beta Pi Engineering Honors Society. She is also the Vice President of Alpha Sigma Nu, the Honor Society of Jesuit Universities. Her past involvements include being an Engineering Peer Advisor and a calculus tutor, which have led her to become a mentor for various students across campus.
In her free time, Payton can be found outside or working her way around the world. She loves hiking, snowboarding, sand volleyball, and trail runs with friends. She spent a quarter studying abroad in Edinburgh, Scotland, and a summer working in New York City, both of which led her to make architecture into a hobby. She will likely continue finding new interests, hobbies, and favorite cities as she dives into the 'real world' next year.
Related Links
Santa Clara University Campus Overview
Santa Clara University Strategic Priorities
Santa Clara University 2018-2019 Landscape Canvas
Other SCU Fellows
Spring 2019
Spring 2018
Spring 2017
---
---