Fellow:Nolan Nicholson
Jump to navigation
Jump to search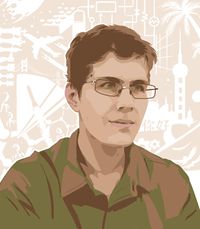 Nolan Nicholson is a third-year student and undergraduate research assistant at the University of Nevada, Reno. He is involved in the University's existing efforts to bolster innovation and entrepreneurship on campus, and aims to use ideas and insights from the University Innovation Fellowship to bolster entrepreneurial connections between Nevada's Colleges of Engineering and Business.
His participation in engineering includes employment in an undergraduate research lab dedicated to computer simulation of hexaborides and other exotic compounds, as well as a secretary position in the Nevada Student Chapter of the American Institute of Chemical Engineers. His entrepreneurship efforts include a Business Administration minor, a board position in the Nevada Entrepreneurship Club, participation in multiple business plan competitions, and co-creation of Pack Pitch--a small-scale competition for nascent business plans, aimed at getting new ideas "out of the woodwork."
Having become heavily and separately involved in his campus's business and engineering environments, Nolan hopes that bringing the two together will yield a multitude of new entrepreneurial projects. If these projects succeed, they will benefit the Northern Nevada economy and the prestige of the university as an innovation center; even if they fail, they will give students unique and invaluable professional experience. Plus, it sounds like fun.
Nolan was born in Orlando, Florida, moved to Northern Nevada at the age of five, began growing up in the beautiful Carson Valley, and graduated from Douglas High School in 2011. Upon graduation, he plans to pursue graduate studies in either business or a second discipline of engineering. He enjoys tennis, classic video games, and morning tea; he has no plans to finish growing up.
Related Links