Fellow:Nolan Hanna
Jump to navigation
Jump to search
Nolan Hanna is a University Innovation Fellow and an undergraduate student at The Ohio State Univeristy in Columbus, Ohio. He is in his junior year studying Industrial and Systems Engineering and Business, and is a member of the Integrated Business and Engineering Honors Program (IBE). He is originally from Springfield, Ohio, and grew up a Buckeye.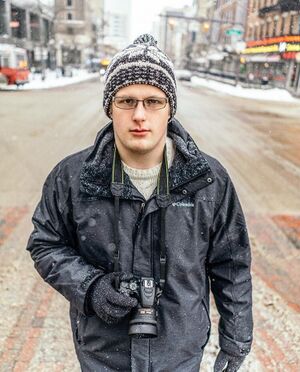 On campus, Nolan is involved in several organizations. He is a founding member of a new student organization, iris, which promotes Design Thinking as a way to be comfortable with the uncomfortable front-end of problem solving and human-centric innovation, and aims to allow all students to be able to experience it through workshops and hearing from industry partners who have applied it throughout their own careers. Through working on this organization is how Nolan found the University Innovation Fellows Program. Nolan is also a Senator to Undergraduate Student Government representing the interests of Engineering and Architecture students. When he has time, he enjoys photography, playing squash and supporting Ohio State Athletics with his friends.
Nolan had always been curious. From a very young age, he was interested in how things worked together in systems and understanding how people interacted with the world around them. After coming to Ohio State, Nolan started to see connections between these systems and these people - and a path for engineering products or services that would provide value for individuals and society. As a part of the IBE program, Nolan is developing his technical knowledge in engineering and growing his business acumen to develop products or services and understand that they come from human needs, how those needs drive the technical designs, and their economic viability. He hopes that the educational opportunities that he has had to develop this entrepreneurial mindset can be shared with all students and become an integral part of education at Ohio State.
Related Links
---
The Ohio State University Student Priorities
University Innovation Fellows
Fall 2018:
Nolan Hanna
Fall 2017:
---
---