Fellow:Nishitha Aluri
Jump to navigation
Jump to search
Nishitha Aluri is an undergrad pursuing bachelor of technology in electronics and communication engineering background in Godavari Institute of Engineering and Technology. Basically, she is very calm and cool person. She is very dedicated in her work and she loves to take challenges which inspires her a lot. She always dig the best outcomes from the worst situations. She loves to collaborate with people and also to team up with individuals to work on a project. She is very passionate to explore herself to new ideas and talents which empowers her to design herself into a better way. By her nature, she always try to bring a smart solution rather than a ordinary one for a given problem statement.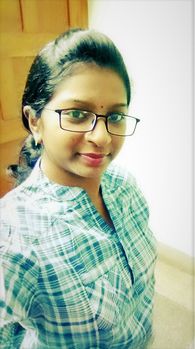 Every weak, she will have a great interaction with her fellow students in the Student Activity Council established by the current and past University Innovation Fellows of Godavari Institute of Engineering and Technology. In the "Student Activity Council", she is playing a crucial role in the knowledge transfer to her peers and she also took a initiative to be a change agent in her campus and striving to bring a lasting institutional change. Her goal is to bring new inventions which can address a long list of challenges which the world is facing now. She will never leave a single opportunity which helps her to mould herself to be a better enterpreneur.
She believes that "one can improve themselves only when they are dedicated."
School: Godavari Institute of Engineering and Technology
Email: alurinishitha9@gmail.com
Related Links :

---
---