Fellow:Nichole Schiff
Jump to navigation
Jump to search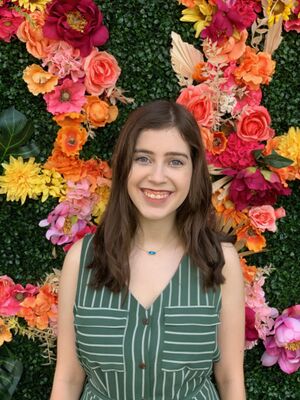 Name

Nichole Schiff

School (Cohort)

University of Richmond (2020 cohort)

Majoring/Minoring in

Leadership, Visual Media Arts, and
Women, Gender, Sexuality Studies.

Country

United States of America

Email
Bio
Nichole Schiff is an Undergraduate student at the University of Richmond. She is studying Leadership with minors in Visual Media Arts Practice (VMAP), and Women, Gender, Sexuality Studies (WGSS).
Nichole was born and raised in Dallas, Texas. Although part of a small family in the United States, Most of her family lives around the world in locations such as Israel, Germany, and Australia. This has developed her love for traveling to new places, meeting people from across the world, and learning about new cultures.
During High School, Nichole was involved in a Teaching Internship program, where for two years she worked as an assistant 7th and 8th grade art teacher in a low income school. Through this experience, she was able to see the lack of educational opportunities for many due to a lack in school funding in low income communities, and became and advocate and mentor for many of these students. She was also involved in Girl Up, a national organization that brings to light issues that women around the world are facing, such as discrimination and a lack of educational opportunities. Finally, since 2013, she worked as an assistant Hebrew teacher at her Temple, teaching 2nd, 3rd, and 4th grade Hebrew reading and writing. Nichole also volunteered frequently within the Jewish Community, such as boxing candles for Holocaust Remembrance Day and packing food to donate to local shelters.
The combination of all of these activities lead to her passion for social justice issues, specifically centered around educational injustice, bringing art and creativity into her community, and creating spaces where activism and change is at the forefront, and where everyone feels welcome. On her college campus, Nichole is involved in many different clubs and organizations. These include being the head of marketing and advertising for Art Club (a community of art appreciation), a mentor in the Peer Advisors and Mentors Program, and a Student Ambassador for the University of Richmond (which is run through admissions at the university). Nichole is also a member of the WILL* program, a nationally recognized program for students interested in exploring gender and diversity issues both in and out of the classroom while strengthening leadership skills while working to create a more equitable world. She also volunteers with Community in Schools, a program that places mentors into low-income elementary and middle schools in order to motivate, inspire, and guide students through their schooling and other obstacles in their lives.
Through the University Innovation Fellows Program, she hopes to gain resources, skills, and connections in order to start programs and initiatives to advocate for educational opportunities in schools and create more inclusive spaces on campus. She also hopes to incorporate art into more areas on her campus, such as a wider variety of class options and the combination of art and innovating thinking into more mainstream courses. She also will continue to advocate for the Jewish community and educate her peers on the importance and struggle of the Jewish people in both daily life and on college campuses.
Achievements
Phi Eta Sigma Honor Society
Head of Advertising/Marketing for Art Club: a community of art appreciation
Mentor for the Peer Advisors and Mentors Program (PAM)
Personal Achievement: Artwork was the cover of the 2020 edition of the Messengur, a literary and arts magazine at the University of Richmond
Personal Achievement: Student Ambassador/Tour Guide for the University of Richmond
Social media profiles
Instagram: @rayna_2000
---
---