This site will go under maintenance from 25-11-2020 to 30-11-2020. It might not reachable during the maintenance period.
Fellow:Natalia von Windheim
Jump to navigation
Jump to search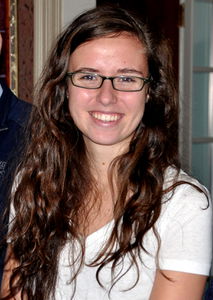 Natalia von Windheim is majoring in Materials Science and Engineering with a minor in Nanotechnology at NC State University. (Go Wolfpack!)  She became involved with the Entrepreneurship Initiative program at NC State as a freshman and then became president of the ambassadors for the program in her sophomore year.  She is also currently a Resident Advisor on campus and is looking forward to Fall 2014 when she will continue to be an RA at the new Entrepreneur's Living and Learning Village that is opening at NC State.  The Entrepreneur's Village will provide a unique experience to students where they will be able to be immersed in an innovative atmosphere with peers that will provide support and collaboration.  Natalia is excited to be a part of the creation and development of this new community.
Related Links
North Carolina State University