Fellow:Nancy Yuan
Jump to navigation
Jump to search
Biography
Nancy Yuan is a University Innovation Fellow (UIF) double majoring in Political Science and Peace and Conflict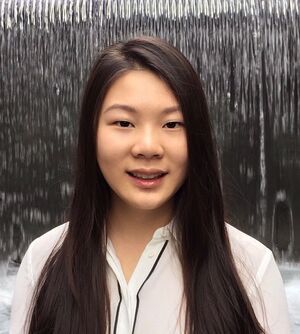 Studies at Swarthmore College. She is passionate about improving the campus life of fellow students and is currently President of the Student Philanthropy Council. Nancy has also previously served as President of Swarthmore's Student Government, the first-ever sophomore or international student to be elected to the position. 
In addition to her involvement in the Stanford UIF Program, Nancy is also implementing the Refugee Sponsor Hub Project, which is supported through the Clinton Global Initiative and the Lang Center for Civic and Social Responsibility, and is currently collaborating with Amnesty International and various New Zealand NGOs to improve the country's refugee resettlement strategy.
Nancy has extensive international experience, having taken a gap year to work for a tech start-up in Australia, and studying abroad at the University of Oxford in the UK. She has also been awarded numerous grants and scholarships supporting her research and social impact projects abroad, including with stateless Afghan refugees in Iran, and with Syrian and Iraqi refugees in Jordan.  
As a United Nations representative for children and youth, Nancy has also worked on humanitarian affairs, migration, and disaster risk reduction policies, including advocacy for young people at the UN General Assembly and UN Economic and Social Council events, including meeting with the UN Secretary-General António Guterres. Nancy's experience in the development sector also includes conducting consultations for UNICEF and interning with Oxfam. 


== RELATED LINKS == Swarthmore College Overview Swarthmore College Student Priorities 2019 Swarthmore University Innovation Fellows Christopher Gaeta Emma Parker Miller Ray Sidener
---
---