Fellow:Michael Brummett
Jump to navigation
Jump to search
Michael Brummett was a University Innovation Fellow from the founding 2015 cohort at Rockhurst University. Following his Junior year at Rockhurst in Kansas City, Missouri, Michael took an indefinite leave of absence from school to pursue a startup company full-time. His company was incorporated in early 2016, within the smart city technology sector.
The most natural description of himself would bethat of an expressive introvert- one who loves and enjoys great success in public speaking, but that inversely values time spent in contemplation. He often refers to himself as a 'Nerd Idealist.'
Michael's company, Sensory AI (sensory.city), democratizes smart city technologies for cost effective use in smaller municipalities. Post-product/market fit,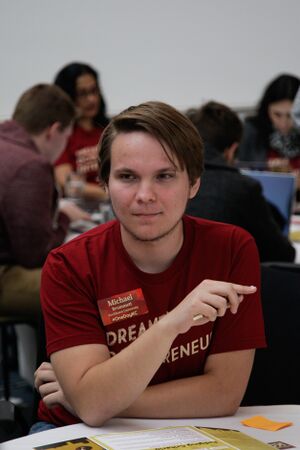 his startup's most popular service places IoT sensors on city vehicles as a means to automate the slow, costly manual road inspection process.
In his free time, Michael plays the piano, builds home automation tools, sits in on Dungeons & Dragons games as well as reviewing bbq restaraunts in the Kansas City metro. For the long term, Michael is focused on self-improvement and learning, using his first company as a means to eventually launch another socially-minded venture, on a much larger scale.
Some of Michael's favorite quotes:
"The truth is rarely pure, and never simple."
-Oscar Wilde
"Be ashamed to die... Until you have scored some victory for humanity."
-Horrace Mann (via Neil deGrasse Tyson)
Related Links
Rockhurst University Student Priorities