Fellow:Mark Brahier
Jump to navigation
Jump to search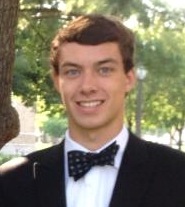 Mark Brahier is a University Innovation Fellow from the University of Notre Dame. Born and raised in Perrysburg, OH, Mark is currently a junior studying Biology, Economics, and International Development. At Notre Dame, Mark is a student EMT-B at the ND Fire Department, a member of the Biological Sciences Senior Leadership Committee, an organic chemistry tutor, and a researcher in the field of Drosophila lamellocyte immune response. He also researched cystic fibrosis pathways with a professor from Case Western Reserve University.
Through the Senior Leadership Committee, Mark has led initiatives to increase the effective use of multimedia in the classroom, creating instructional video series for Intro Biology Lab techniques and Genetics problem solving. He has assisted in the development of a self-sustaining Student-Faculty networking program for the College of Science. Recognizing the need for interdisciplinary education and a background in basic business concepts, Mark has worked to foster a relationship between the College of Science and Mendoza College of Business through the creation of a Science-Business Minor option for science students.
Outside ND, Mark is the founder and Co-CEO of POINTS ACT Prep, a standardized test prep business based in Toledo, OH that specializes in curriculum development for high schools. Founded in 2011 after a summer of in-home tutoring, the company has grown to employ seven part-time tutors, a curriculum developer, and has revenue in excess of $40,000 in 2014. With long-term goals of developing sustainable healthcare solutions for impoverished countries, Mark has made three trips to Central America and is working with a group in La Esperanza, Honduras to conduct research in rural communities. Mark is the co-director of the 2014 YES Project, a 4-day service project for over 120 high school students based in Toledo, OH. His hobbies include cooking, running, and going to football games.
Mark's post-graduation plans include a possible gap-year to grow and turn over operational control of POINTS ACT Prep followed by the pursuit of a dual MD/MBA degree. Though he is keeping an open mind to career opportunities as a physician, Mark currently hopes to practice medicine at an academic institution in the United States and serve internationally.