Fellow:Maria Sagastume
Jump to navigation
Jump to search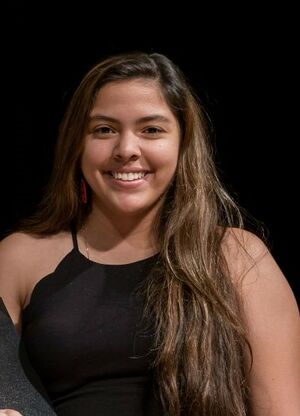 School: Florida Institute of Technology
What she does now: Engineering Designer at Florida Tech's Center for Advanced Manufacturing and Innovative Design (CAMID)
Contact her about: Human-Centered Design, Design Thinking in Education and Medicine, STEM Outreach, workforce development, internship opportunities, Women in STEM resources, learning spanish, dancing.
Email: msagastume2014@fit.edu
Phone: 321-960-8655
Maria Sagastume earned her Bachelors degree in Biomedical Engineering and STEM Education and an MBA in Healthcare Management at Florida Tech. She is currently a PhD student in Human-Centered Design and works as an Engineering Designer at Florida Tech's Center for Advanced Manufacturing and Innovative Design. Her passion for STEM has allowed her to work closely with students and kids through several STEM outreach initiatives like summer camps and innovative workshops and classes.
As a Women in STEM, Maria serves as a champion for the Women in STEM Living Learning Community at Florida Tech where she organizes networking events and professional panels for the girls in this community. Besides this leadership experience, Maria has industry experience from her internship at a local medical device company called Medicomp where she worked for the departments of engineering, quality and regulatory, marketing, and product and strategy.
Maria volunteers for Reinvented Magazine, the nation's first printed magazine made by women in STEM, for women in STEM and for WeVenture, Florida Tech's Women Business Incubator and Mentorship Center. Maria also enjoys volunteering with the Society of Women Engineering chapter at Florida Tech as a member and she previously held positions of President of the Biomedical Engineering Society and member of Student Government and Latin American Student Association. She has also volunteered with the Scott's Autism center at Florida Tech to plan activities for the social skill program and kids camps in the summer and fall semesters.
Maria was trained as a University Innovation Fellow in Spring 2017, and attended the Silicon Valley meetup in November 2017. She continued her support on the Innovation Council ant Florida Tech and promoted the ideas from the Silicon Valley meetup within the department of Residence Life and when teaching First Year Experience classes. Her main exposure has been with faculty members that are part of the KEEN network and planning for teaching FYE classes to engineering students that incorporate entrepreneurial mindset, design thinking and the 3 Cs : Curiosity, Connections, and Creating value. Maria now hopes to bring her experience into higher education as she now works for Florida Tech as a full time staff member.
RELATED LINKS
Florida Institute of Technology
Florida Institute of Technology Student Priorities
Fall 2015 Leadership Circle
Spring 2016 Leadership Circle
Spring 2017 Leadership Cirlce
2017 UIF PItch: Panther's for Progress Youtube Link:
Https://www.youtube.com/watch?v=U8oDeSZFn2Y&feature=youtu.be
---
---