Fellow:Macy Tush
Jump to navigation
Jump to search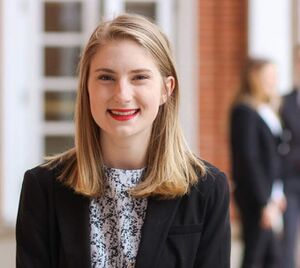 Macy has served in UIF since the fall of 2016. Macy's UIF journey began in Kansas City, MO at William Jewell College where she studied Physics and Mathematics. Now, Macy is a Ph.D. student at the University of Arkansas studying Industrial Engineering. Although she has moved away from her undergrad institution, she still engages in the UIF community as a collaborator and mentor. One of the best parts of being a Fellow is the that engagement in the community never ends "once a Fellow always a Fellow." Some of the areas Macy is most passionate about are: inter-deparmental collaborations, celebrating students, and creating communities that are a catalyst for innovation.
Macy would love to connect with you over any of the projects she has worked on, goals of hers, or just a nice cup of coffee: macy.tush@gmail.com
Macy worked on multiple projects during her time in UIF:
Hosting a regional meetup
Creating a student celebration campaign, #thismatters
Hosting #UIFresh workshops : Innovation workshops for first-year students during orientation week. 
Working with admissions to host workshops for visiting students and their familiies.
Hosting an annual student summit to catalyze solutions to campus problems   
Being a Fab : Helping host an Annual Spring Meet-up.
Speaking at the 2016 Global 

Entrepreneurship Summit
Representing UIF at annual Jewell Summits
Creating and maintaining an advisory panel
Organizing multiple trips to regional meet-ups 
Hosting a one day ideation competition #OneDayKC
Presenting at William Jewell's annual colloquium 
Recruiting and Organizing two new cohorts                                                                        
Hear Macy Talk: 
At the 2016 Global Entreprenuership Summit : https://www.youtube.com/watch?v=keQn54c99ZU
At the 2017 Silicon Valley Meetup at Google : https://www.youtube.com/watch?v=VLGwSAPxrEk
Meet Macy's Team:
William Jewell College
William_Jewell_College_Strategic_Priorities
Some of my favorite wiki pages: 
Find Macy online